I'm just going to come out and say it.  I love my husband but he is sort of terrible at holidays and gift giving, a trait he will openly admit.  The way I see it, there are far worse qualities a person can have, therefor I over look it.  Two years into marriage and I've realized that if I ever hope to improve this little quirk I've got to be not so subtle about what I want.  This year he has received a few forwarded emails, I've blatantly showed him things, and seriously, I am above nothing at  this point.
If your guy, too, needs a few hints- or vice versa- here's a good place to start.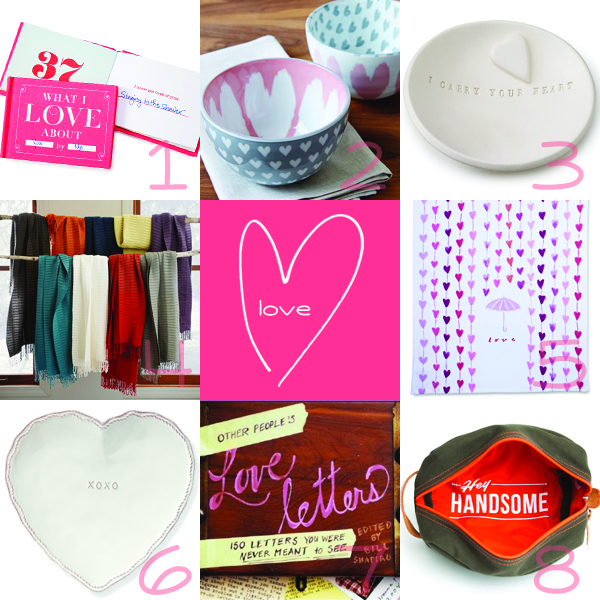 1. Uncommon Goods has this super adorable and borderline cheesy book that you can fill out and go through together.  (Add a bottle of wine and I feel like it would make a good conservation starter!)  2. These bowls are dreamy. 3. This dish is simple and sweet for any girl who needs somewhere to place her rings.  (We all need a few spots!)  4.  A cozy throw blanket is my favorite companion in the winter.  Love these!  5.  Ever since finding a teacup dish towel that I'm obsessed with I have been crushing on pretty towels.  6. Imagine serving up Valentine's Day dinner on these lovelies.  Swoon!  7. Okay- I actually already have this book- but I wanted to share it with you all.  It's romantic and such a good coffee table book!  8. A gift for him, this shaving kit bag is the perfect gift that is not only functional, but also adorable.  
Have a great weekend!