Have you ever seen that commercial where a mom douses a little girl in hand sanitizer before she will let her hold her 1st born infant?  Followed by a scene of said mom writing a check in a body shop and handing her 2nd born over to a grease covered mechanic?  Yeah, that is totally us with Bingham.
Of course we love him every bit as we do Jettie.  It's just slightly more difficult to slow down and be memorized by all those little milestones.  With Jettie we stood with bated breath as she took her first taste of solid food.  There was a camera, she was placed in good lighting and of course she was wearing her prettiest bib.  Bing got a finger covered in pureed spinach shoved in his mouth.  Followed by his dad yelling from the kitchen "Hey Brand, he doesn't hate it!"  As different as those moments may have been I am equally grateful for the way they both went down.  We were wound tighter and felt more pressure to document everything with her.  #2 has taught us to chill out and enjoy things as they come.  It may not all be captured by a camera but that's okay…we were still there and that's all that matters.
As for being on top of things with his 3 month interval photo sessions…let's just say he is always "x" month-ish.  Lucky for me he grows, but not terribly fast so no one will ever know the difference when they look at these.
Bing at 3 months: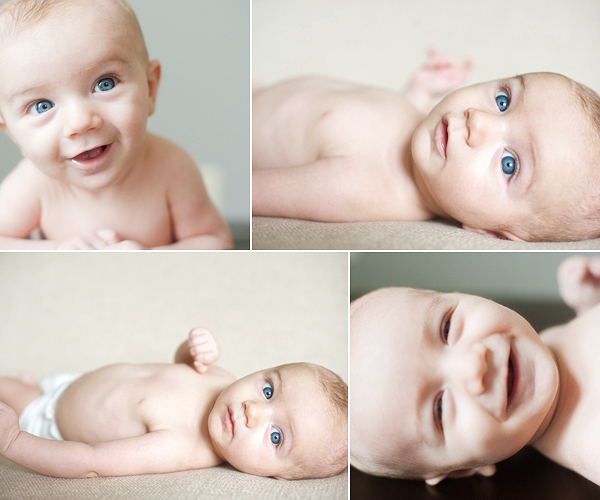 At 6 months (with slightly more hair):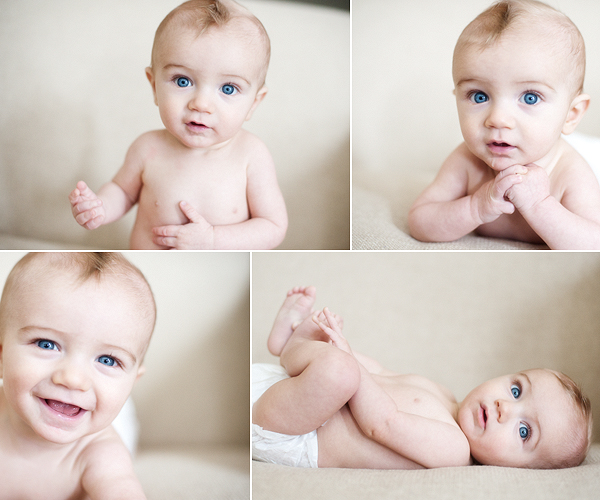 Oh those baby blues and that jolly grin.  You steal your mommy's heart about a million times a day sweet boy.  Thank goodness for our little Bing-A-Ling.
xo.