Last week was undoubtedly a fabulously holly jolly good time.  Just as it should be.  This week is shaping into an exhausting, where are we going to put all this stuff, feeling like a busted can of biscuits, I'm only eating spinach for a month sort of time.  Just as it should be.  My body is clearly angry with me as I woke up with a subconscious screaming "get on that treadmill NOW."  Sticky on the other hand tried to suck me back into his holiday slug world and convince me that's it's not the 1st yet.  As good as the warm blanket and extra snuggle time offer sounded there really wasn't a choice for me.  Exercise was required if I had a prayer of making it through today half sane.  So ran I did.  It wasn't my best by any means.  There was terrible heart burn involved in fact, but I did it.  And tomorrow I will do it again (at least that's what I'm telling myself).
Something that is never hard for me to find motivation for is shopping.  Especially when there are deals involved.  If you have some Christmas money burning a hole in your pocket now is the time to score amazing fashion at even more amazing prices.  Here are a few of my favorite online stores offering killer steals: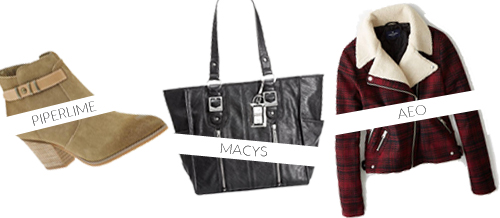 PIPERLIME extra 50% off all sale items (code CHIC50)/MACYS 25%-65% off select handbags/AEO extra 50% off clearance
Happy bargain shopping!