This morning I opened my eyes, stretched real big and then hit the GO button before my feet even touched the floor.  I was in "get more done than humanely possible" mode and kicking butt.  That is until Jettie began hysterically screaming that I needed to come check on Bingham.  Crap.  Panic set in as I ran into the living room.  It's amazing how many horrible scenarios a person can imagine in a mere 3 seconds.  Plus I heard no crying which of course could only mean the worst.  Was he chocking, did she put something over his head, how am I going to explain all this to Sticky…it all went through my mind and into the pit of my stomach.  And then I saw him, right where I left him. Sitting happy as a clam in his Bumbo, on the floor, with every toy he owns mounded around him (courtesy of big sis of course).
"What exactly is wrong Jettie?" I asked.  "His hair is really coming in on the top of his head mommy."
Thank goodness for toddlers and their ability to give you a heart attack and a laugh all in the same breath.  I moved some of the things I was doing to the floor so that she could help.  Yes, we were operating a bit slower but I didn't care.  We were having way more fun this way (and I could keep a better eye on Bing and his hair).
***
It's Christmas week!  I can hardly believe it.  The tree is trimmed, the cookies are baked and the presents are wrapped….but what are you wearing?  Plaid is classic but this year in particular it is a hot item.  As it should.  For a pattern it's incredibly versatile – pairing with almost everything with ease.  Here are some looks that may inspire you and your plaid this season: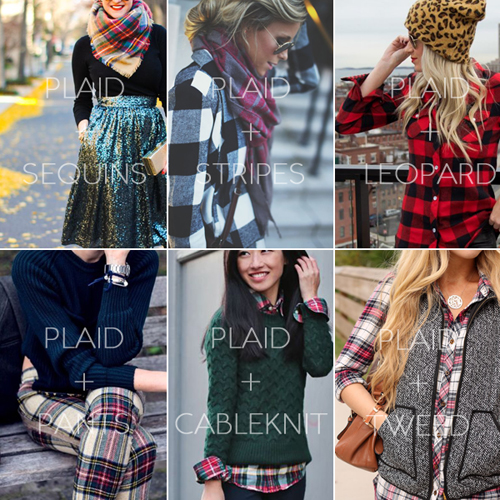 paid+sequins/plaid+stripes/plaid+leopard/plaid+pants/plaid+cableknit/plaid+tweed
xo,