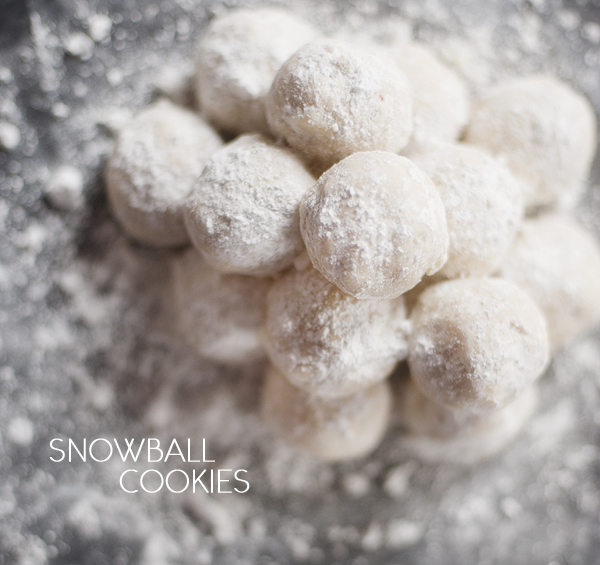 I'm not sure if these cookies are a "northern thing"- but my husband stared at me blankly when he got home from work and I was rambling on about these snowball cookies from my past that suddenly reentered my life with all of their powdery glory.  These are seriously straight from my grandma's kitchen circa Christmas eve 1990.  (Okay, I actually found this recipe on Pinterest- BUT they taste identical and did not disappoint my fond memories).
So, after Josh admitted he in fact had zero Christmas memories of these cookies I swiftly shoved one in his mouth, sure that he would say "ooooh yeah! I remember these!".  Instead he acted like he had peanut butter stuck to the roof of his mouth and replied with, "umm… I don't know babe.  It's kind of like I need a big glass of water or something?".
Whatever.
He doesn't get it.
Disregard his comments, because these are fabulous.  They aren't anything like my usual fluffy soft cookies, they are more of a shortbread-ish cookie- but they taste like Christmas to me.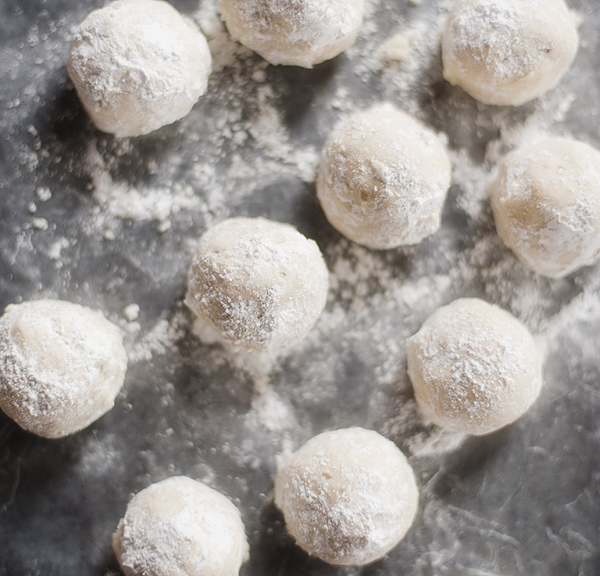 snowball cookies
Ingredients
1 cup butter, softened
½ cup powdered sugar
1 teaspoon vanilla extract
2¼ cups all-purpose flour
¾ cup nuts, finely chopped
¼ teaspoon salt
powdered sugar for rolling
Instructions
Preheat oven to 400°F and line a baking sheet with parchment paper. Mix butter, ½ cup powdered sugar, and vanilla in stand mixer. Add in flour, nuts, and salt. Shape dough into 1-inch balls and place about 2 inches apart onto prepared baking sheet. Bake for 8 to 9 minutes, or until cookies are set but not brown. Prepare a bowl of powdered sugar while the cookies are baking. Immediately after baking, roll them in the powdered sugar. (This is a bit messy, and be careful because the cookies are super hot! Just go with it.) Allow cookies to cool completely then roll in powdered sugar a second time. Store in an airtight container until you gobble them all up (or for a week).