I'll never be that person who has their gift shopping done by December 1st.  In fact I am still scrambling to get the house decorated.  Looking at all the prepared little elves' instagrams with all their gifts "almost wrapped" makes me chuckle.  What on earth must that be like?  There's a good chance I will never find out…especially in this lifetime.
Regardless of whether you're an overachiever or procrastinator like me you will need a little festive attire in your wardrobe.  Fair isle is a classic staple that has seen a rise in popularity this particular season.  You can go all out with a jumpsuit or peek a pair of socks out of your boots – there is definitely a little fair isle for everyone.  (Including all those people on your list!):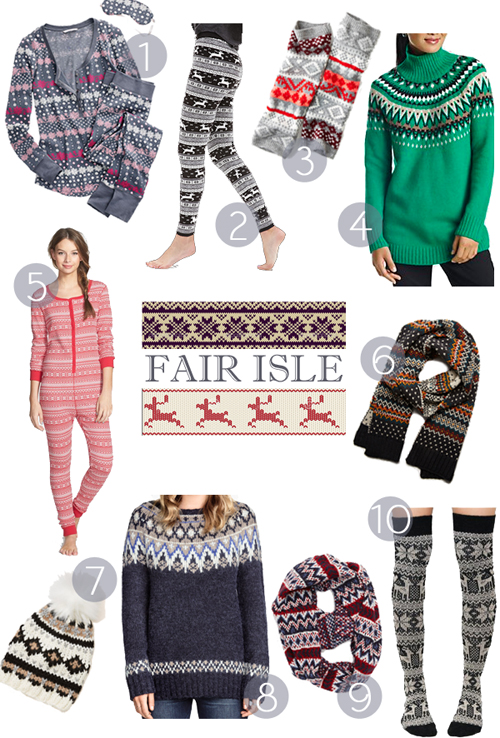 1Victoria's Secret long jane pajama set 2F21 fair isle deer legging 3AEO fair isle legwarmer 4J Jill alpine fair isle pullover 5Free Spirit fair isle print thermal jumpsuit 6F21 fair isle stripe scarf 7Loft faux fur fair isle pom pom hat 8H&M jakuard knit sweater 9Topshop fair isle infinity scarf 10Shoptiques over-the-knee deer socks
Let's not forget that today is Cyber Monday!  Most sites are offering big discounts (30% off AND free shipping at H&M – hello??!!).  Also don't forget to shop through Ebates in qualifying stores and earn some cash.  Many are offering double cash back!
Happy Cyber Shopping!