"It's a rather blustery day."  That was certainly the theme in our neck of the woods.  For an area rather used to wind I was in awe of the way mother nature unleashed herself today.  (No one's hair stood a chance – including yours Sticky.)
Of course all that blowing can only mean one thing – frigid air is on it's way.  While this is not the best news it does at the very least give us a free pass for snuggling up in something cozy.  With all the crop tops, short skirts and fitted dresses on the racks it's nice to shop for something you can "hide" in a bit.  With that being said this is not a one size fits all look.  If you are petite steer clear of thick,chunky material in longer lengths.  They will add too much bulk to your small frame.  Shop for lighter material with a shorter length.  Ladies with a larger bust may want to steer clear of bulky cowl and turtlenecks.  A more open neckline will flatter your build and keep you from looking top heavy.  If you are lacking in curves go for bulky, more oversized sweaters (keep size in mind because there is a fine line between oversized and "your sweater is way too big").  Also look for details like zippers to add shape.
Here are a handful of my favorites: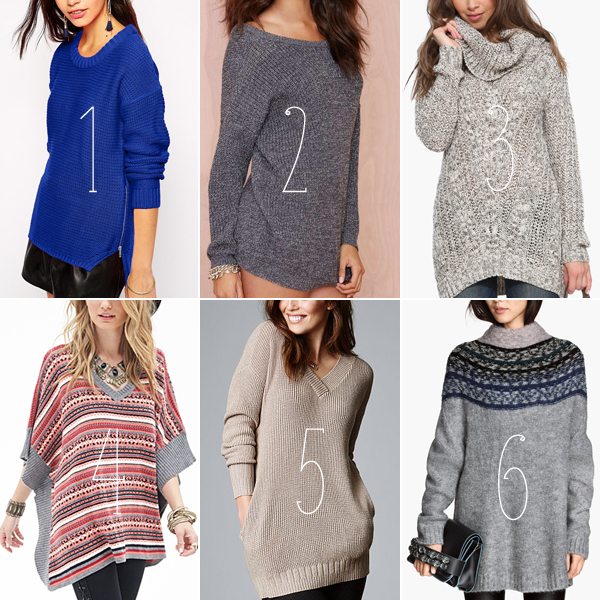 1Fasion Union Oversized Sweater with Stepped Hem and Zip Detail 2Nasty Gal Drop It Sweater 3Necessary Clothing Chunk Cowl Neck Oversized Sweater 4Forever 21 Fair Isle V-neck Sweater 5Victorias Secret Ribbed Double V-Neck Sweater 6H&M Wool Blend Sweater
Finding just the right oversized sweater is definitely a trial and error process.  Once you have found a good one though you will never want to take it off.
Stay cozy,