We laughed, we played, we ate, and we ate, and we ate…
A weekend away in gorgeous Savannah could not have came at a more perfect time for us. We started with a long, lazy drive down South. Followed by three days with friends who are simply easy to be with. We took our first carriage ride, visited the place where we were married, made several stops at the candy store and learned that caramel vodka was missing from our lives (okay, maybe just my life). It was one of those trips where nothing was planned yet everything flowed as if it was. I guess that happens when you're in such a good city and even better company.
It's no secret that hats are a favorite chilly weather accessory of mine. As you can tell above I wore my wide brimmed fedoras for everything but sleeping during our stay. While these type of hats have been on trend for some time it wasn't until recently I had the courage to rock them. Sort of like the caramel vodka I'm not sure what the heck I've been holding out for. If you have yet to own one of these amazing hats here are a few stylish and economical options: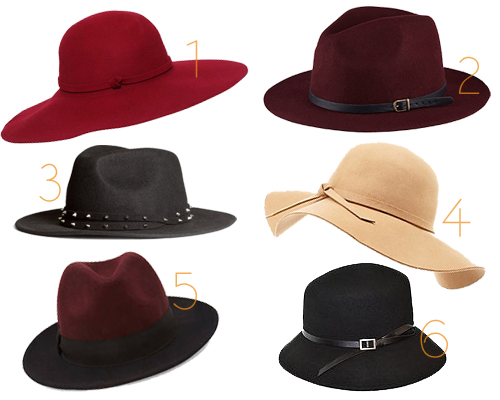 1Necessary Clothing emma fall hat 2Aldo hat 3H&M wool hat with studs 4Charlotte Russe wide brim floppy hat 5Forever 21 colorblock wool fedora hat 6Nine West felt trench coat hat
Goodbye to an enchanted city…and onto to the magic of snow (yes, I'm going to play the positive attitude card when it comes to snow before Thanksgiving).
xo,