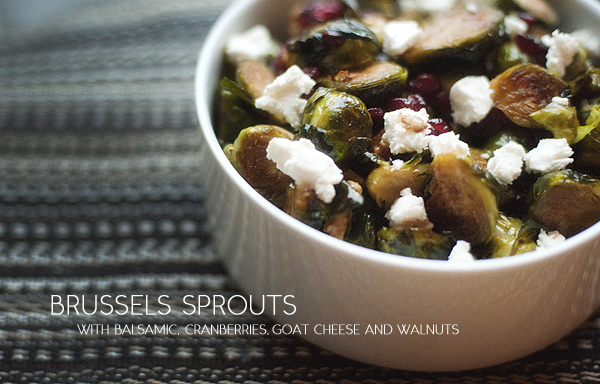 With Thanksgiving, aka Super Bowl of Food, just around the corner I thought why not share a side dish that I absolutely love. But not just any side dish. No, no. This recipe contains the vegetable that kicks all other vegetables arses…brussels sprouts.  (And yes it is brussels and not brussel – the internet says so.)
Now I know many people scrunch their noses in disgust at the thought of eating these mini cabbage balls of goodness. And I can understand if they have only been served brussels that have been cooked to the point of mush. If you are one of these unfortunate individuals I present to you a different way to eat your sprouts. Tender, with crispy golden edges, and then covered in a thick, sweet balsamic glaze. Tossed with tart cranberries, crunchy walnuts and my favorite, tangy goat cheese. This is the way to eat your sprouts America (or anywhere, even Brussels I suppose).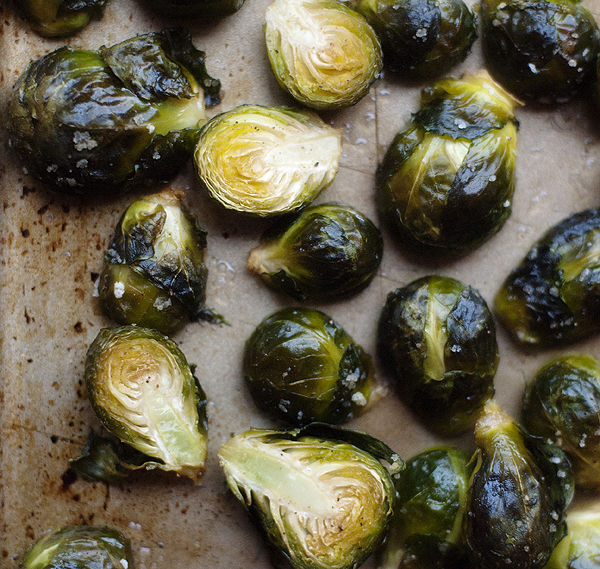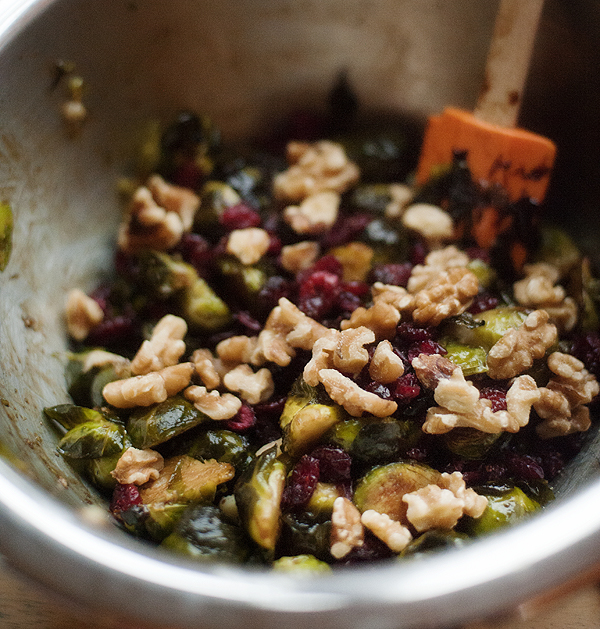 I have the burning desire to put a disclaimer, or even an apology, about these images. My mind still thinks darkness falls around 7:30pm, that's only about 2 hours off from when the sun actually sets. Needless to say it was a race between me, the sprouts and the little light that was left. I won by the skin of my teeth…by the looks of these images we may have to call it a tie.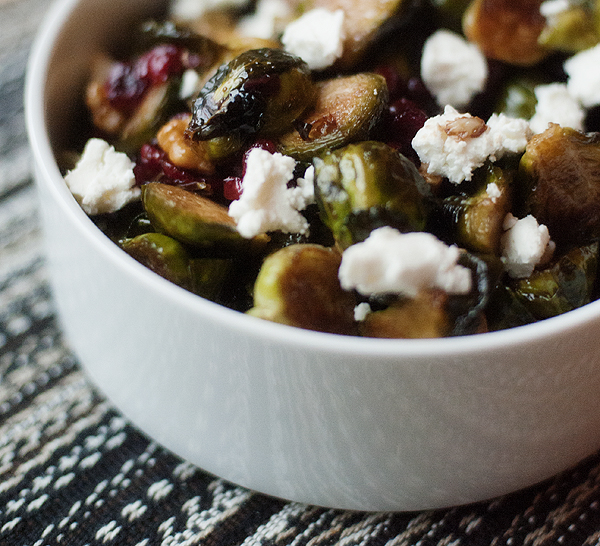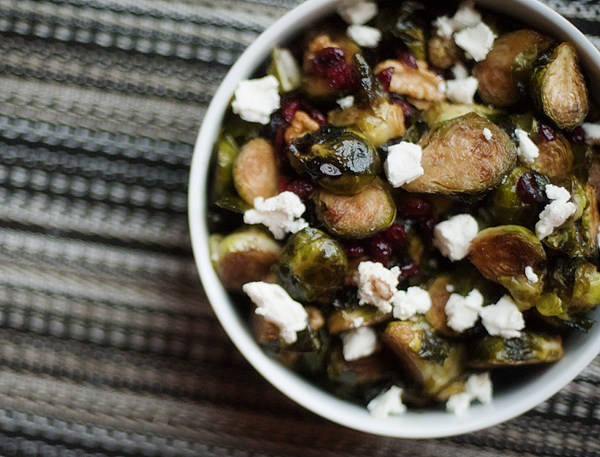 Now I want to know what all of you are bringing to Thanksgiving! Of course if you have yet to decide these brussels are an excellent choice, if I do say so myself.
Enjoy!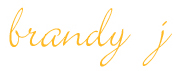 brussels sprouts with balsamic, cranberries, goat cheese and walnuts
Ingredients
1.5lbs brussels sprouts
¼c olive oil
salt & pepper
½c balsamic vinegar
¼c sugar
⅓c dried cranberries
¼c toasted walnuts
4oz goat cheese
Instructions
Preheat oven 375F
Cut sprouts in half (or leave whole if small) and spread in single layer on baking sheet. Drizzle with olive oil and salt & pepper to taste. Roast until golden and tender - 15 to 20 minutes.
Meanwhile put vinegar and sugar in small saucepan and bring to boil over medium high heat. Lower to simmer until thickened - about 10 minutes (keep eye on it though).
Toss brussels sprouts with vinegar/sugar reduction, cranberries, and walnuts. Place in serving dish and crumble goat cheese over top. Serve immediately.