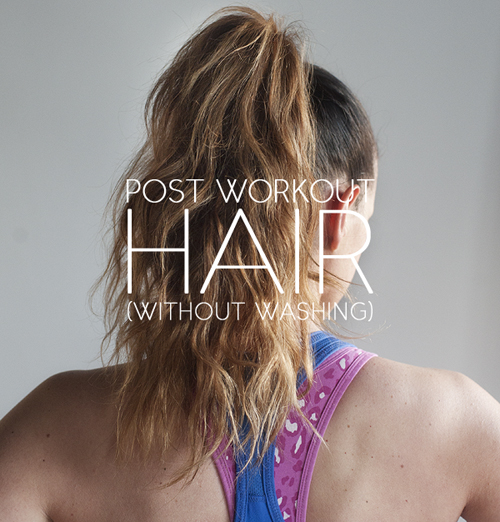 Finding the motivation to workout is a challenge in and of itself.  Especially when you are crunched for time.  The little excuses, like having to wash your hair post workout, can completely derail your exercise regimen.  For the longest time I thought I had to wash it after every run or cross training video…there is sweat involved for crying out loud, a lot of sweat.  But when a girl wants to workout more days a week than she washes her hair she has got to come up with a solution.  This is not by all means fool proof, and will have different outcomes for different hair types.  But it has worked for me at least 90% of the time.
Immediately after working out:
Pat sweat dry around face and neck with a clean dry towel.  Be careful not to rub the sweat into your hairline – that will make it an oily that no dry shampoo could ever conquer.
Take hair out of ponytail.  I absolutely cannot workout unless every single hair on my head is tightly pulled away from my face.  If you like to have your hair down (because you're weird clearly) at least wear a head band to keep hair away from the sweat on your face.
Dry any sweat in hair with the cold setting on your hairdryer.  If yours does not have one go get yourself one – it's essential in this process.  Absolutely do not use the warm air.  Unless you want to look like you just joined the Fight Club.
Use dry shampoo around hairline and part (wherever oil builds up).  I really love our DIY version.
Tease hair if flat and style as normal.
Below is my hair post workout and then the next day.  I did all the steps above immediately after workout except the last one.  This morning I added some more dry shampoo and then styled.  My hair is in desperate need of a trim and color (please disregard) but for day 3 since hair was last washed it is not doing too bad.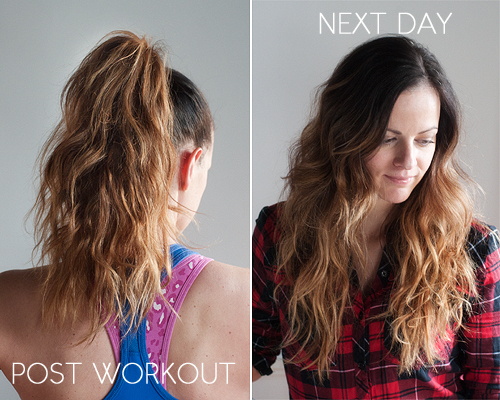 And if all else fails throw a hat on.  Pretty much my go to since I rarely leave enough time to do anything with my hair (and I really really love hats).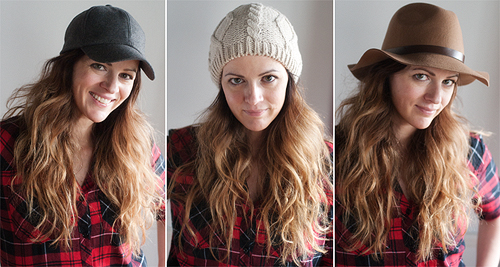 There you have it ladies, no more excuses for not working out….well at least where messing up your hair is concerned.  If you have any post workout beauty tips please share!
xo,