I'll never forget the light that filled our house the day we brought Locke home from the hospital.  Our large windows always fill our home with happy sunlight in the evening.. but that day it was different.  It was warmer..  like the light wasn't coming from the windows at all, but instead it was just there.  During our six weeks with Locke his sweet soul showed us the treasure of life.  His eyes held peace and wisdom that imprinted his heart onto ours, even now that he is gone.  True to his entrance into the world, he left us with a calm understanding that what we were witnessing was nothing short of a miracle.  His 43 days blessed more lives than most do in 100 years, and how lucky we were to be part of his story.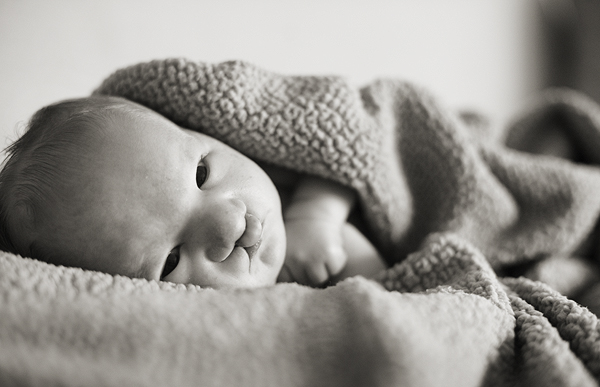 This week has undoubtedly been the hardest yet.  The pain that comes with saying goodbye to a child is unfathomable.. waking up each day feels like a small miracle.. we have made it one more day.  Before losing Locke I had always heard that grief comes in waves, and five days later I can tell you how real the currents of that deep sea are.  We are swaying with the tides, holding tightly to eachother.
Reflecting on this journey is very surreal as we close the last chapter on a book that will never really end.  The reality is we live in a world where nothing has value.. when something is broken we throw it away and get a new one.  At twenty weeks we sat in an office and had the option to stop everything right there.  To start over.  To pretend nothing had ever happened, because what we had was medically speaking "broken".  His body was deemed "incompatible with life".
Sitting now, at the very end of this journey, I can tell you that I have no regrets.  I can tell you that if you gave me the choice between a perfectly healthy baby that I could spend a lifetime with or six weeks with Locke… I would choose him.  I would choose this little soul that was more compatible with life than imaginable.  I would go through this unbearable pain a million times for those six weeks.  In our condolences I keep hearing, "you may not understand why…" but I do.  The only thing that is mending my broken heart is that I so clearly do understand why God gave us Locke, and why six weeks was all he needed.
Before being pregnant with Locke I was afraid of nearly everything.  I clutched Adelynn with white knuckles… so afraid of what loss might feel like.  You see, when you love with wild abandonment you risk everything.  You put your heart in a very vulnerable place where you are forced to either trust that God is enough, or your heart is filled with fear.  This was my lesson.   Where there is faith, there is no room for fear.   Fear tapped on my door every single step of this journey.  Every single day I had to consciously decide to place that fear in the palm of God's hand instead of letting it swallow me whole.. and greater than fear he has placed peace in my heart.  I know that Locke was here to teach us all, to give us life.  To shift our eyes, to open our hearts.  To teach us about love, and for me… to forever shake away the fear that comes with being brave in love.  And for that, I can wake up every day for the rest of my life knowing why.  His life was not in vain.. and neither is the pain left in his wake.
My sweet boy.. you made me brave.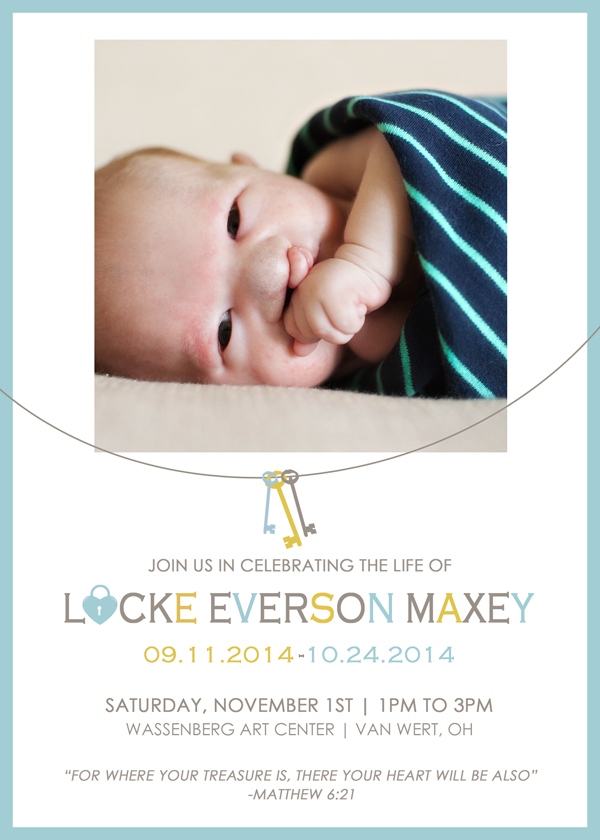 If you are able, please come celebrate Locke's life with us this Saturday.  We would love nothing more than to share the joy of his life with you, and to thank you for being part of his story.
XO,