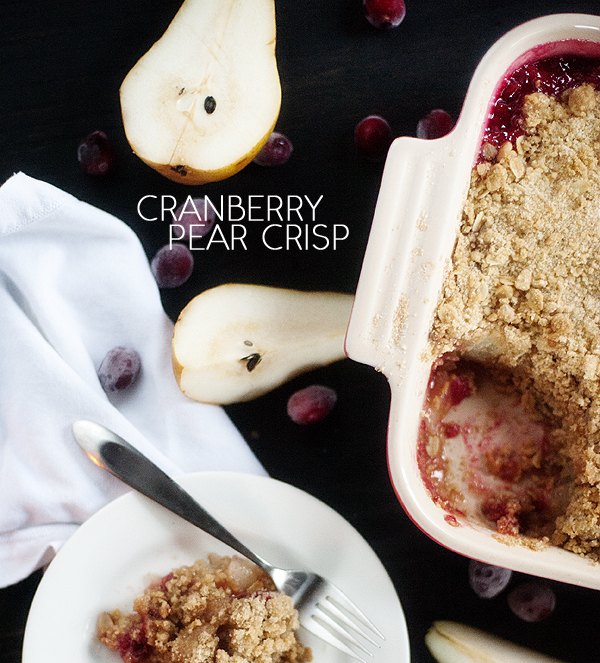 One of the best things about the seasons changing is the produce isle.  I'm sad to see strawberries go, but squash, apples, pears and cranberries make my heart happy.  Fruit crisp is usually reserved for summertime- our quick throw-together dessert that never disappoints, but this crisp– this one is reserved for fall.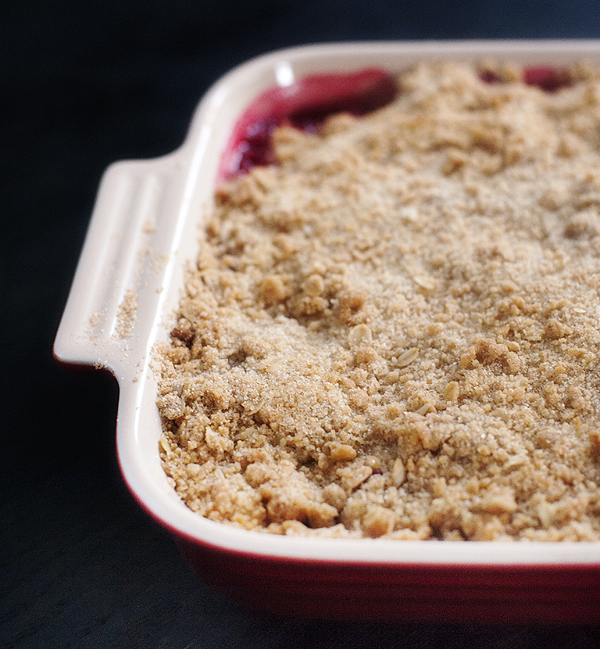 These cranberries are no ordinary cranberries- they came straight from the cranberry festival in Wisconsin (thanks, Sticky!) and are extra delicious.  The great thing about a crisp is that you seriously can not mess it up- you could even use dried cranberries here if you needed to.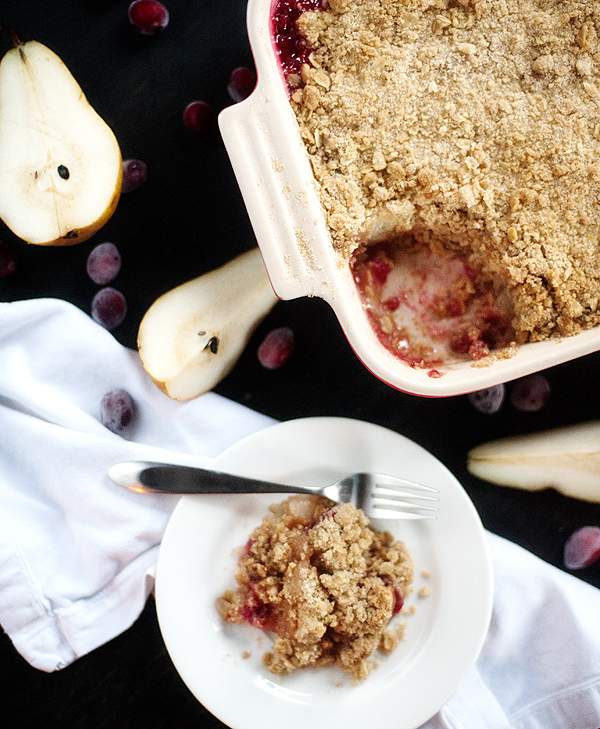 This crisp was our dessert last night after our first dinner with the Rammels since Locke was born.  A tradition we treasure, the scene is usually the same: two crazy toddlers running around in crowns and dress-up heels and Bingham swooning us all with his eyebrows while we catch up on life over glasses of wine and yummy food.  Only this time there were two little boys being swooned over.  Four babies to be thankful for.  So much love around that table.
cranberry pear crisp
Ingredients
Filling:
4 ripe pears, peeled, seeded and cubed
1 heaping cup of fresh cranberries
3 tbsp sugar
½ tsp cinnamon
juice of one lemon, or a few drops of pure lemon essential oil
Topping:
1⅓ cup flour
1 cup brown sugar, packed
⅓ cup sugar
1 tsp cinnamon
½ tsp nutmeg
¼ tsp salt
⅓ cup oats
½ cup (1 stick) unsalted butter, at room temp, cut into cubes
Instructions
Preheat oven to 350F, and take out an 8x8 baking dish.
Prepare the filling by tossing your peeled, cubed pears together with the cranberries, sugar, cinnamon and lemon juice (or oil if you are using essential oils!).
In a separate bowl, make your topping by whisking together the flour, sugars, cinnamon, nutmeg, salt and oats. Toss in the cubed butter. Using your fingers, form the crumb texture.
Mix ½ cup of the crumb topping into the pears and cranberries. Pour filling into your 8x8 dish, and top with the remaining crumb topping.
Bake for 40-45 minutes, until lightly browned on top. Let cool for about 20 minutes before serving.
Recipe adapted from Joy the Baker.