One of my favorite simple pleasures of life is jamming in the car on a gorgeous 70 degree day.  You've got to have the perfect song though, and lately female artists have been offering up some of the best.  Sia, Taylor and Meghan put me in instant lip sync/dance mode.  (Don't even try to deny it, you love these songs too!)
Our friend Lisa is an excellent gift giver.  (She is also far more punctual than me.  Her birthday was in August and our gift to her has been sitting in my dining room since July.)  This past May she sent quite possibly the most perfect gift for our coffee addiction.  These mugs are classy yet homey.  They house both iced and hot brew fabulously.  And everyone will ask where you got them.  Thanks Lisa!
For whatever reason some people are just plain fun to scare.  My dad falls victim quite often because he is ridiculously jumpy.  (I am fairly certain my niece and nephew have taken years off his life with their antics.)  This clip of Ellen scaring Eric Stonestreet over the years is so mean, yet so funny.  Undoubtedly the clowns are the worst.  (Carrie Bradshaw said it best…"Nothing is scarier than a clown!")


Lastly I am going to brag on this 3 month old because well, I am his mom and I can.  He has met and been held by scads of new faces in the last month and almost every single one has made the comment "He's such a good baby".  Not that I would love him any less if he wasn't but it sure is nice that he is.  So thank you Bing for putting up with all of us.  Your big sister in particular is so happy that you do.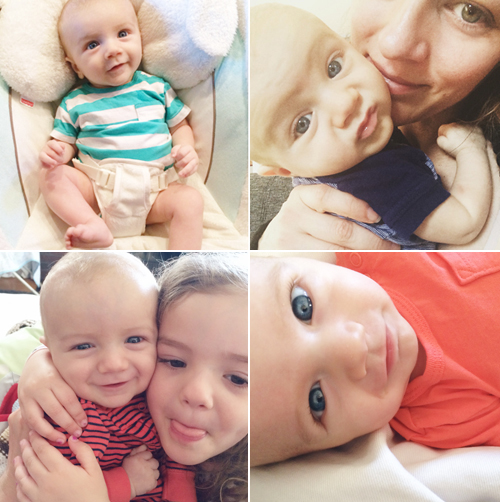 Have a fantastic weekend everyone!
xo,