Fall is undoubtedly the preferred time of year for family photos. The temps are comfortable, the trees are gorgeous and the fashion is fantastic. Having photographed many families over the years I know it's not everyone's idea of fun to pull a look together for the entire crew. That being said it should come as no surprise that I happen to love it. So much so in fact that I thought it might be fun to create a style board for you guys.  An easy to wear look that would photograph beautifully against a natural fall backdrop.  Here are a few tips to creating something similar:
keep the color palette simple.  One main bold color (mustard) with a secondary accent color (oxblood) will have just enough brightness to keep things fun and interesting without being cluttered with color.
black, brown, grey & denim are always neutral.  And they love each other.  They are your best asset to pulling everything together.
mix patterns thoughtfully.  The floral is the star, the polka dot is the costar and the gingham is an extra with no lines.  May sound crazy to mix all those yet with just the right amount of each they create magic.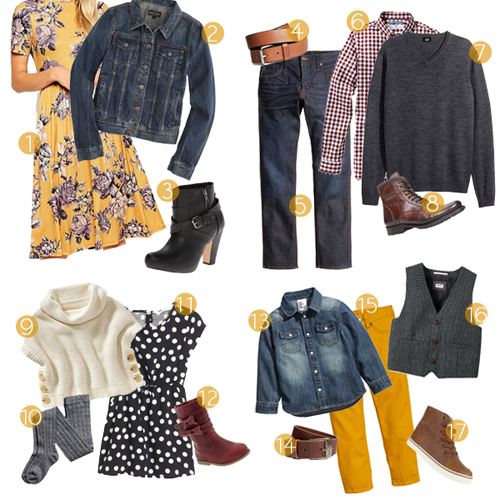 1ASOS Floral Dress 2J Crew Jean Jacket 3Steve Madden Booties 4H&M Men's Belt 5H&M Jeans 6Old Navy Gingham Shirt 7H&M Sweater 8Aldo Boots 9Old Navy Sweater Capelet 10H&M Cableknit Tights 11H&M Polka Dress 12Old Navy Toddler Boots 13H&M Boys Denim Shirt 14H&M Boys Belt 15H&M Boys Twill Pants 16Ruum Vest 17Rumm Boys Shoes
Most importantly everyone needs to feel as good as they look.  If someone hates what they are wearing it usually shows up on their face.  Be willing to compromise because let's face it, those adorable expressions are better than any outfit you chose.
Happy shopping!
xo,