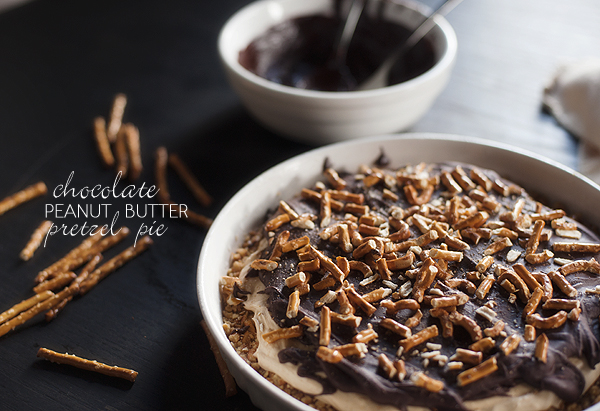 I'm back with another dose of peanut butter and chocolate- again.  This time, in pie form with pretzels.  A true flavor trifecta.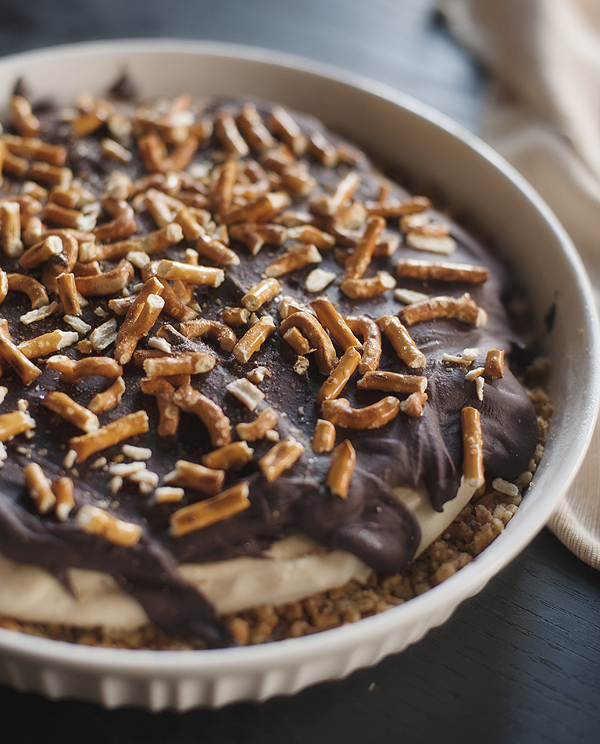 This pie is pretty simple to throw together and there is nothing scary on the ingredient list.  A simple (delicious) pretzel crust, fluffy peanut butter mousse and dark chocolate ganache.  Best of all?  Zero bake time.  That's right- you don't even have to turn on your oven.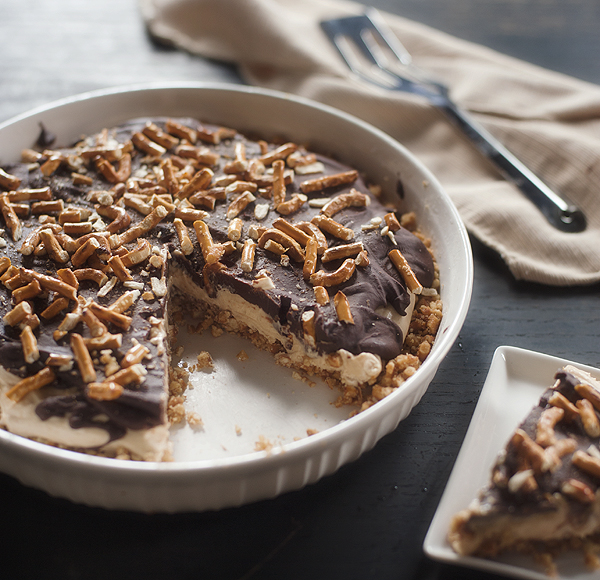 You may have noticed that I didn't serve this "pie" up in a pie dish- which honestly happened for two reasons.
1. After hunting Brandy's kitchen her pie dish has been declared missing.
2. This pie dish hunt led us to a discussion of pie dishes, and how hard it is to come by a pretty one- neither of us actually have a "pretty" pie dish.  (For as much as I bake this is seriously a crime in my kitchen.)
Therefor, the hunt is on.  (Seriously, why is it so hard to find a pretty dish without an ugly price tag!?!)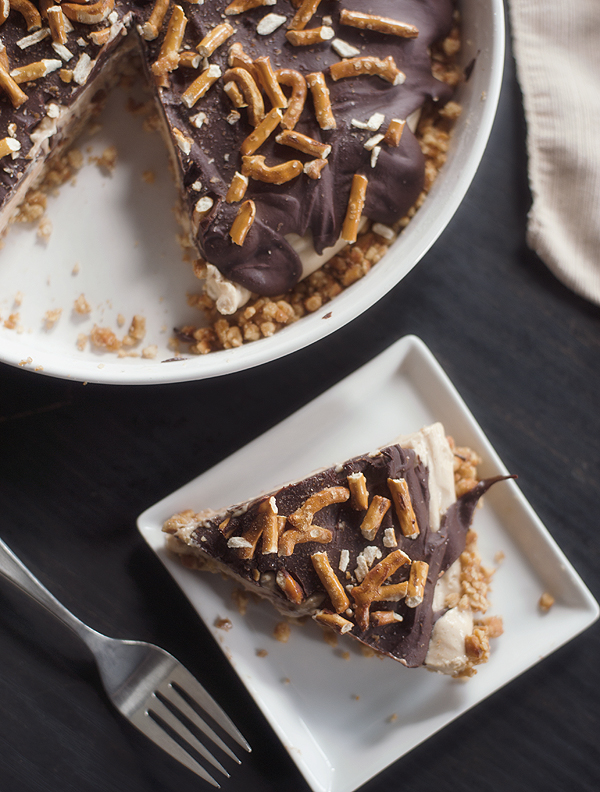 XO,

trifecta pie
Ingredients
Pretzel Crust:
8 ounces salted pretzels
6-8 tablespoons butter, melted (more or less depending on consistancy)
Filling:
¾ cup heavy cream
4 ounces cream cheese, at room temp
½ cup creamy peanut butter
½ cup powdered sugar
Topping:
½ cup bittersweet chocolate chips or pieces
¼ cup heavy cream
crumbled pretzel pieces, for garnish
Instructions
Make the Crust: Grind the pretzels in a food processor until finely ground, or place in a ziploc bag and crush with a rolling pin. Pour in the melted butter until yiou achieve the texture of wet sand, and press into the bottom of your 9-inch pie pan. Chill in the freezer until ready to top.
Make the FIlling: Whip the cream until stiff peaks form using your stand mixer or a whisk. Scrape from bowl and set aside.
In a stand mixer (or with a hand mixer) cream together the peanut butter, powdered sugar, and cream cheese. Once fully combined, add the whipped cream and mix together.
Pour filling into the shell, and return to the refridgerator or freezer.
Make the Topping: Heat the cream over medium-high heat until it is scalded. Pour it over the chocolate pieces in a heatproof bowl. Allow to sit one minute, then whisk together to form a ganache.
Pour the glaze over the pie and top immediately with crushed pretzels. Refridgerate for 15 minutes to set the ganache before serving. Cover in plastic wrap and refridgerate to store, for up to one week!
(Recipe from First Prize Pies)