My head has been disorganized lately.  A million thoughts going in a zillion different directions.  I feel full of energy, ready to tackle the world, and within a blink of an eye become overwhelmed by the chaos in my mind.  Adjusting to two kids, a house with clutter in every corner and the fear of saying no surely does not help matters.  But yesterday was an utterly gorgeous day – one that should have been savored, enjoyed and taken slowly.  Yet I found it nearly impossible to be in the moment and simply breath.  That's not acceptable.
Last week I stumbled across this smartphone detox pin.  Before we go further let me state that I am by no means anti-social media/smartphone.  I wholeheartedly enjoy all of it.  Probably a little too much, hence why I connected to this pin.  Much like a food detox you have to be ready in order for this to work.  Other than work related things I am going to give this detox the best shot I've got because I am indeed ready.  Hopefully it will lead me on a path to clearer thoughts and a more present existence.

With today being Monday I am tidying the email – basically unsubscribing, unsubscribing and unsubscribing.  I do not need to be reminded everyday that Gap is having a sale or that Bath & Body Works is offering free shipping.  The time I spend deleting these emails on a regular basis could be freed for things I actually enjoy – like looking at fashion trends (which I did last night before bed).
Leather pants have been the hot item for a couple of years now – mostly in the traditional black shade.  This season leather of all shades is found in not only pants, but skirts, jackets, boots and accessories.  Burgundy in particular is strong (the trench coat below – hello fabulous) but I am also loving the greens and greys.  Whatever your favorite shade may be there's a good chance you will find it in leather: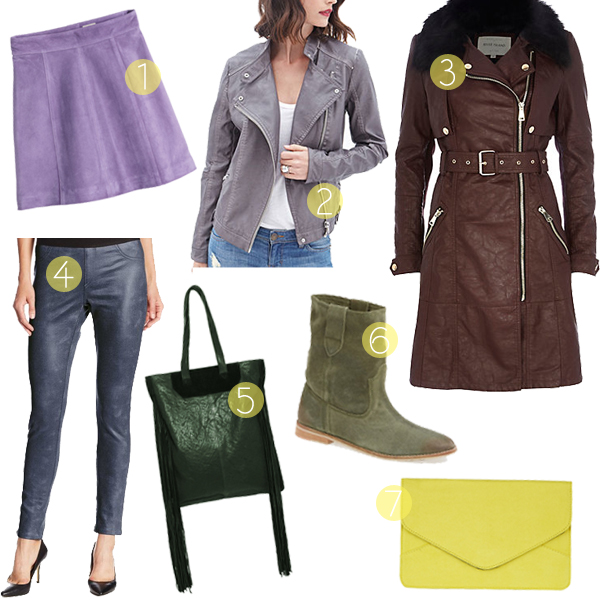 1H&M Suede Skirt 2Forever 21Faux Leather Moto Jacket 3River Island Biker Trench Coat 4Karen Kane Faux Leather Legging 5ASOS Leather Fringe Shopper Tote 6Coconuts by Matisse 'Jed' Bootie 7Dorothy Perkins Yellow Suede Envelope Clutch
xo,