No, I am not in a postpartum cave hiding from the world. Promise.  (Well, at least there is no cave involved.)  The truth is I have basically been living in yoga pants and easy access nursing tops – not too exciting in the style department.  We also have not ventured out much since Bing's birth other than a trip to the zoo.  So there you have it.  I'm living in jammies and we have turned into hermits.  Jettie may have to take over the style posts.
Once I do decide to rejoin civilization I want to be prepared for what fashion has in store for fall.  Accessories in particular excite me because they can easily be added to your current wardrobe and often can be worn immediately regardless of season.  Here are a few of my favorite upcoming trends:
Bags with Something to Say – literally the "statement" piece for fall.  Totes and clutches with graphic font are the perfect way to pump up a basic jeans and sweater look.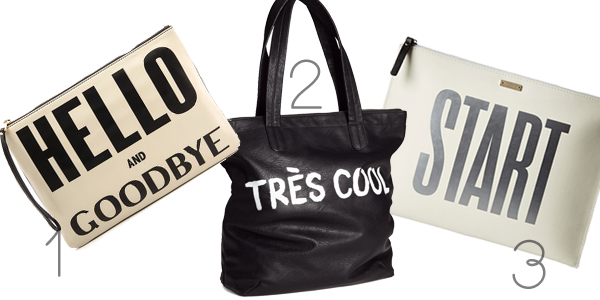 1Karen Walker Hello and Goodbye Clutch 2H&M Très Cool Bag 3Kate Spade New York Photo Finish Pouch
Floral Neckline – with all the dainty jewelry ruling trends lately it's refreshing to see something so bold for fall.  Wear them with casual or dressy looks and don't be afraid to wear them differently (like putting them over a jacket instead of under).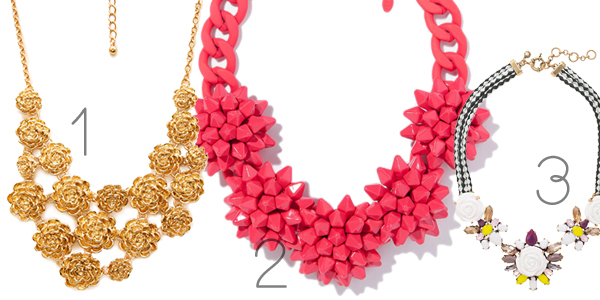 1Forever 21 Cascading Bloom Necklace 2Zara Flower Necklace 3J Crew Burnished Roses Necklace
Statement Gloves – often a forgotten accessory this is the it item for fall.  Bold colors, varying lengths and metal accents are putting the glove on center stage.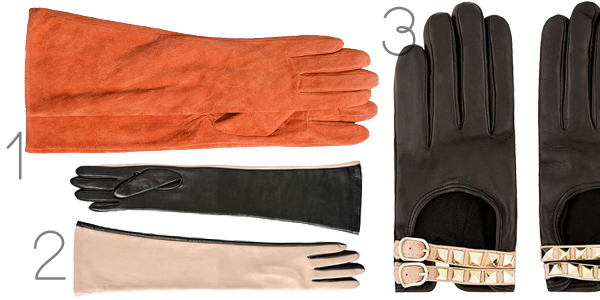 1H&M Orange Suede Gloves 2Maurizio Pecoraro Two Toned Nappa Leather Gloves 3Valentino Rockstar Buckle Gloves
Of course no one wants to wish away summer, but there is nothing like that first peek at the new fall fashion.  Which accessory are you craving?
Crawling back in my cave…