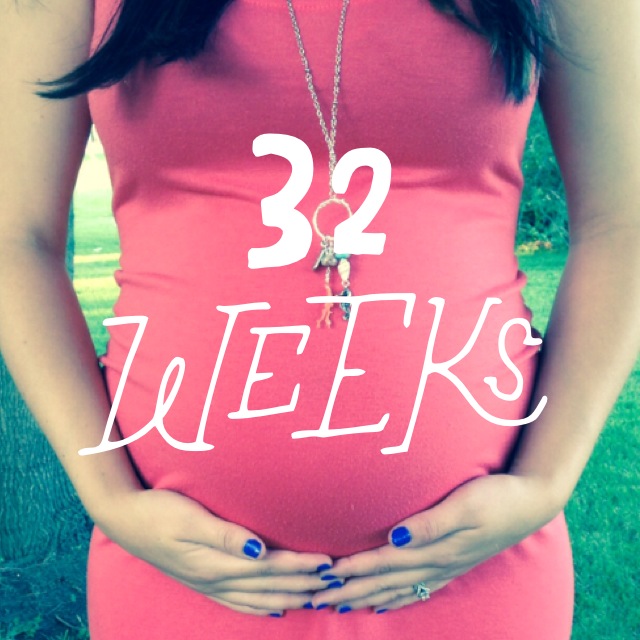 Ever since week 30 I have felt like we are sitting on the edge, dipping our toes in the water.  Hot water, that is.  We never knew if we would even make it to week 30, let alone week 32.. but here we sit.  Waiting.
As we sit with our toes in the water, I can feel the calm before this storm.  I can hear the deep, low thunder rumbling off in the distance, getting closer with each passing day.  People have been asking lately if we're doing okay, and truthfully we are.  Most days.  Of course, there have been moments.  Moments of sitting at the kitchen table, staring at the wall consumed by my thoughts.  Moments that the clouds have actually poured down rain and I've felt so at home, like I can cry too.. it's okay.  Moments where Locke gets the hiccups and everyone gathers around to feel him, and there is nothing but joy.  Moments where Josh and I reach for the doppler, praying to hear his heartbeat because he hasn't moved enough that day.  Good days, bad days.. days when we feel ready, days when we do not.  Moments of strength, and moments of absolute, completely consuming weakness.
Last week we had a few particularly trying days.  After being on my feet all day, I came home and sat on the couch, waiting to feel those familiar kicks in my ribs.  But they didn't come.  Josh sat in front of me on his knees, begging Locke to move.. but nothing.  We got the doppler and stared at eachother with wide eyes for a few seconds before taking it out.  Breathe.  It will be okay.. The doppler quickly found his heartbeat, a strong 152.  Exhale.  But there were still questions.  Why am I not feeling as much?  What if my fluid is getting low?  Is he slowing down?  The next morning we called our doctor, and she sent us to labor & delivery to have a stress test done, just to see how he was doing.  We were hoping for an ultrasound, but because he passed the stress test we were sent home.  That night his kicks felt normal again, which makes us feel better but we are still anxious to peek in there and see our little guy.  We are hoping to schedule an ultrasound for next week, just to be sure all is okay.
These weeks keep rolling in so quickly, I still can't believe we are here.  In many Trisomy 13 cases, things can take a turn in the blink of an eye during these final weeks.  Our bags are packed, but my heart is begging for more time.  For now, I will focus on unclenching my hands, opening my palms.  The control is not mine, the plan is not mine.
For I know the plans I have for you declares the Lord, plans to prosper you and not to harm you, plans to give you hope & a future.  Jerimiah 29:11
Please continue to pray for our sweet Locke.