Yesterday was my 25th birthday, and I had as much fun as a pregnant girl can have on her birthday.  Blueberry pancakes for breakfast (served by my husband), Fort Wayne for lunch, a trip to Sephora to be spoiled, dinner with family and a movie and a milkshake to top off the night.  (Yes, it was a hot fudge milkshake, and yes it was incredible.)
It has truly been forever since I have gone into Sephora to shamelessly spend a bit on myself, and gosh it felt good.  I could get lost in there for hours, just ooing and awing over shadow palettes and lipgloss.  Yesterday I was on a mission to replace my blush and bronzer, and found a million other dreamy things along the way.  I scored The Naked Basics palette and their new bronzer/highlight/blush trio and wearing them today I couldn't be happier with my purchases!  Here are some other fun things I stumbled upon that caught my eye: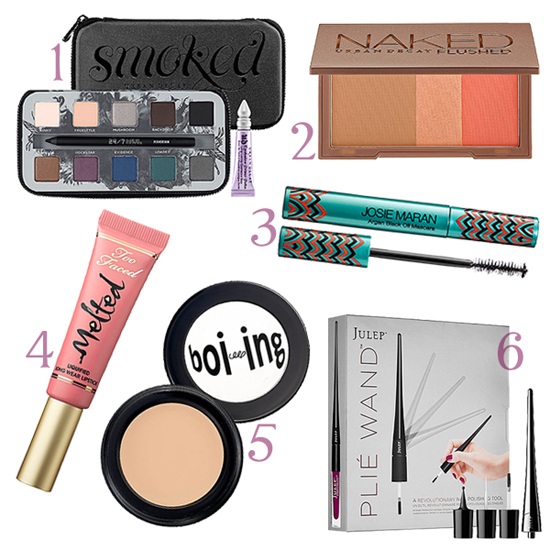 1. Urban Decay Smoked Palette – I was two inches from buying this palette.  The colors are perfectly pigmented and gorgeous!  2. Naked Flushed (Bronzer/Highlight/Blush combo) – This is the combo I went with for bronzer and blush- I was surprised at how much I liked using the highlight powder as well.  A great trio!!  3. Josie Maran Argan Black Oil Mascara – This mascara has great reviews, a bottle that will catch your eye, and it is made without parabens, sulfates and phthalates- and boasts that it lasts 24 hours! Score!  4.Too Faced Melted Lipgloss – The pigment of your favorite lipstick, in gloss form!   5. Benefit Boiing Concealer – I sampled this concealer years ago and truly had forgotten about it until recently.  I love all things Benefit, but this is a great concealer!  6. Julep Plie Wand – Okay, how cool is this?  Designed to make polishing your nails easy with both hands, this wand makes at home mani's and pedi's a snap.
XO,

P.S. Thank you all so so much for the birthday love yesterday!