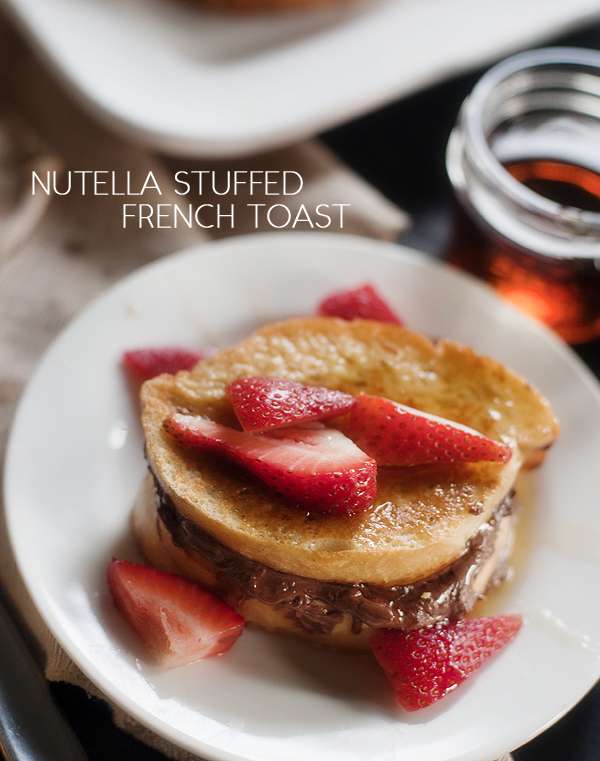 French toast just got a little sweeter. Thick slices of crusty french bread, stuffed from the center with creamy nutella, and topped with maple and strawberries- are you drooling yet?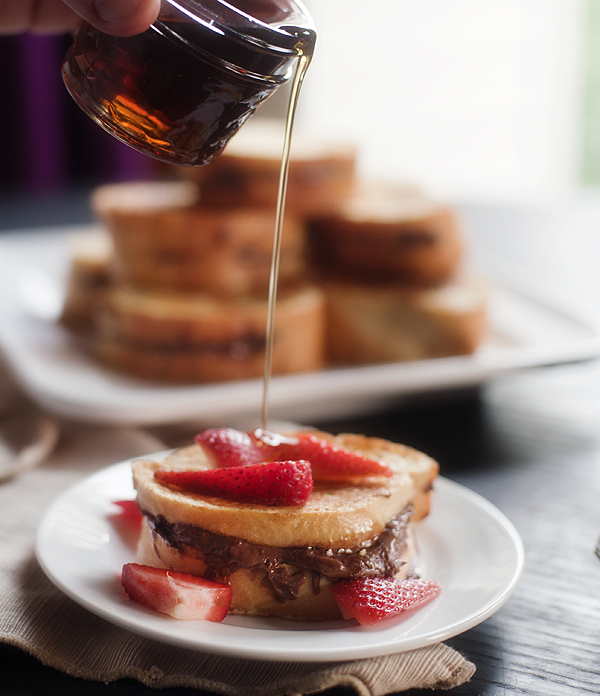 It's no secret that we love breakfast in our house, and french toast is at the top of that list. A childhood favorite of mine, and a new favorite of Josh and Adelynn's. Yesterday we woke up to thunderstorms, and it was one of those days that you want to stay in bed all day and listen to the thunder. I pulled myself to the kitchen (eventually) and made banana pancakes. Jack Johnson was playing in my head, flooding out my to-do list. This is why I love breakfast. Its the quiet cozy before the day starts, the coffee-mug-in-hand, blanket-on-the-couch time. Add thunder and life is complete.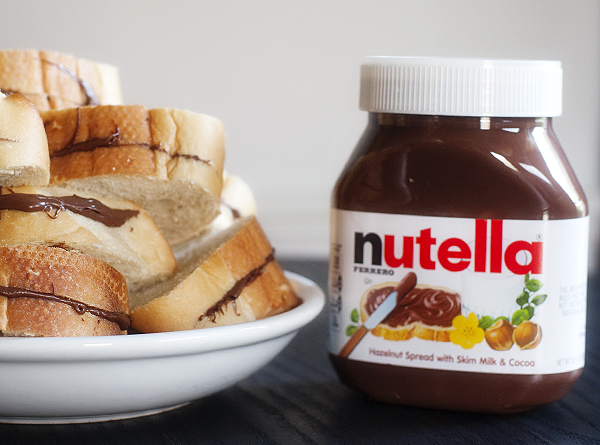 nutella stuffed french toast
Ingredients
1 loaf of french bread
1 cup milk
¼ cup heavy cream
5 large eggs
½ tsp vanilla extract
1½ tbsp granulated sugar
2 tbsp flour
¼ tsp baking powder
¼ tsp cinnamon
1 cup Nutella
Butter, for griddle
strawberries, chopped
syrup
Instructions
Preheat a griddle to 350F. Using a serrated knife slice bread into 1¼ inch slices. Cut into each slice keeping the end attached, and fill with a heap of Nutella, then set aside.
In a medium bowl whisk together milk, cream, eggs, vanilla, sugar, flour, baking powder and cinnamon, and then pour into a shallow dish.
Butter the griddle, and dip each side of the toast into the egg mixture, squeezing it a bit to really soak it in.
Cook french toast until golden on each side, and then serve immediately topped with sliced strawberries and maple syrup.