With Sticky back to work I have been entrusted with a newborn and toddler.  Yikes.  So far I have unloaded half a dishwasher before realizing it was never ran, found Jettie with "pen" whiskers on her face and varicose veins on her legs, forgot to feed the dog (twice – please don't call the humane society) and yelled at my stove for not boiling water fast enough. But hey, both kids are alive and as far as I can tell healthy so clearly I am winning.
Postpartum is by far the trickiest part of pregnancy for me.  On one hand I look at Bingham and think "wow, that amazing little being grew inside of me.  And now he is here.  My body rules."  On the other the thought of leaving the home, (or even worse, trying to find something to wear) spawns instant self loathing and inevitable tears.  It's a hormonal roller coaster of extreme highs and the lowest of lows.  I love it and hate all in the same moment.
Thankfully I learned something from the first go around – stop being so damn hard on yourself.  Admittedly, it's not easy.  But between reminding myself of this simple rule and a few treats just for me it has been easier to find my center in this postpartum haze.
Of course these products are great gifts for mommy to be's or postpartums.  They would also make nice surprises for women who are under the weather, post surgery or just having a bit of a blue time in their life.  Simple pick me ups to brighten someone's day: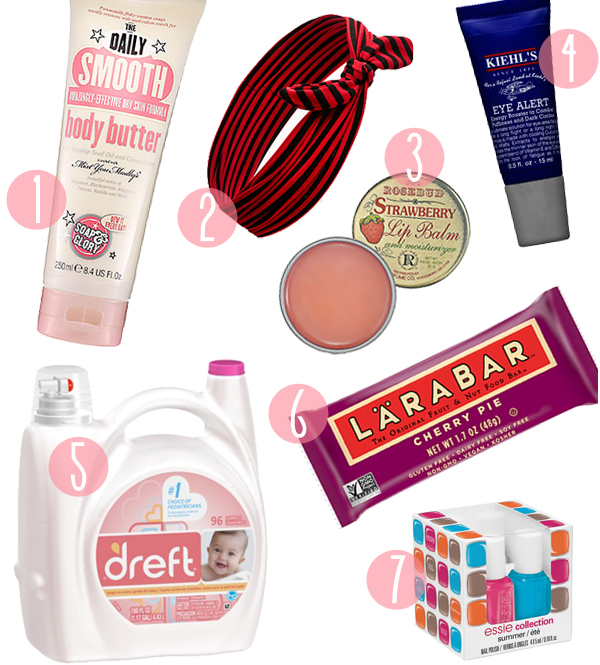 1Soap & Glory The Daily Smooth Body Butter every girl loves to have silky skin. 2Forever 21 Seaside Tie-front Head Wrap give the ponytail a break and keep those tresses pulled back with this pretty head wrap. 3Rosebud Perfume Co Strawberry Lip Balm Shan gave me one of these as a gift last year.  I love how pretty it looks in my purse but most of all it keeps my lips super soft. 4Kiehl's Eye Alert for those times when sleep was not a priority. 5Dreft Liquid Laundry Detergent the smell, the glorious baby smell!  I love to wash my bras and tops in this as well – keeps everyone smelling like baby. 6LARABAR, Cherry Pie you will find these floating in all my purses/diaper bag.  The perfect grab and go snack with no guilt (cherry is my fave, but I love almost all the flavors) 7essie Collection Summer 2014 a girl may not have time for an official pedicure but it's not too difficult to throw some fun color on the piggies.  Essie makes the most desirable shades and these are no exception.
xo,