Nearing the end of my 2nd pregnancy I have come to realize that there a few pieces that a pregnant girl must have.  Especially in the last trimester when discomfort and size are at their peak.  Here are my summer "can't live without" pregnancy items.  They may seem simple but trust me, you can't have too many of any of these things (and great gift ideas for all your prego girlfriends):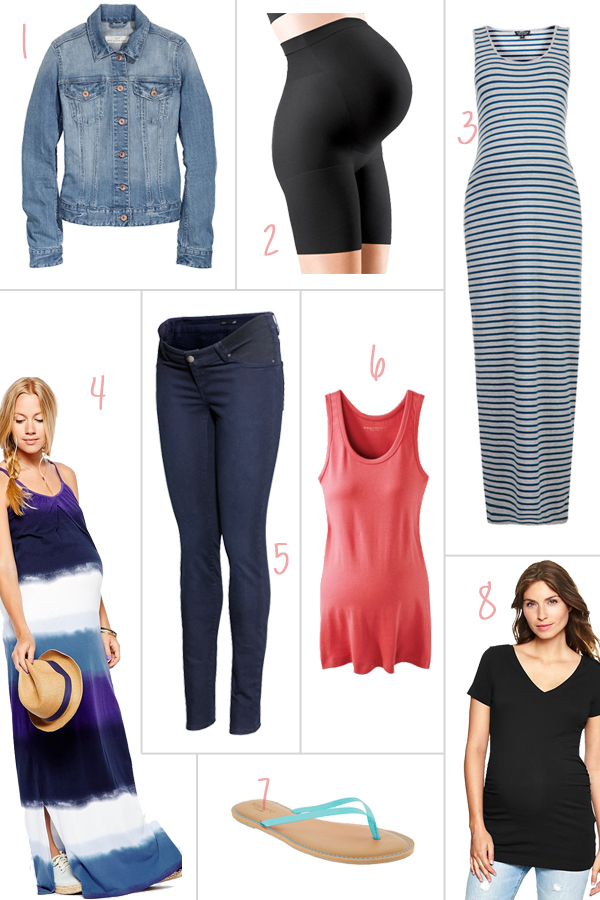 1Denim Jacket a MUST for throwing over dresses on cool summer evening.  Also hides arms and gives a little structure and shape to your overall look.  Frankly this is an essential pregnant or not.  Don't settle for just any old fit – find yourself one that you love! 2Maternity Shapewear something I discovered this time around that I only wish I would have the first time.  Yes, I realize it's not the sexiest looking undergarment on the planet.  But if you want to wear something fitted and not worry about lines or bulges this will be your best friend.  (Be sure to get a pair in nude and black.) 3Fitted Maxi Dress as you all know I am obsessed with the maxi dress for warm weather maternity style.  A fitted version shows off the bump in the best way possible (especially when worn with the shapewear). 4Flowy Maxi Dress for those easy breezy days when you just want to feel comfy.  (And a much better option over something fitted when the temperature is super hot.)  If the bigger shape leaves you feeling well, bigger, simply add a belt right below the bust line. 5Side Panel Jeans I am not a huge fan of full panel jeans on warm days.  With that being said sometimes a girls just needs to wear some denim.  These fit nicely under the belly without making you feel like you are wearing them up to your chin.  6Maternity Tanks a girl cannot have enough of these.  Great for slipping under a dress, over jeans, under a jacket or wearing to bed.  If you are tall and tend to carry mostly in your belly go for the longer versions. 7Easy Flat Sandals when the bump is extra big bending over to put footwear on can be a challenge.  Cute and comfy sandals that go on with no fuss are the perfect solution. 8V-Neck Tees just as versatile as maternity tanks but with a little extra arm coverage.  Chose some with rouching at the sides for great shape around the belly.
Bought in different colors/patterns and mixed with accessories these pieces will get the bump through summer in a stylish yet comfortable way.   Pregnancy is undoubtedly beautiful after all, a momma deserves to feel it.