With Father's Day rapidly approaching (a little over two weeks from now, can you believe it??!!) now is the time to be securing that perfect gift for Dad.  Men can be incredibly hard to buy for – you want to get them something they will use but also love at the same time.  We have put together a collection of items we know our little ones' Dads would love.  Hopefully something on here provides inspiration for all of you: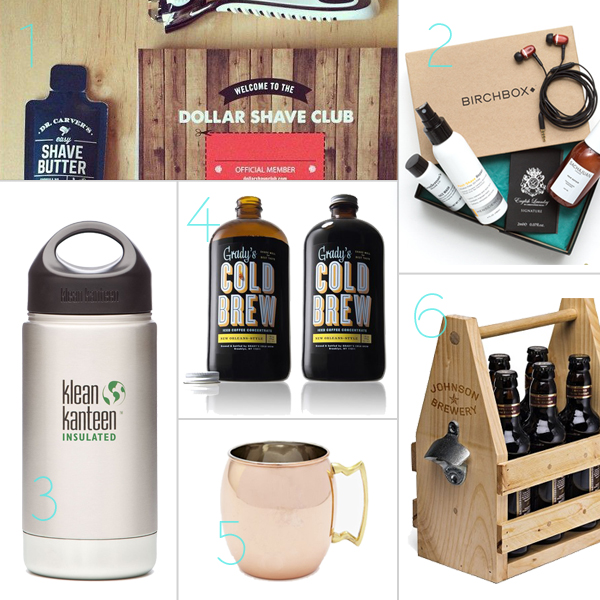 1Dollar Shave Club for a low monthly fee simply select a razor and poof – they arrive at your door (in cool packaging no less).  Perfect for the guy who can't seem to remember that they need to replace their blades. 2Birchbox another monthly subscription except this time Dad will receive 3 to 4 grooming samples and a full-size lifestyle product.  Fill out a form creating his own personal profile and Birchbox does the rest.  We can attest that the female version is incredible, cannot imagine the male version being anything less. 3Klean Kanteen Insulated Bottle as advocates for removing as much plastic as possible from our daily consumption these bottles have been a favorite for years.  And we swear water tastes better out of them.  Athlete, camper, adventurer or simply someone who loves their beverages would appreciate this. 4Grady's Cold Brew 2-Pack cool packaging and amazing coffee.  If you have a coffee lover for a dad he will for sure thank you for this bold, velvety-smooth taste of heaven. 5Moscow Mule Copper Mug the Moscow Mule gift kit Brandy J posted back in December has been one of our more popular gift posts.  What makes this mug different from the rest?  It can be personalized just for Dad. 6Wooden Personalized Beer Caddy Dad will feel extra special showing up to a barbeque with his own fancy beer carrier.  There are many versions of this out there but we love the personalization and look of this one (plus there's a cute little bottle opener on the side).
Cheers to shopping for Dad!