When we found out baby #2 was a boy I honestly had no idea what I was going to do about our living arrangement.  Our home consists of 3 bedrooms with one being utilized as an office.  Over the last few months I have been configuring in my head a way to move the office into our bedroom making it possible for the kids to have separate spaces.  Reality is this – it's not going to work.  The office is much more than just an office when taken into consideration it houses the treadmill and large additional storage (like our shoe cabinet).  This left us with only one option – a shared room for the kids.
Jettie's bedroom is by far my favorite in our home (I hereby make a vow to photograph and post it before we move her – hold me to that people!).  From the paint color to the textile choices everything came together just as I had hoped (this is never ever the case when it comes to my interior decorating adventures).  With the current office being larger than her room we are simply going to swap.  This works for two reasons – 1. I get to keep the feel of Jettie's room for my office and 2. leaves us with only one bedroom to paint and decorate.  A shared bedroom for a growing girl and lil man whom we have yet to meet.  At first I felt constricted by gender neutral tones.  That was until of course I hopped on Pinterest (let the inspiration begin):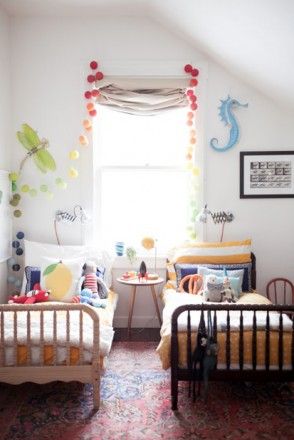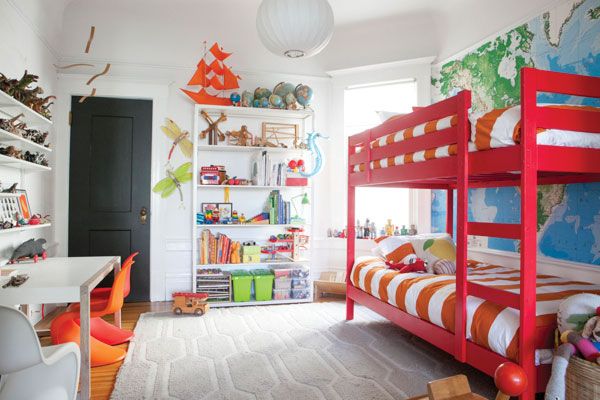 from Oh Happy Day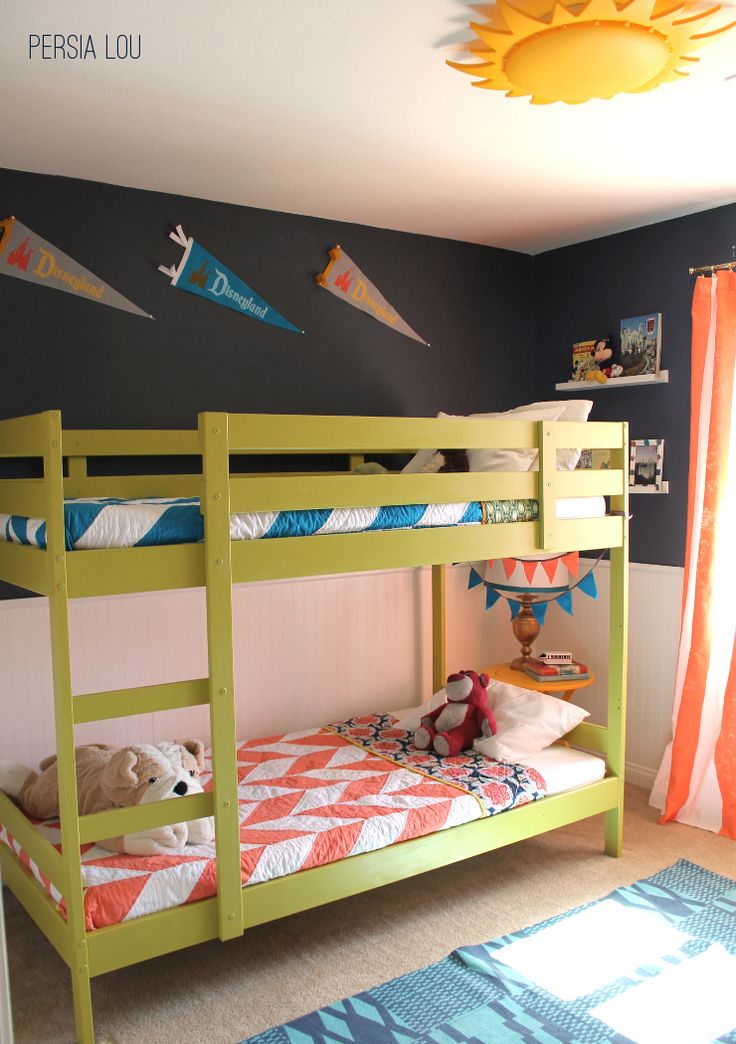 from Persia Lou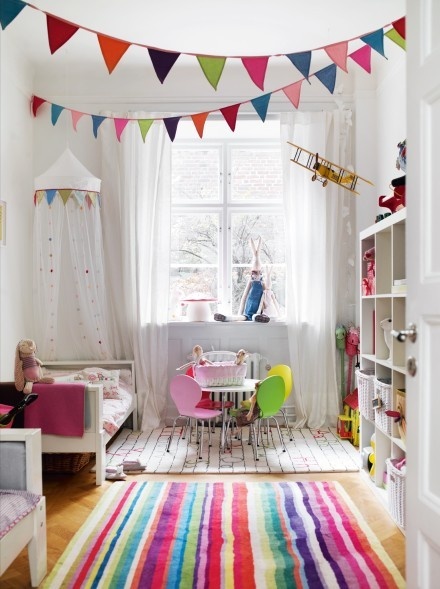 The running theme in all these rooms are neutral walls with bold colors.  I'm sold.  From here I have started a very very virginal inspiration board: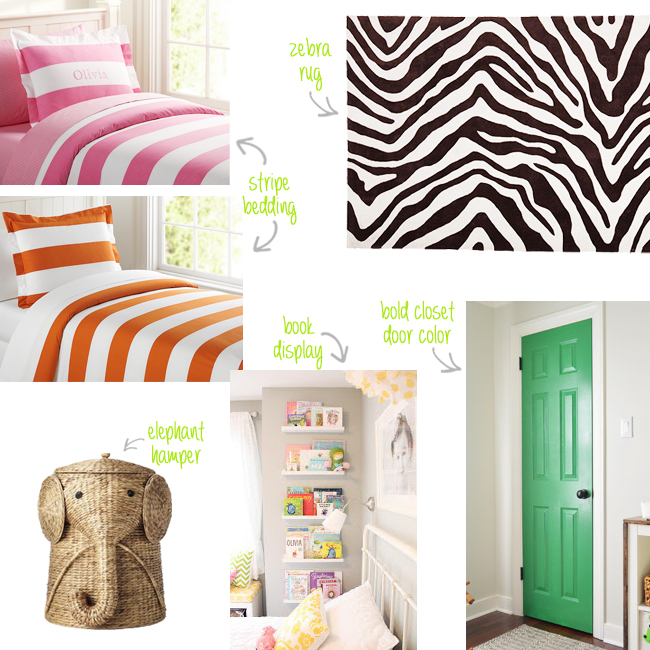 striped bedding in contrasting colors –  to save on space we want to do bunk beds, with her bedding being hot pink and his being fire orange.  Not for certain we will do them both in rugby stripes but I am crushing on the idea of it for now.  We could always mix up the patterns in the pillows. zebra rug – we own it already and it's not being used.  Reason enough for me!  In all seriousness though it is the perfect size for the room and it adds a black and white graphic element (something almost every room in our home has in some form). elephant hamper – no, I am not doing a "safari theme" but if there is space for this guy I might have to have it.  A tiny touch of natural would soften all the bold colors and well, he's pretty darn cute. book display – Jettie has book storage in her room but it is your typical library style set-up.  This open display makes it easier for kids to grab themselves and is more enticing to the eye. bold color closet door – one of my favorite home interior blogs, Young House Love, painted their little boy's nursery closet door kelly green and it's fabulous.  A great way to break up neutral walls without having to do it in the curtains.
With baby boy due next month you would think this would feel like an urgent project.  We are taking it slow though, more than likely putting the crib in our room once he does officially move to it.  I could blame it on him being our second and we are far more laid back than with our first but the truth is we move slow as molasses when it comes to home projects.  Hopefully before Jettie turns 4 you'll see this shared space that is currently only in my head.