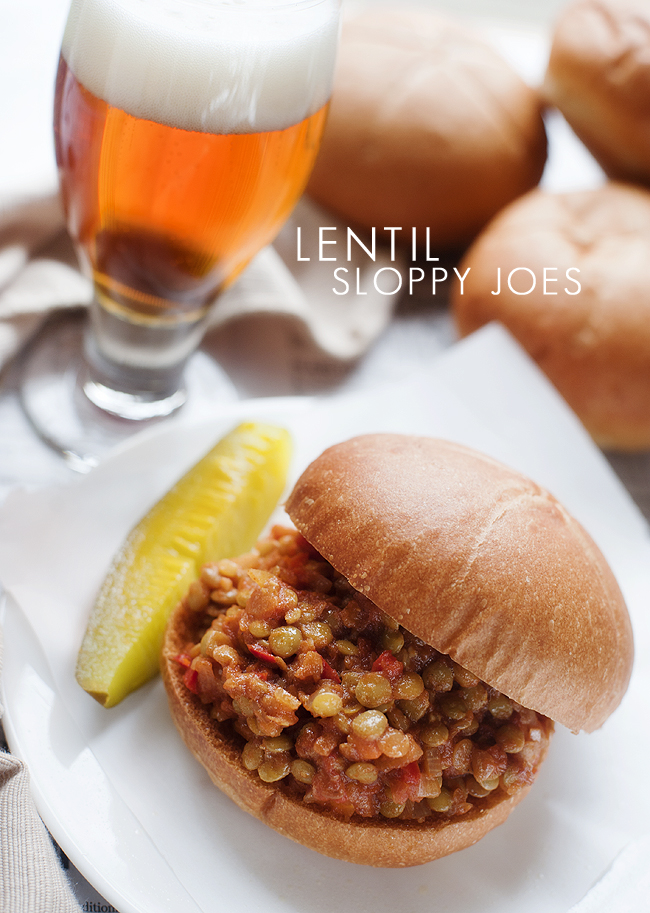 It's hard imaging a childhood that does not include sloppy joes.  Never being a big fan of meat this classic sandwich was one thing I gladly devoured in my younger years.  Probably had something to do with the fact that the ground beef was hidden in a barbeque-y ketchup-y yum, yum, YUM sauce.  Since giving up all land loving meats I have missed very few things if any.  Yet something about that tangy sauce makes my mouth water every single time.  Since using "fake meat" is completely out of the question in my book, I jumped for joy over the thought of using lentils.  Why I have not been doing this for a decade, I don't know.  I will be now though.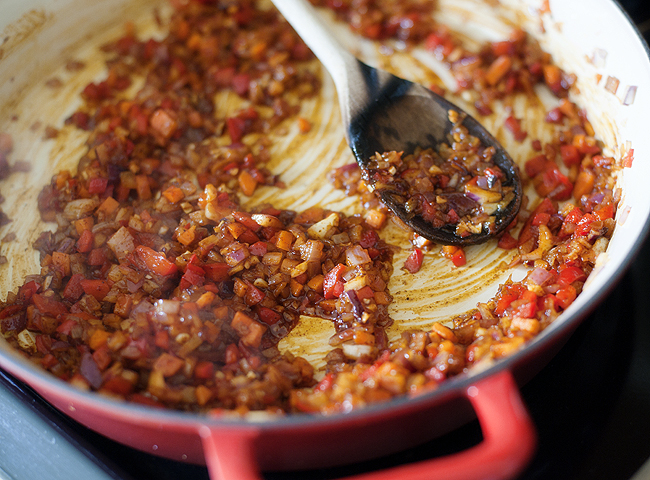 When chopping your onion, pepper and carrot keep in mind the size.  A large dice will create a rather messy joe, while a smaller chop (similar to the size of a cooked lentil bean) will aid in keeping the sandwich together.  Of course some will still spill out of the bun – but that's half the fun isn't it?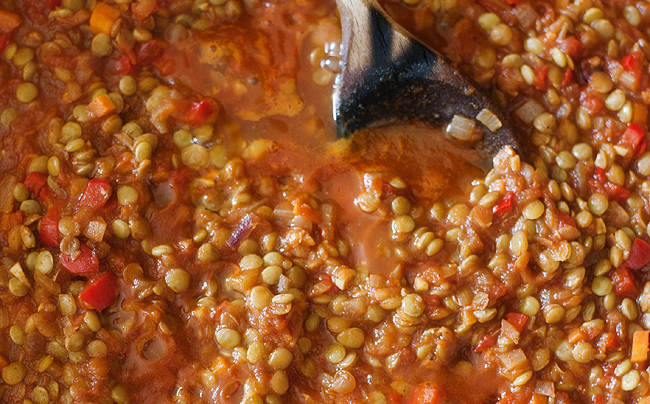 For me the combination of sweet, spice and tang is pure sloppy joe perfection.  It is a sauce that can easily be adjusted though.  Hot pepper flakes, jalapeno, soy sauce or even honey would all be fine additions.  It is completely up to you and your family's tastebuds on how wild or not so wild you want to get.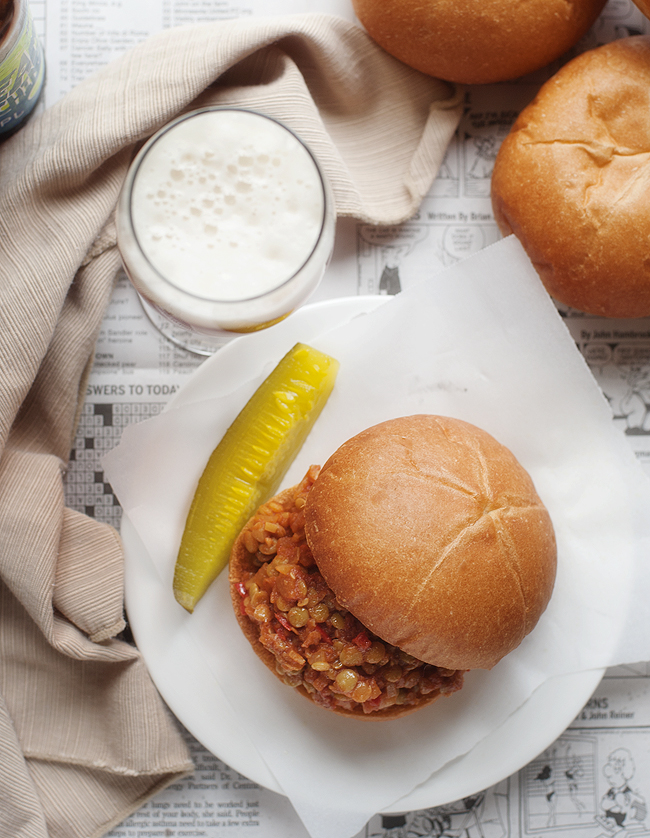 Grab a fork and feel free to dine on this amazingly delicious bean dish a la carte.  Throw it in a toasted bakery bun and well, that's vegetarian sloppy joe heaven.  If you really want to show off (and be uber super healthy) place your joe in a lettuce wrap.  The beans are filling making this option ideal for a light lunch.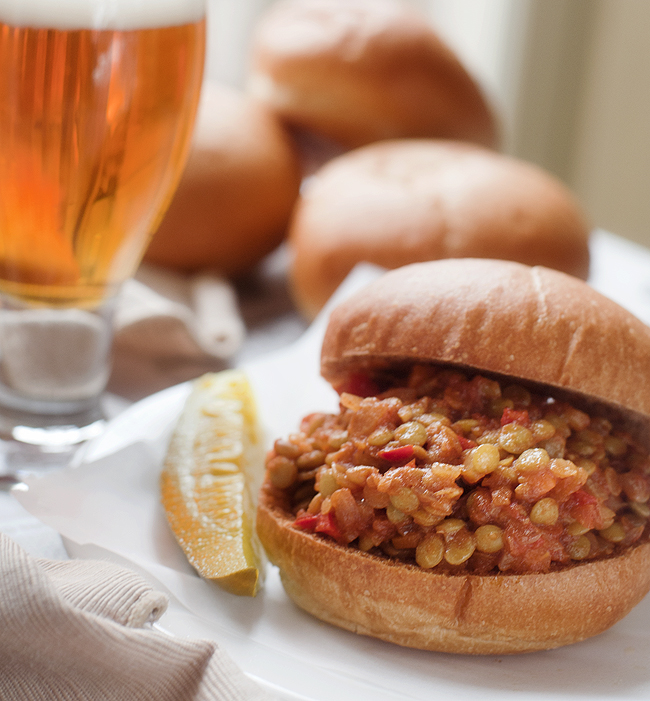 The smell, the texture, the sweet, sour tang – it's all just so good!  My meat loving man even loves these things.  So much in fact I hide the leftovers in the fridge.  They are even better the next day which completely takes sharing off the table.
Enjoy!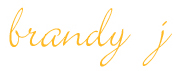 lentil sloppy joes
Ingredients
2 cups Water
1 cup Lentils
1 small Onion, diced
1 Red Bell Pepper, diced
1 Carrot, diced
1 Clove Garlic, minced
1 Tbsp Chili Powder
1 tsp Paprika
2 Tbsp Brown Sugar
28 oz can Diced Tomatoes (look for BPA free or use 3 fresh tomatoes chopped)
3 Tbsp Tomato Paste
1 cup Water
1-2 Tbsp Worcestershire Sauce
1-2 tsp Mustard
Instructions
Rinse the lentils thoroughly and place in a pot with the 2 cups of water. Bring to a boil, then lower to a simmer for approximately 20 minutes. Do not overcook. You want the lentils soft they will continue cooking with the other ingredients.
In a separate large pan, saute the onion, pepper and carrot in olive oil or water for 5-10 minutes. Add the garlic, chili powder, paprika and brown sugar. Cook stirring constantly for 2 minutes.
Drain the lentils and add to the onion veggie mixture. Stir in diced tomatoes, tomato paste, water, Worcestershire sauce and mustard. Simmer over medium heat for about 20- 30 minutes.
Serve on toasted buns or in lettuce wraps.
recipe slightly modified from Squash Blossom Babies