You know that girl who throws a scarf in her hair and looks fabulous without even trying?  Yeah, we all know that girl.  We secretly admire and fill with green envy over her effortless style.  You know who can easily be that girl?  YOU!  Yes, without a doubt you can tie your unwashed hair up in a silky floral number and voilà – you're Carrie Bradshaw (ok, no one is that fabulous).  While there are many different ways to utilize head scarves, I decided to put together the easiest, fastest and most fantastic options a girl could think of.  Whether you are retro, bohemian, prim and proper or a combination of all three there is an amazing head scarf option for you.
To start you will need a few fun scarves.  Here are my favorite types: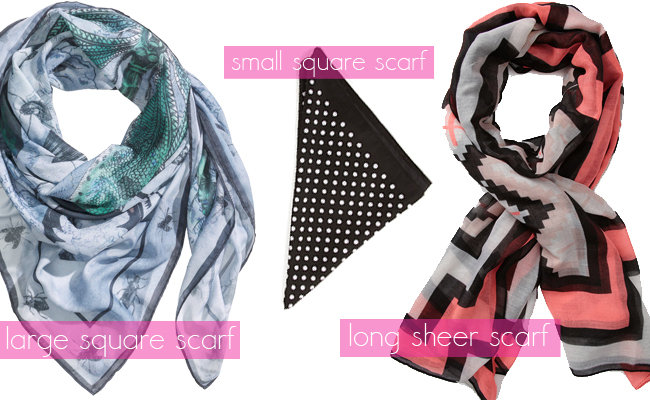 Large square for a more substantial head piece with long tails for tying big knots or bows.  Small square scarf, same purpose except with shorter tails for knotting and tucking.  Long Sheer scarf, less bulky look with long and flowy tails.
Shan and her friend Hannah graciously offered to model some looks off for me.  One has thinner, very fine hair while the other has thick (hello pregnancy hormones) textured hair.  Both easy to incorporate scarves with proving there is really no reason not to try.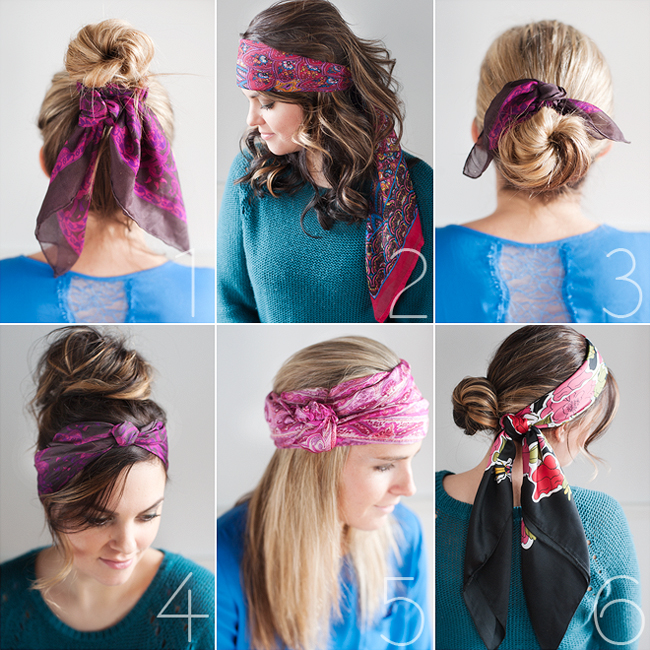 1 Pull hair into a high messy top knot bun (use pins to secure unwanted strays).  Open small square scarf flat and fold in half corner to corner making a triangle.  Fold lengthwise repeatedly until you achieve desired width (ours was about 2.5″).  Wrap around bun once and tie in knot or bow at the bottom. 2 Grab top part of hair and secure out of the with a clip.  Take a long sheer scarf (or one made of a thin material) and fold lengthwise achieving desired width (around 4″ for us).  Place middle of scarf on forehead, angling tails down to bottom of head (make sure ears are cover).  Tie scarf in a knot at bottom.  Remove hair from clip, tease a little and pin pieces back making a messy half up do.  3 Pull hair into a low neat bun.  Fold scarf same as style #1 above.  Wrap around bun (starting from the top) and tie into a knot or bow above the bun.  4 Style hair into a loose messy top bun.  Fold small square scarf similar to above style #1.  Place middle of scarf around nape of neck and tie up into a knot at top of head (ears covered).  Tuck tails underneath scarf, one on each side. 5 Fold long sheer scarf lengthwise similar to style #2.  With hair down place scarf one side of head and start wrapping (how many times will depend on length of scarf – Hannah's was wrapped twice).  Secure into a knot at opposite side of head.  Twist each tail, wrapping around knot and tuck into the first layer of wrapped scarf. 6 Pull hair into a low bun.  Fold large square scarf like style #1.  Wrap around head, securing into a knot at one side, towards the bottom.
Alright ladies, let's grab those pretty scarves and have some fun this spring and summer!