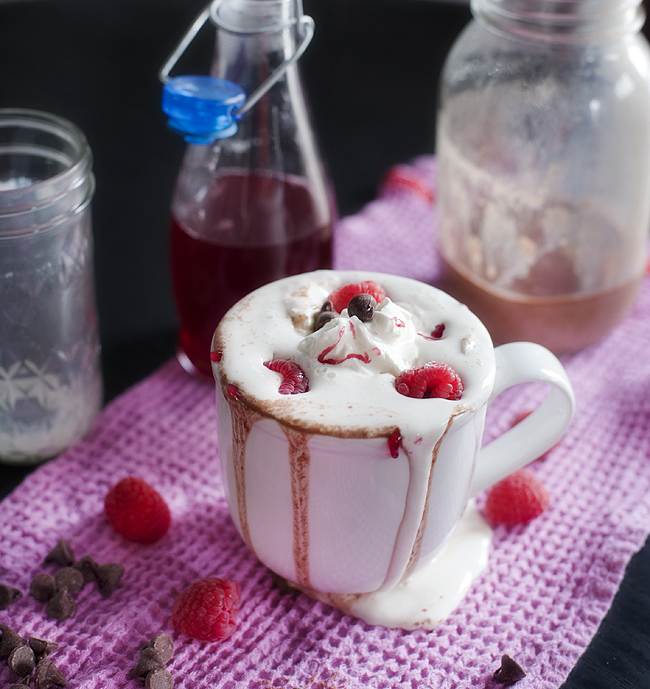 Sometimes I need something sinfully decadent in order to bring myself back to sanity. Is it good for me? No. Will I end up with a stomachache? More than likely. Do I care about either of those things? Absolutely not. Because when teeny tiny things that mean nothing set a person off you know you need to take a moment to decompress. This amazing mug of goodness will do wonders for those ugly moments. Next time I feel like I am going to scream I think I will just make some raspberry hot cocoa instead.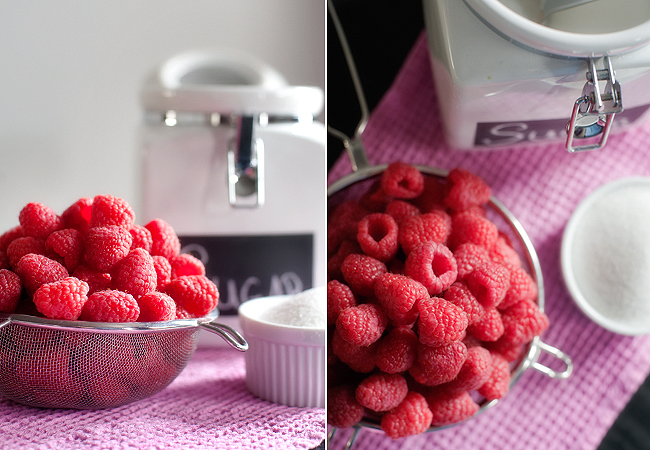 Confession: flavored syrups for drinks sort of freak me out. I am not sure why but for the most part I avoid them (with the exception of the holidays and peppermint mochas). Good news is your favorite flavor is crazy easy to make at home. All you need is fruit, sugar and water for this version.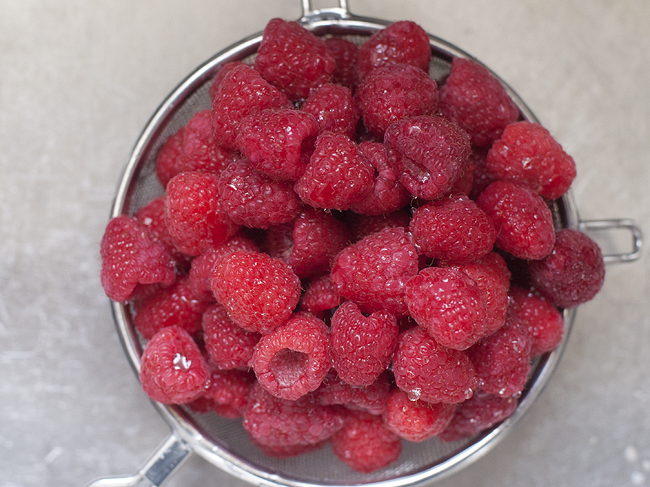 How amazing do those raspberries look? Jettie and I devoured the leftovers as if by eating berries we would somehow force spring. It didn't work.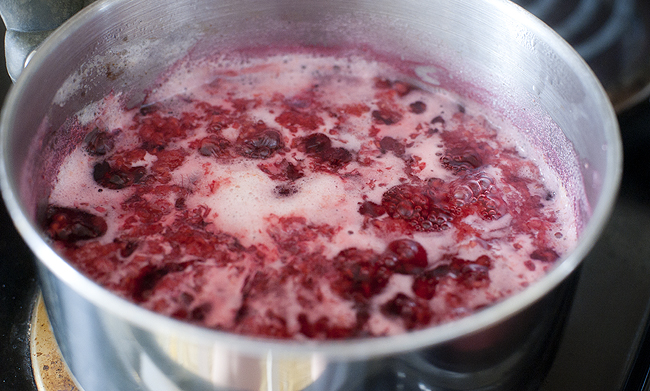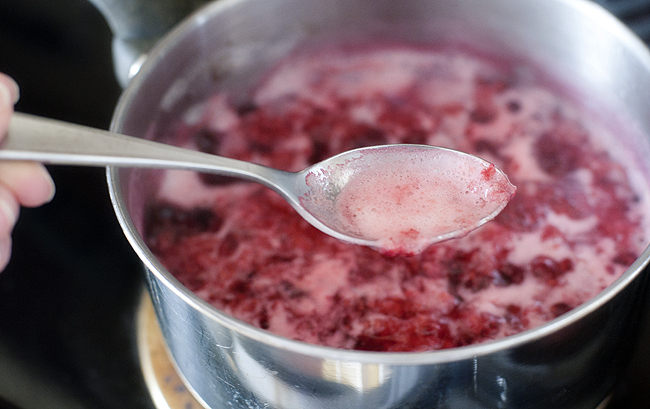 The most tedious step of this process would be the skimming of the foam. Important not to skip this step because your syrup will become cloudy if you leave what floats to the top in the pot.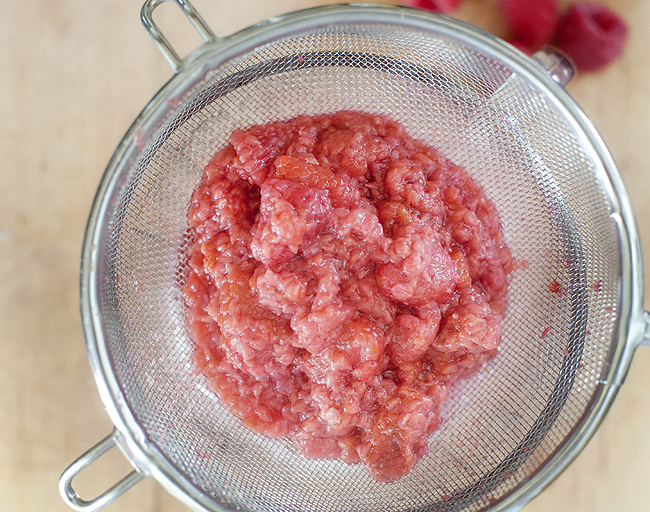 The raspberries will really lose their color after they have been boiled to oblivion. Absolutely do not press down on the fruit when straining. All your hard work of skimming the foam will be rendered useless.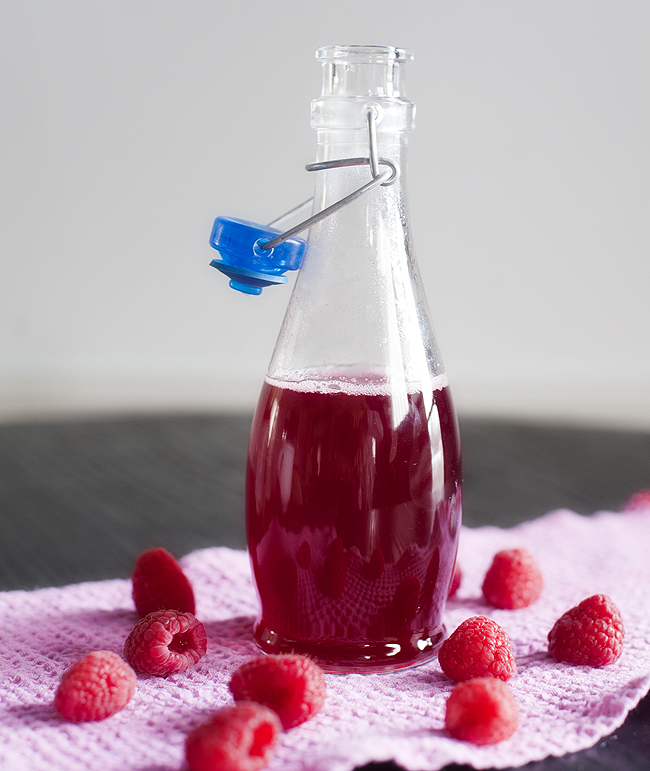 Pretty bottle of berry syrup makes me so happy. I love the control of fruit to sugar ratio a person has with a recipe like this. It is also more versatile than just flavoring drinks – for example, reduce in sauce pan for drizzling over your morning pancakes. Um, yum!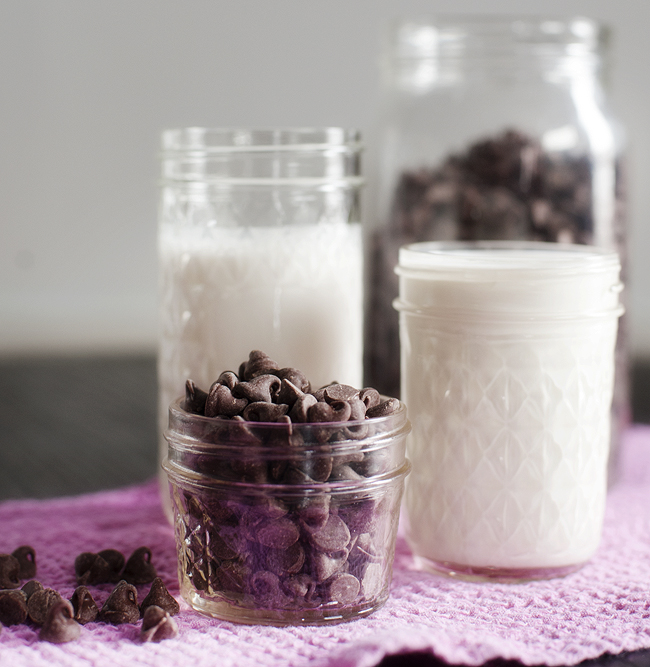 Time for the chocolate. Our family in general does not drink cow's milk with the exception of keeping half&half on hand for coffee. I was unsure of the combination of half&half, almond milk and chocolate but the texture was perfectly smooth and creamy. I am sure any milk would do – use your favorite (just don't skip on the half&half).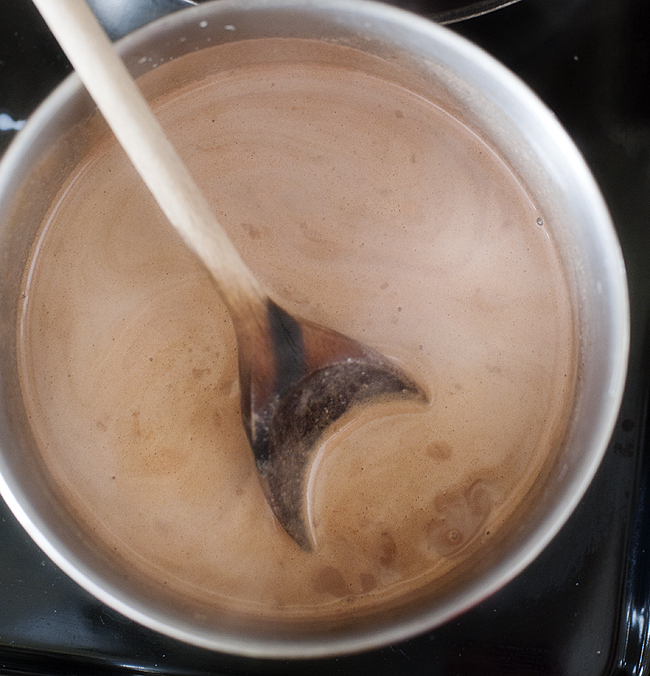 The hot chocolate makes the syrup recipe look complicated so clearly there is no excuse to at least not make this. Simply put your favorite milk and half&half in a pot over low heat. Add chocolate. Stir. Smile.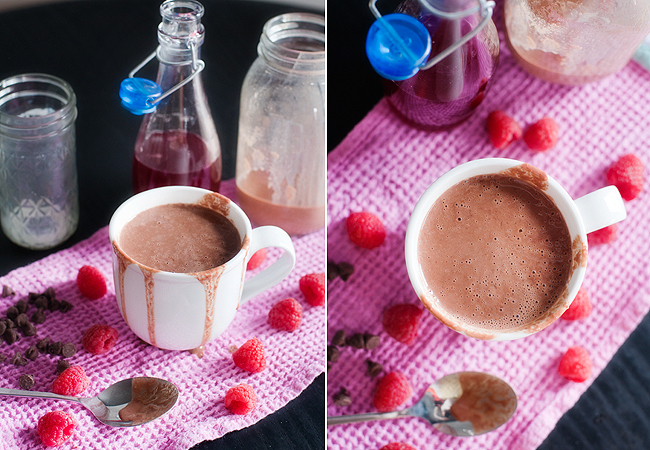 By itself the hot chocolate is amazing, adding the raspberry syrup sends it into another realm of deliciousness. The amount of syrup you use is completely up to you. If you want to add a shot of your favorite raspberry liquor that is perfectly acceptable (and encouraged) as well.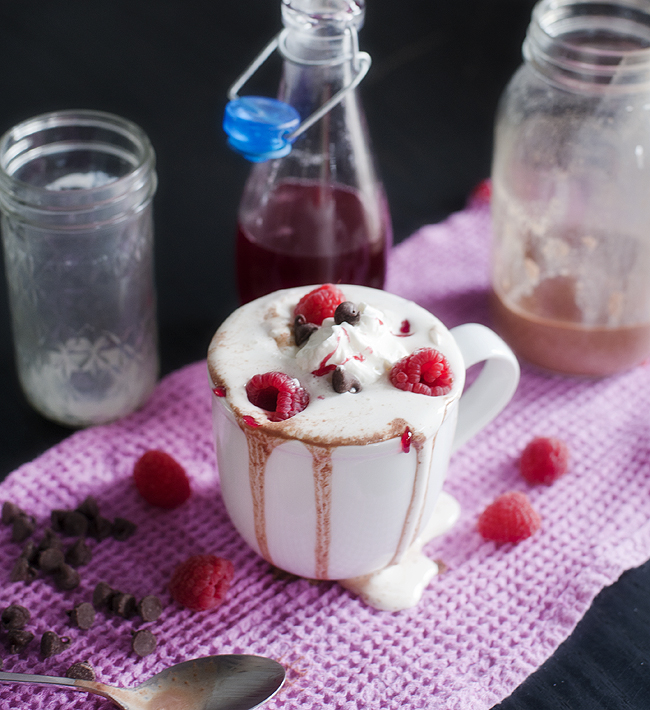 And then without shame I added fresh whipped cream and reduced raspberry syrup. Judge all you want, I don't care.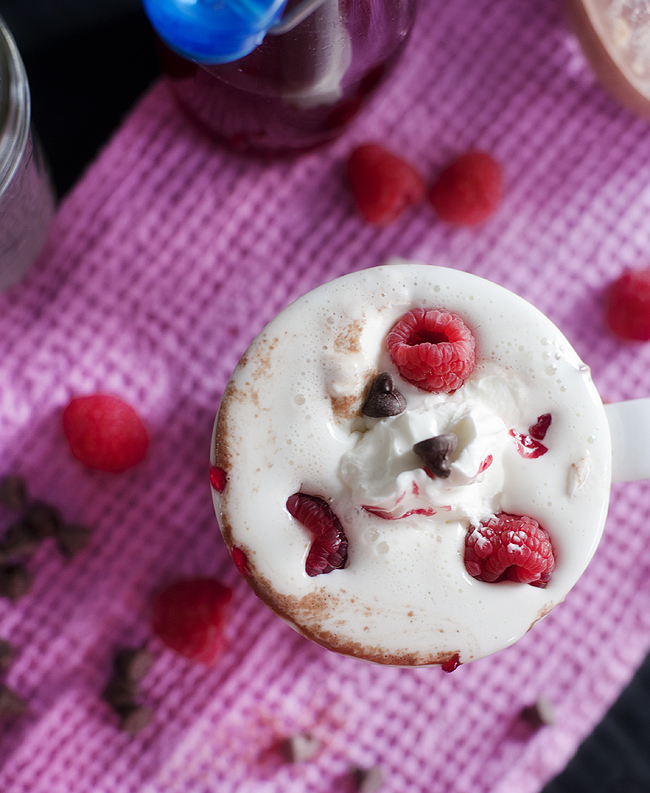 Beautiful, tasty and good for your soul. Looks like much of the country is in for the long haul with this nasty winter. A batch of this may make it slightly easier to bear.
Enjoy!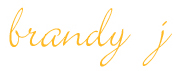 raspberry hot chocolate
Ingredients
16 ounces fresh raspberries
2 cups water
1 cup sugar (less or more depending on your sweetness preference)
1 cup milk of your choice (almond, whole, 2%, etc...)
1 cup half&half
½ cup semi sweet dark chocolate chips
Instructions
Rinse raspberries and place in pot with 2 cups of water over medium high heat. Bring to a boil, reduce and let simmer for 20 minutes. Skim any light colored foam off top occasionally.
Strain raspberries over medium bowl. Do not press down on berries to extract more liquid. Place liquid back in pot and add sugar. Bring to a boil and then simmer for 5 minutes. Stir to dissolve sugar and skim off any additional foam. Take off heat and allow syrup to cool before placing in an airtight glass container. Store for up to 2 weeks in refrigerator.
To make hot chocolate combine milk with half&half in a small saucepan. Warm over medium-low heat, then stir in chocolate chips. Stir until melted (there will be particles of chocolate throughout.) Pour hot chocolate into mugs, add raspberry syrup and serve.
Notes
If hot chocolate is too chocolatey add more milk. Not sweet enough add a teaspoon or two of sugar.
Nutrition Information
Serving size:
2 (small mugs)
raspberry syrup recipe from The Shiksa in the Kitchen, hot chocolate recipe from Pioneer Woman