We are not even clear of January and I am already experiencing the winter blues. May have something to do with the fact that it looks and feels like Antarctica outside. I don't even think I would flinch if the abominable snowman strolled by. Sure would liven up the day at least.
A good way to brighten a cold polar day is by infusing a little spring into your look. Bold florals are a big trend for the coming season and something that should be worn now. If they are not growing outside we may as well be wearing them.  And goodness there are some pretty pretty options available out there: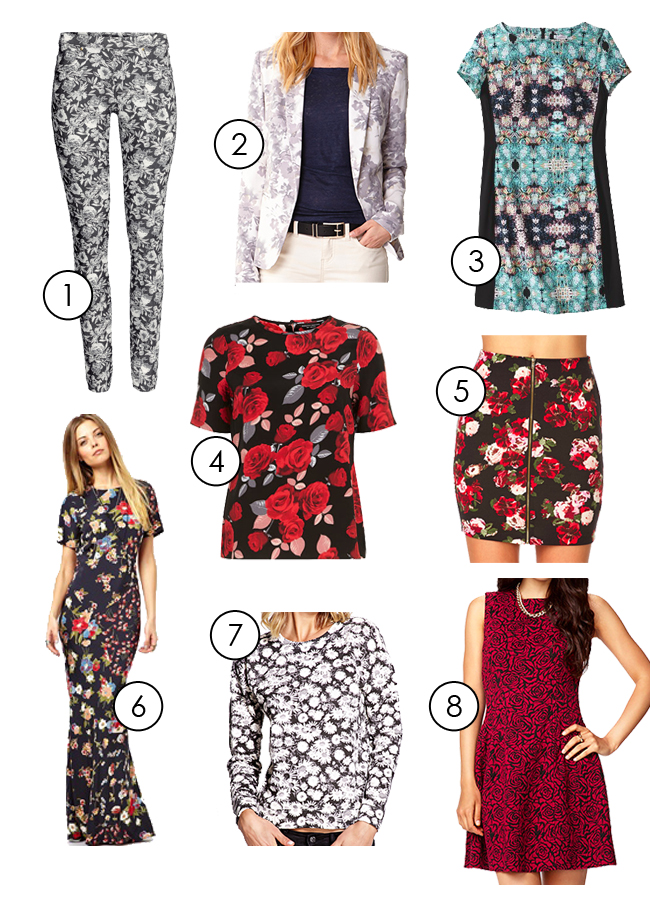 1H&M Treggings do not think, breath or hesitate just purchase yourself some treggings.  These florals are great but they also come in denim.  The best version of jeans meet leggings I have ever encountered. 2Forever 21 Garden Chic Blazer this would be adorable over a denim shirt with statement necklace. 3Target Floral Shift Dress a bright and fun little dress that would easily pair with a chunky black cardigan sweater and boots. 4Dorothy Perkins Red Floral Tee slip this under a black or white blazer for a little winter pick me up.  Would be perfect for Valentine's Day. 5Forever 21 Pixelated Floral Skirt freshen up an oversized sweater by throwing it over this daring skirt. 6ASOS Grunge Floral Maxi Dress so yeah, I'm obsessed with this too.  Topped with a moto jacket and scarf for wearing now capability. 7Forever 21 Floral Haze Sweatshirt it's simple two-tone pattern would pair perfectly with another floral (if you have that sort of gumption).  Would also work well with a high waisted skirt.  8Forever 21 Matelassè Drop Waist Dress hi date night.  Isn't this just so sweet?  Make it office ready with a white button up layered underneath.
Stop and shop the florals!