If you open my cupboards you will find boring black plates and bowls- and then peeking out from the black a random pink heart plate and a red heart bowl.  Completely random, but they were a Valentine's Day gift from my sister circa 2011 that still perfectly perk up my collection, that I really love.  Sometimes, those silly unexpected gifts can be the very best.   (The day those cheap Target keepsakes crack will be a sad, sad day.)
Valentine's Day is a celebration of love, but not just the love between you and your man.  Sometimes, your girls need some love, too.  Here are some fun finds: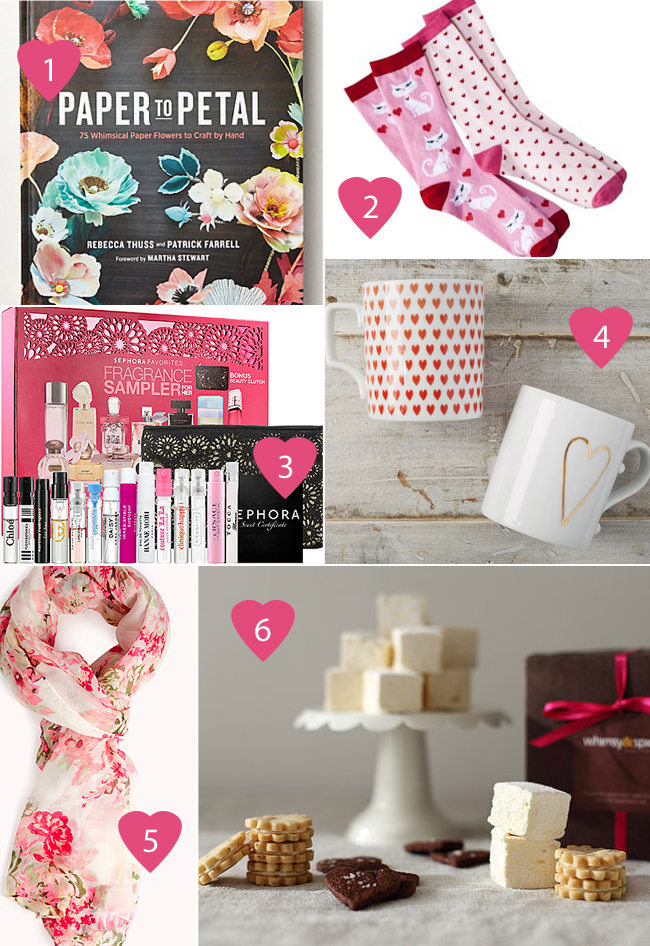 1. Paper to Petal – A fun craft book and flowers that wont die. Win win.  2. Fun socks from Target, that she can rock all year long.  3. These Sephora fragrance samplers are awesome. Not only will all of those little bottles last you quite awhile, but when they are gone you can take your favorite it and swap it out for a FULL bottle! 4. Mugs are my favorite, and I'm swooning over these two from West Elm.  Check out those dreamy handles!  5.  A pretty, girly scarf that wont break the bank.  6.  If you are looking for something really special check out Whimsy and Spice's Valentines Day gift box filled to the brim with their famous sweets.
Happy Weekend!