Here lately I'm all about breakfasts that feed the masses.  It may be the fact that our normal table of three has doubled to six, with my sister-in-law and two neices visiting for a bit, so the more food to go around the merrier. After our baked french toast post, I have become more and more intrigued by these fun breakfast options and have been searching for more make-ahead recipes.  This baked oatmeal is easy and healthy, so no New Years resolutions need to be sacrificed to enjoy.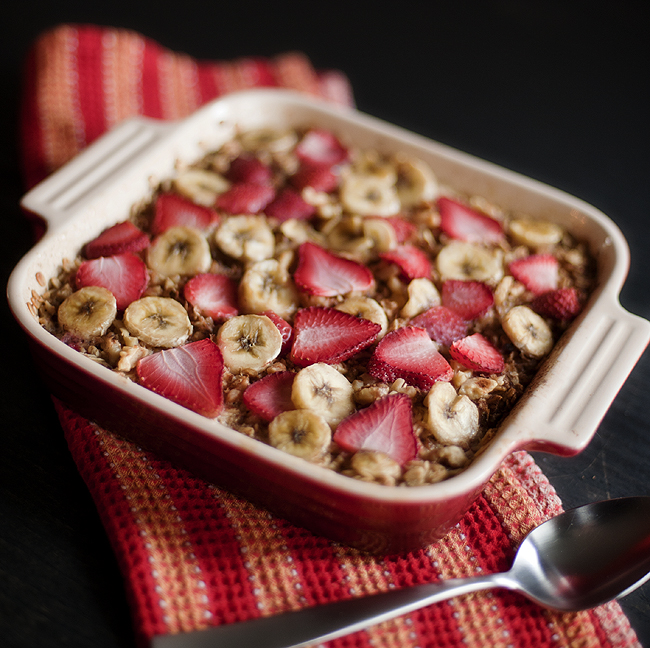 There is also something awesome about having breakfast ready to throw in the oven, no effort required, first thing in the morning (because if you are anything like me, very little productivity takes place in those early hours.)
For this recipe I used bananas and strawberries, but you can use any fruit you prefer in your oatmeal!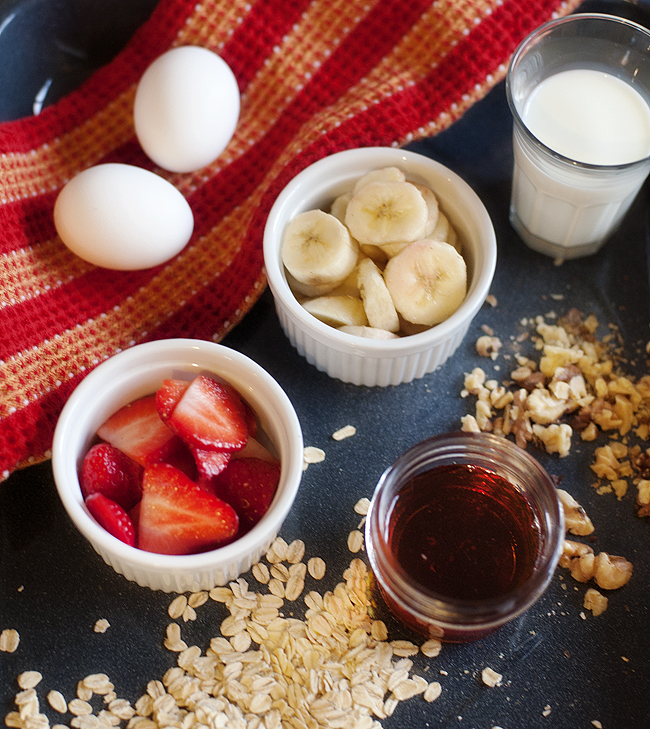 Begin by slicing your strawberries and bananas and setting them aside.  Then, mix your dry ingredients; the oats, walnuts, baking powder and cinnamon.  In a seperate bowl, whisk together the maple syrup, eggs, milk and vanilla.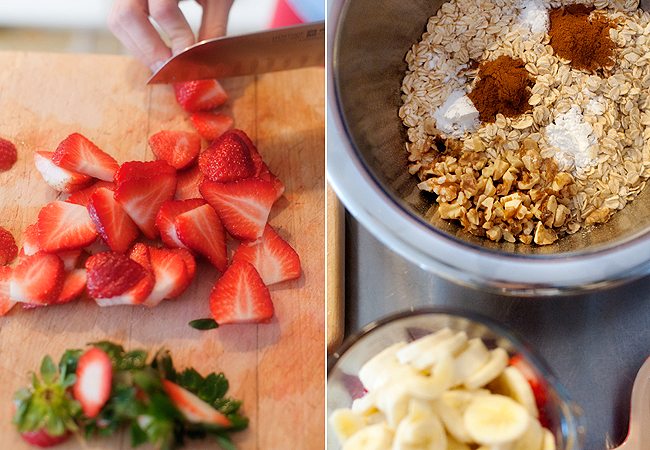 Prep your 9×13 baking dish by coating it with a light layer of butter.  (*Note- I accidently used a smaller dish and had to scoop out some before baking.  Oops!) Then,  layer half of your banana's and strawberries in the bottom of your dish. Go ahead and eat a few- it's okay.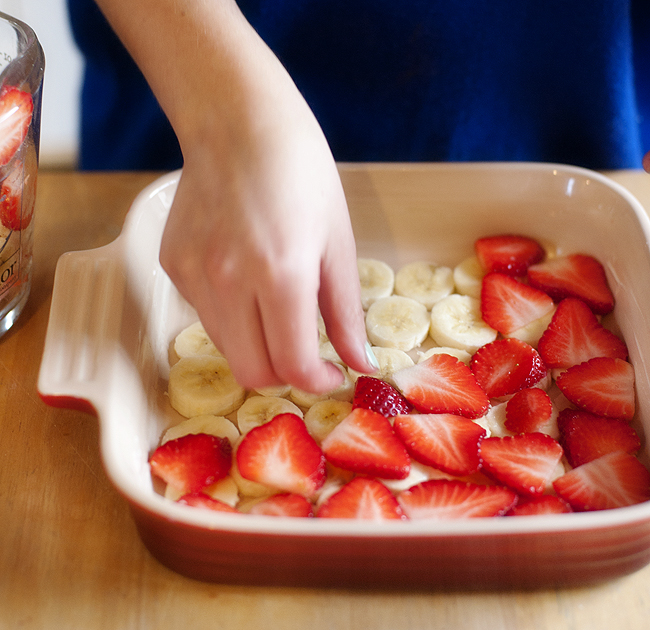 Next, evenly spread the dry ingredients over the sliced berries.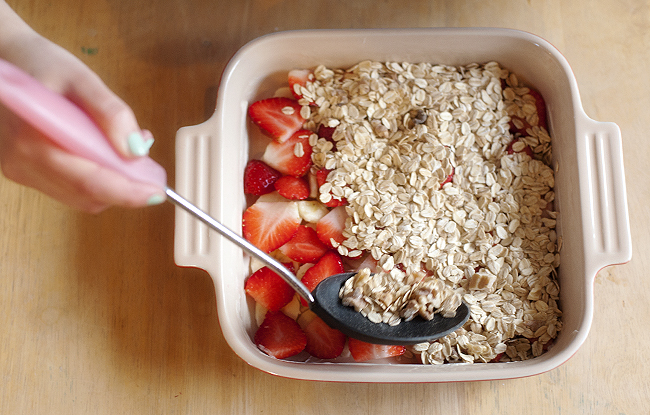 Pour the wet ingredients evenly over the oats…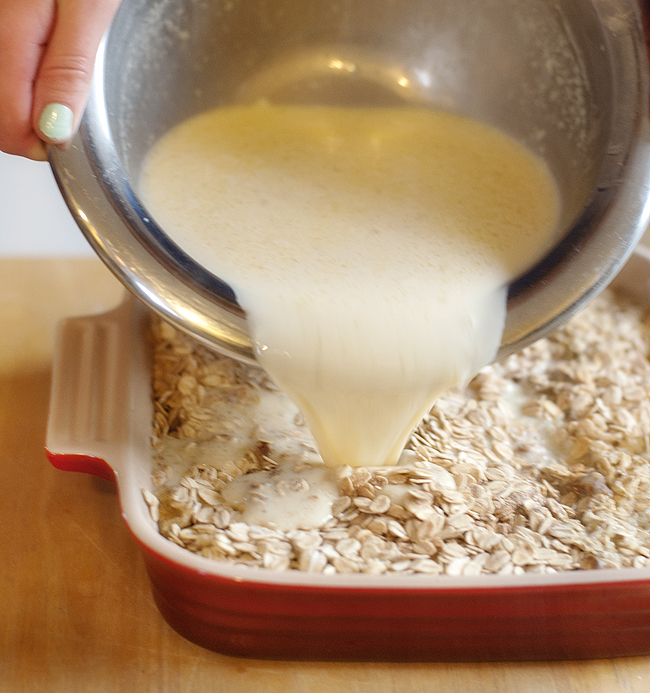 Finish by layering the remaining fruit over the top, and sprinkle a bit of cinnamon over it.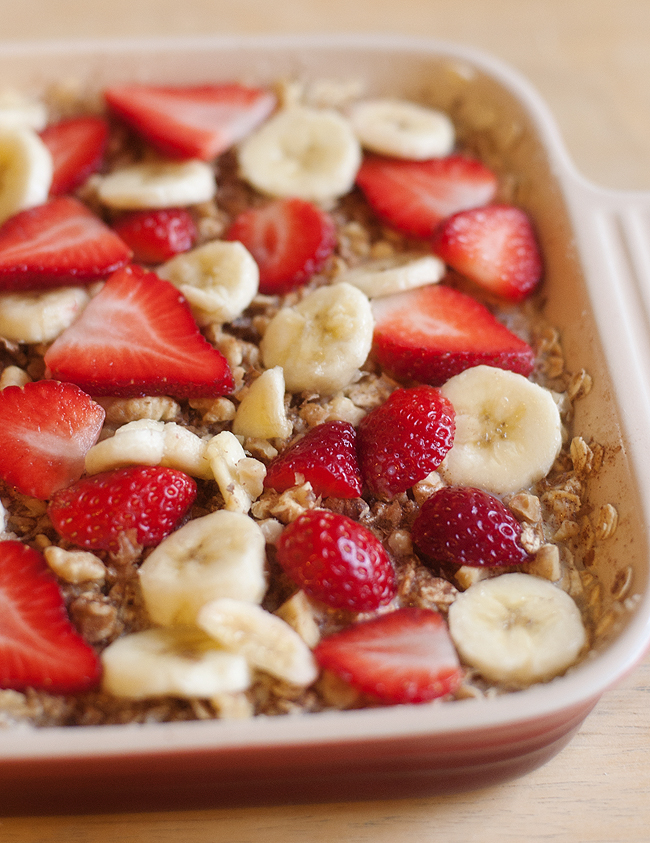 If you are making this the night before, go ahead and cover your dish for the refridgerator- if not it is ready for the oven!
Bake at 375F for 35-40 minutes, and serve drizzled with maple syrup if desired.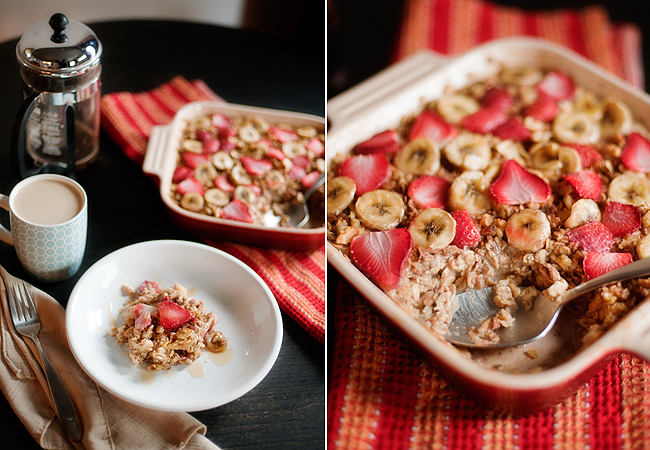 fruit baked oatmeal
Ingredients
3 cups old fashioned oats
¾ cup walnut pieces, toasted and chopped
3 ounces maple syrup
1½ teaspoons baking powder
2 teaspoons cinnamon, plus more for sprinkling on top
3 cups milk (I used 2 cups regular and 1 cup almond)
2 eggs
3 tablespoons melted butter
1 tablespoon vanilla
3 bananas, sliced
12 ounces fresh strawberries
Instructions
Preheat the oven to 375 degrees. Chop and toast your walnuts, until fragrant. Butter the inside of a 9 x 13-inch baking pan.
In a bowl, mix together the oats, walnuts, baking powder and cinnamon.
In another bowl, whisk together the maple syrup, milk, eggs, and vanilla. Add the melted butter and whisk to combine.
Arrange the bananas & strawberries in a single layer at the bottom of the baking dish. Cover the fruit with the oat mixture. Slowly pour the milk mixture over the oats. Layer the remaining fruit on the top and sprinkle with cinnamon.
Bake for 35-40 minutes, until the top is golden and the oat mixture has set. Let cool slightly before serving. Drizzle with maple syrup and enjoy!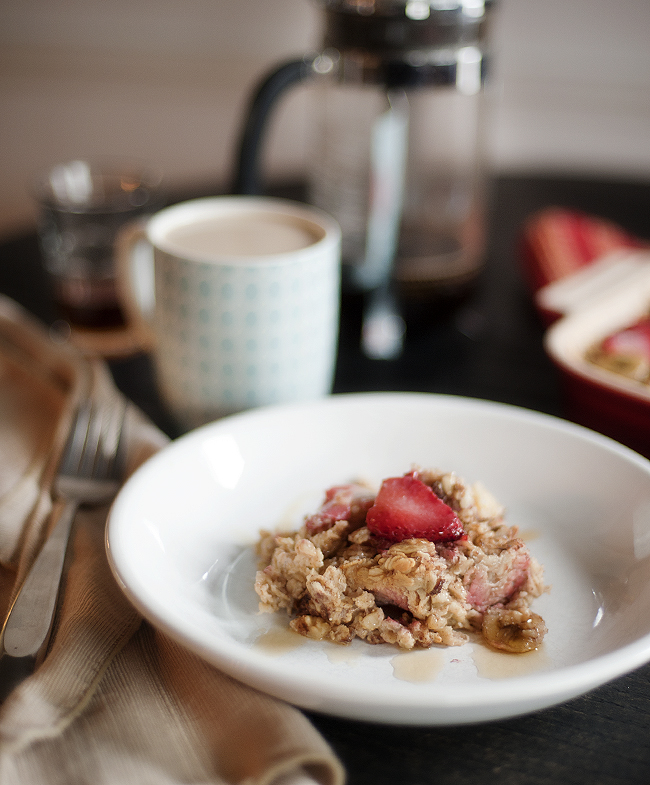 Start your day with something yummy!