I've never been much of a "gadget girl", but I'll admit I own (and love) a Keurig, respect  fancy can openers and have occasionally insisted on needing things like an emulsion blender that I have now had for three years and used a total of three times.  Really though, it is important to have a few things in your kitchen that prove to be timeless and get the job done effortlessly, everytime.  In search of "the best" I have tried just about every cookie sheet on the market, own about 20 spatulas and use the same one every time, and legitamately shed tears over my lost measuring spoon from my beloved William Sonoma set.  Looking for guidance for baking essentials, I'm your girl.
Here are my can't-live-withouts, and where you can find your very own: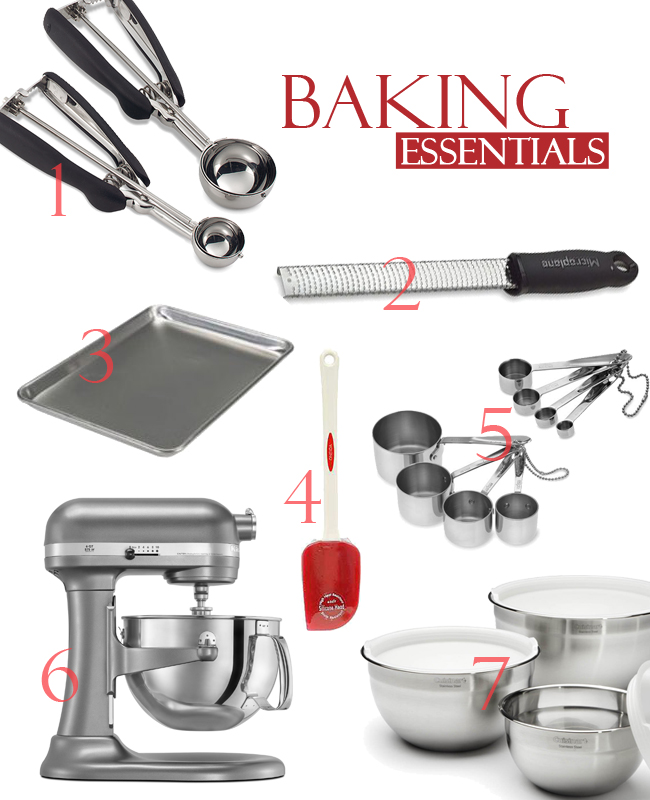 1. Oxo Cookie Scoops– The best quality I have found- and believe me they have been put to the test.  Millions of scoops later, I'm still in love with these.
2. Microplane Zester– Essential for zesting lemon, oranges & limes, this is the perfect tool for the job.  Easy clean up gives it five stars in my book!
3. NordicWare Cookie Sheets– 5 million cookie sheets later, I have found the one.  An even bake, easy cleanup, and best of all- they are made right here in the USA.
4. Oneida Spatula– Josh randomly gifted me this spatula one Christmas, and it has truly stood the test of time (and hard labor. Like seriously.) I have paired this guy with amounts of dough no spatula should be able to handle, and it has never let me down.  The day I finally snap it in half will be a sad, sad day.
5. Williams Sonoma Measuring Cups & Spoons– Oh, these measuring cups.  If I told you I love them, it would be an understatement.  Get a set for yourself- but they also would make a really great gift!
6. Kitchenaid 6 Quart Pro Series Mixer–  Before buying a mixer there are so many things to think about.  First of all, they are an investment, so be sure to get the model that best fits your needs.  Be sure to explore your options!  The Artisan series is great if you just need it for light use, but if you are an avid baker, I would strongly recommend looking at a "Pro-Series" bowl that features a bowl lift instead of a tilt head.  They also come in different quart capacities- so again, think about what you will be using your bowl for.  Also look around for good deals! Brad's Deals features sales frequently, and low prices can also be found on Amazon.
7. Cuisinart Stainless Bowl Set with Lids– The lids of these bowls make them super convenient for throwing things in the refridgerator- and the sizes of them are perfect.  They get a ton of use in my kitchen!
These are my staples, what are yours!?