Just shy of 250 posts graced our blog in 2013.  From fashion to desserts to beauty to cooking we have enjoyed composing every single one of them.  Here is a collection of some of your favorites from several different categories: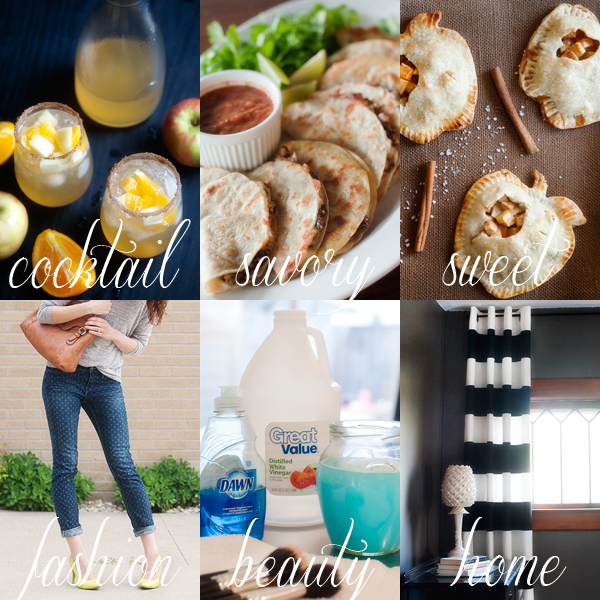 cocktailFall Sangria savoryCrunchy Black Bean Tacos sweetSalted Caramel Mini Apple Pies fashionDIY Neon Pumps beautyDIY Makeup Brush Cleaner homeDIY Striped Curtains (Why no part 2 to this post yet?  Brandy is still deciding whether or not she wants to stripe the rest of her curtains – the verdict is still out because the mix of stripe and solid curtains looks pretty great as is.)
In 2014 we are looking forward to more sweets, cocktails, beauty and fashion.  Sharing our journeys into making our homes our own, as well as taking the time to craft.  Our lovely Guest Janes will be back with hopefully some new faces in the mix.  Of course you'll see our little ladies and handsome men, a new baby come summer and all things that we love in life.  We also want to get more personal.  Really dig down and share our passions, fears and deepest thoughts.  It's proven more difficult than we could have ever imagined but the release and reader response is incredibly therapeutic.  We are grateful to this blog and all of you for that.
Looking forward to the future and what's in store for PPJ.  We would love to hear what you would like more of or a post you've been hoping see (please comment below).  Being satisfied with where this blog is at is never an option.  Growth and improvement are always on our minds.  The possibilities are extremely motivating and exciting.
Thanks to all of you for following along!