image by the talented and beautiful Shay Cochrane
After 7 years of having our pictures taken for the holidays I cannot believe this is the first I have added sparkle.  There may never be another session without them.  And I'm totally not kidding.  Already thinking about next year.  Why do I love them so?  Because they just make you feel good, and fancy and a little glamorous.  Sequins, worn appropriately, are now acceptable year round (thank goodness) but there is nothing like being sparkly this festive season.  Dress them up, dress them down – they are as versatile as your favorite pair of jeans yet way more flashy (because it's fun to be flashy sometimes).  If you have yet to own a piece or two of glitz and glam I suggest you do so immediately.  I have collected some sparkle that is available now all for $50 or under – some being under $25.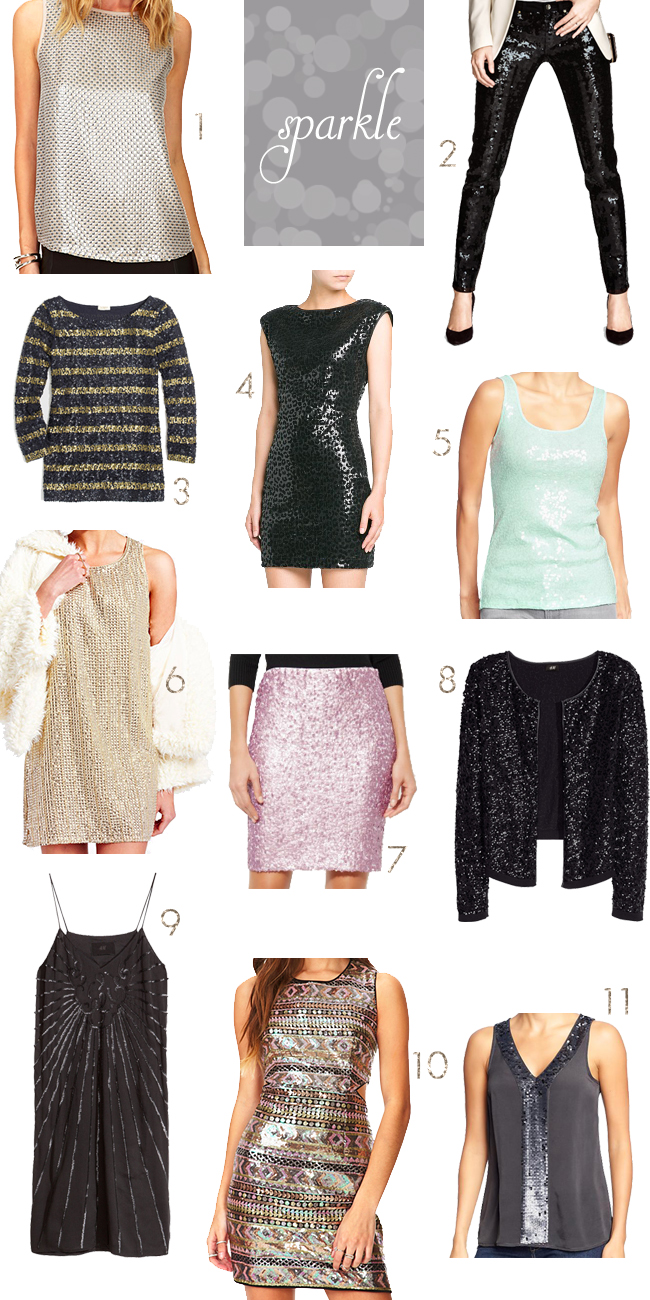 1Forever 21 disco sequin top 2H&M slim-fit pants 3J Crew Factory striped draped sequin tee 4Mango leopard sequin dress 5Old Navy sequined tank 6Forever 21 sequined statement shift dress 7New York & Company sequined pencil skirt 8H&M sequined cardigan 9H&M chiffon dress 10Forever 21 tribal sequin dress 11Old Navy sequined tank
My personal belief is that every woman should own at least a sparkly top for throwing on with a pair of jeans and blazer.  The next essential would be a dress or skirt.  A dress is so easy with just a pair of tights and pumps while the skirt can be worn with any essential top (crisp white button down, denim button down, messy tee, tucked in lightweight sweater, etc…).  When it comes to accessorizing your glam keep your jewelry simple so that the piece can speak for itself (plain hoops are my go-to).
More images of our holiday session to come.  And don't worry I didn't make my man wear a sequin ensemble.
Have fun shopping for your sparkle!