Gourmet food specialty shops are popping up like crazy lately.  Thanks to Etsy and other growing curated websites, yummy creations are literally at our fingertips.  If you have ever recieved a lovely packaged box of your favorite hand-crafted treat- you know the thrill.  For me, my first was a box of Jeni's Ice Cream- and it felt like Christmas morning.  (Best. Ice Cream.  Ever.)
I'm passionate about these little shops, not only because I have one of my own, but because I love how personal of an experience it is to buy from them.  A few of these shops have grown to be pretty large, but they all had the very same start.  Just one person, who loved what they made, and decided to share their gift with the world.  A few of my very favorites: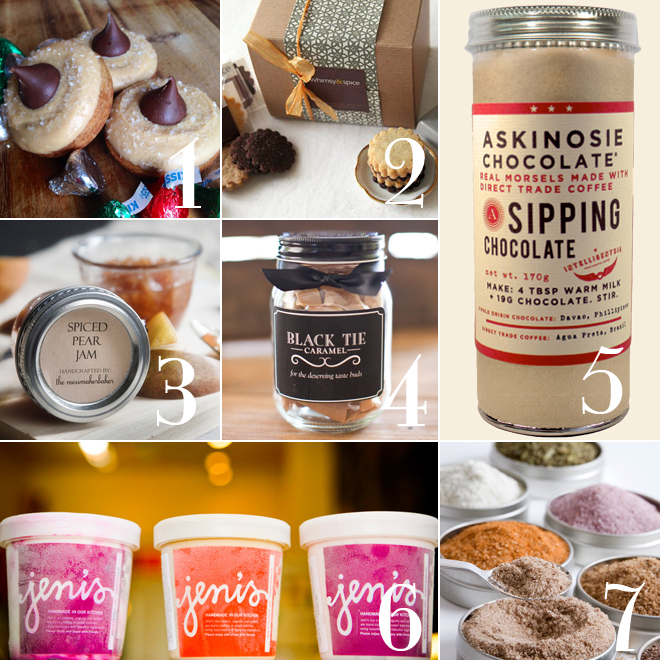 1. Green Mountain Mini Baked Gourmet mini donuts baked fresh in Vermont.  Seasonal designs and flavors that make fun gifts!
2. Whimsy and Spice Shortbread, biscotti and marshmallows that come packaged in lovely little boxes.
3. MessMakerBaker Jams & Jellies Based right here in our hometown, and owned by Guest Jane Vicki- these are truly the best jams and jellies EVER.  She is always rolling out new flavors, each one better than the last.
4. Black Tie Caramel A variety of gourmet caramels, made in small batches in sunny California.  These have me drooling every time they pop up in my IG feed.
5. Askinose Chocolate   Beautifully wrapped chocolate bars, with an even more beautiful story behind them.  I'm hoping that this sipping chocolate ends up in my stocking this year!
6. Jeni's Splendid Ice Creams  Yes, you can ship ice cream.  And its incredibly exciting when it arrives.  Ice cream at your door is the best idea anyone has ever had in my opinion.  If you haven't tried Jeni's- go find a shop or order some!  (Run, not walk- you are seriously missing out!)
7. Dell Cove Spices A great gift for a popcorn lover, DCS offers a wide variety of popcorn seasonings, spices, cocktail rim sugars, and other fun gifts.
Donuts, marshmallows, jam, caramels, chocolate,ice cream and spices- you've got all of your bases covered.  Any of these shops make for great holiday gifting- but act fast!  Most shipping cut off dates for the holidays are sometime next week, so you still have a bit of time.  Shop small this holiday season!