So many can be hard to find the perfect gift for especially if "their thing" is not exactly "your thing".  While I would not ever consider myself the ultimate beauty girl I do love pretty palettes and fun new products.  Here is a collection of gifts I think any make-up/beauty adoring girl would love: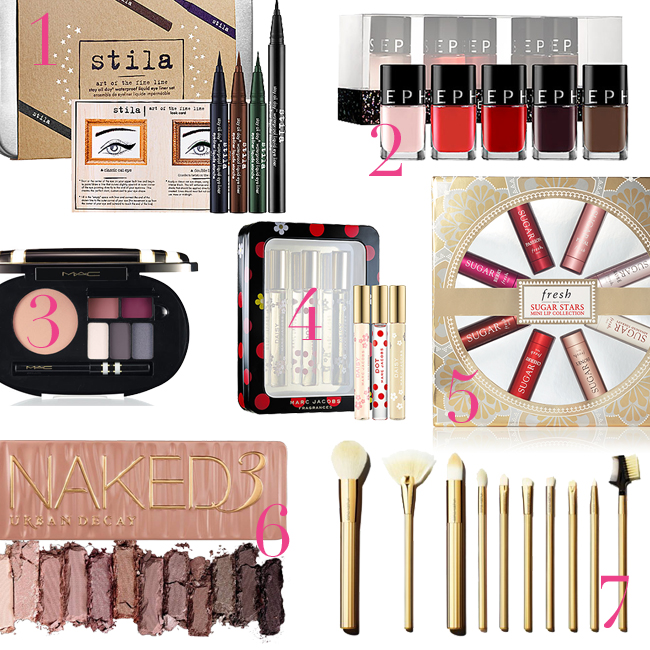 1Stila Art of the Fine Line Stay All Day® Waterproof Liquid Eye Liner Set – the best of the best in creating the perfect line every single time. 2SEPHORA COLLECTION Set of 5 Color Hit Nail Set – love this collection of classic shades.  The warm rich hues will be coveted now while the the more vibrant shades will be a breath of fresh air come the end of winter. 3MAC Stroke of Midnight Face Pallette Cool – this palette has it all – powder, shadow, lip and eyeliner, WOW!  Unfortunately it is currently sold out but you could always check your local MAC store/counter or sign up to be notified when it is back in stock. 4Marc Jacobs Fragranc Rollerball Trio – for the girl who loves to switch up her scent.  Much like his apparel line these fragrances are light, fun and whimsical.  Perfect gift for the youthful perfume lover. 5fresh SUGAR STARS MINI LIP COLLECTION – a festive packaged collection of tinted lip moisturizers. 6Naked 3 by Urban Decay – this is the ultimate in shadow collections which has very recently been released and has already sold out.  Naked 2 is a favorite as well but if 3 happens to come back in before Christmas it is well worth waiting for.  7Sonia Kashuk® Limited Edition "Lavish Luxe" 10 pc Brush Set – seriously gorgeous brush set making a beautiful holiday gift (price is not too bad either).
Hopefully this helps in crossing a person or two off your list!  Happy shopping season!