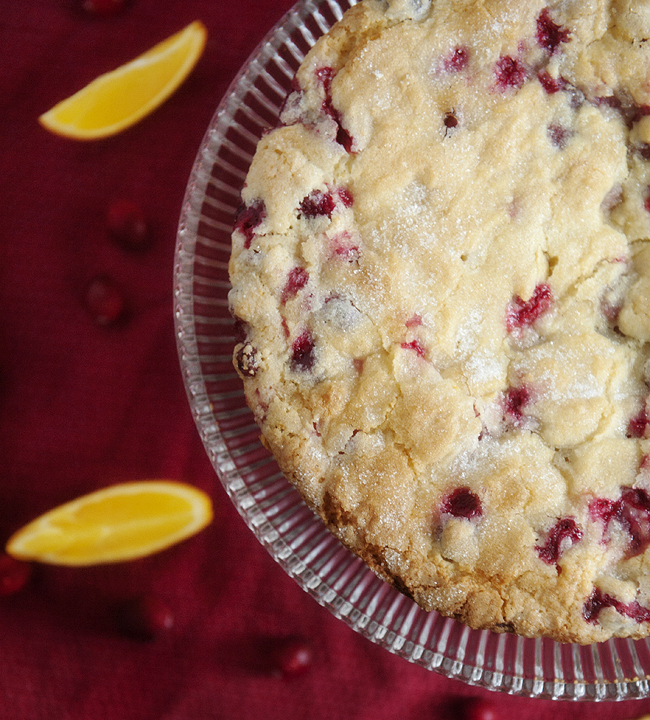 We're finally settling into our new house, but just as we are unpacking we are packing right back up for a trip to South Carolina to spend Thanksgiving with Josh's family. As chaotic as the last few weeks have been, I am excited to get away- to lock work away in a corner of my mind and not peek at it again until Monday. To just spend time being thankful- thankful for my little family, and all of the ways that we are blessed. When we return it will be December (how crazy is that?) and the real crazy will begin- so for now I am going to soak up the little joys and this time with my family.


This is the best little cake I have made in awhile. Perfect for Thanksgiving, it is light and festive and filled with cranberries that just scream holiday. I liked it best served warm- but those jammy cranberries are good at any temperature.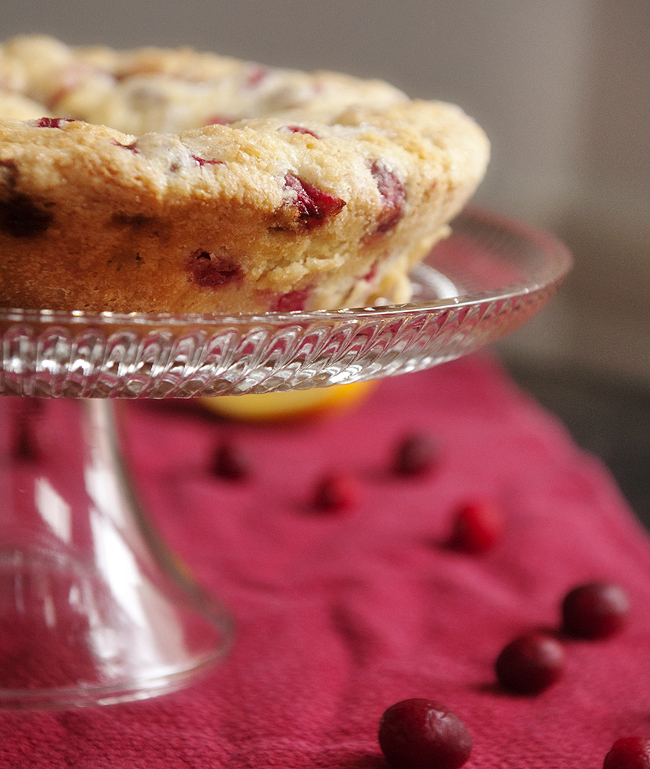 cranberry orange buttermilk cake
Ingredients
1¼ cup granulated sugar + 1 Tablespoon for sprinkling
zest of one medium orange
12 oz bag of fresh cranberries
2 cups all-purpose flour + 2 Tablespoons for coating the cranberries
2 teaspoons baking powder
1 teaspoon salt
½ cup unsalted butter, at room temperature
1 egg, at room temperature
1 teaspoon vanilla extract
½ cup well-shaken buttermilk
Instructions
Preheat the oven to 350 F, and grease a 9-inch springform pan. Line the bottom with parchment paper, grease the parchment and then lightly flour the entire pan. Gently tap out any excess.
In the bowl of a stand mixer, combine the sugar with the orange zest. Use your fingers to rub the zest into the sugar until it's moist and aromatic; set aside for a few minutes to marinate. In a separate large bowl, toss the cranberries with 2 Tablespoons of flour until evenly coated, and set them aside as well. Grab one more bowl, and whisk together the 2 cups of flour, baking powder, and salt, and set aside.
Next, add the butter to the stand mixer bowl and beat until light and fluffy, about 3-5 mins. Scrape down the sides of the bowl. Add the egg and vanilla and beat until well-combined, scraping down the sides of the bowl as needed. On low speed, alternate between the flour mixture and the buttermilk, beginning and ending with the flour, and only mixing until each addition has been incorporated. Grab a wooden spoon (or spatula) and gently fold in the cranberries.
Scrape the batter into prepared pan, using a spatula to smooth out the top. Sprinkle with the remaining 1 Tablespoon of sugar.
Bake for 45-55 minutes, or until a toothpick inserted into the center comes out clean. (The top can look deceiving so be sure to test the center! Mine baked for about 4 more minutes after the top was browned!)
Remove the pan from the oven and onto a cooling rack. Cool for at least 30 minutes before serving.
Nutrition Information
Serving size:
8-10 servings
This recipe was adapted from Une Gamine Dans La Cuisine.