Vegetable soup probably makes an appearance more in my favorite pot than any other soup. While it is good I often forget about minestrone and it's Italian twist. Over the years I have experimented with several recipes – all good but not quite memorable enough to make again and again. Recently I discovered this winter minestrone. Simple, robust in flavor and much to my delight a dish my entire family devours.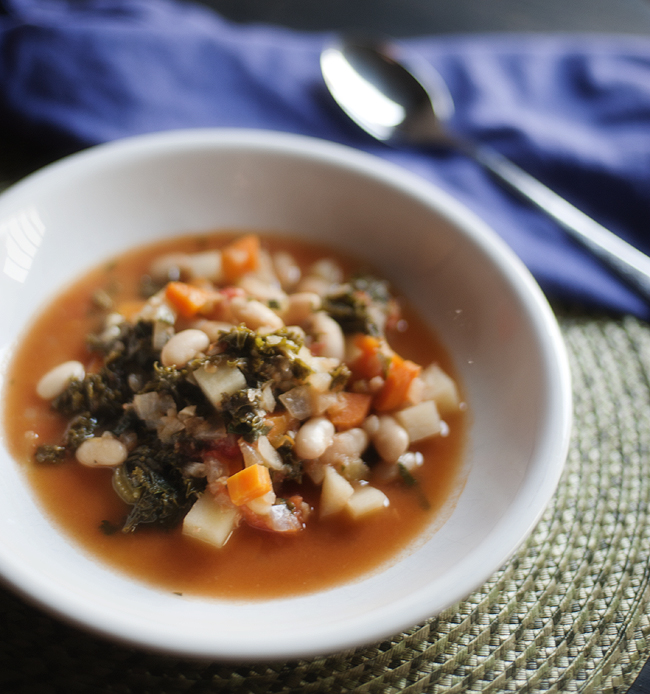 The real "game changer" in this soup is the Parmesan rind. First of all, if you are still using the pre-grated parm from a certain green tube then you need to instantly buy yourself a microplane and a block of Parmesan cheese (Pecorino Romano will also do). The price may be a little shocking but one block goes a long way and lasts forever. Be sure the rind has a legit stamp on the end of it. When you have grated all the way down to that rind throw it in a freezer bag and save it for soup. It adds an unbelievable silky smooth nutty flavor that cannot be obtained from any other source. I save my rinds for only the most special of soups and this would certainly be one of them. If you bring me dark chocolate I my trade you a rind, it depends how much chocolate you bring.
winter minestrone
Ingredients
2 tablespoons olive oil
1 onion, chopped
2 carrots, peeled, chopped
2 celery stalks, chopped
2 garlic cloves, minced
1 pound Kale, stems trimmed, leaves coarsely chopped
1 russet potato, peeled, cubed
1 (14½-ounce) can diced tomatoes (or fresh frozen if you have them)
1 fresh rosemary sprig
2 (15-ounce) cans cannellini beans, drained, rinsed
2 (14-ounce) cans low-sodium beef broth
1 ounce piece Parmesan cheese rind
2 tablespoons chopped fresh Italian parsley leaves
Salt and pepper
Instructions
Heat the oil in a heavy large pot over medium heat. Add the onion, carrots, celery, and garlic. Saute until the onion is translucent, about 10 minutes. Add the Swiss chard and potato; saute for 2 minutes. Add the tomatoes and rosemary sprig. Simmer until the chard is wilted and the tomatoes break down, about 10 minutes.
Meanwhile, blend 1 can of the beans with ½ cup of the broth in a processor until almost smooth. Add the pureed bean mixture, remaining broth, and Parmesan cheese rind to the vegetable mixture. Simmer until the potato pieces are tender, stirring occasionally, about 15 minutes. Stir in the whole beans and parsley. Simmer until the beans are heated through and the soup is thick, about 2 minutes. Season with salt and pepper, to taste. Discard Parmesan rind and rosemary sprig (the leaves will have fallen off of the stem.)
Ladle the soup into bowls and serve.
recipe adapted from Giada De Laurentiis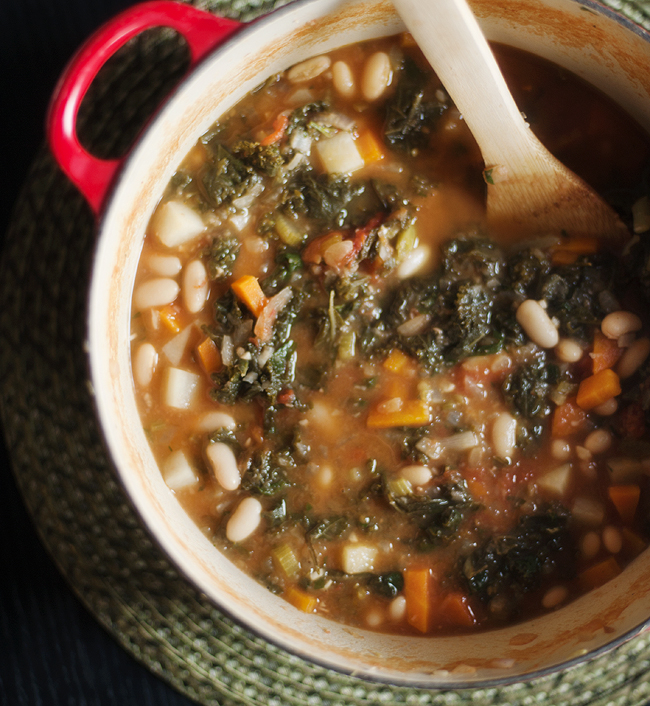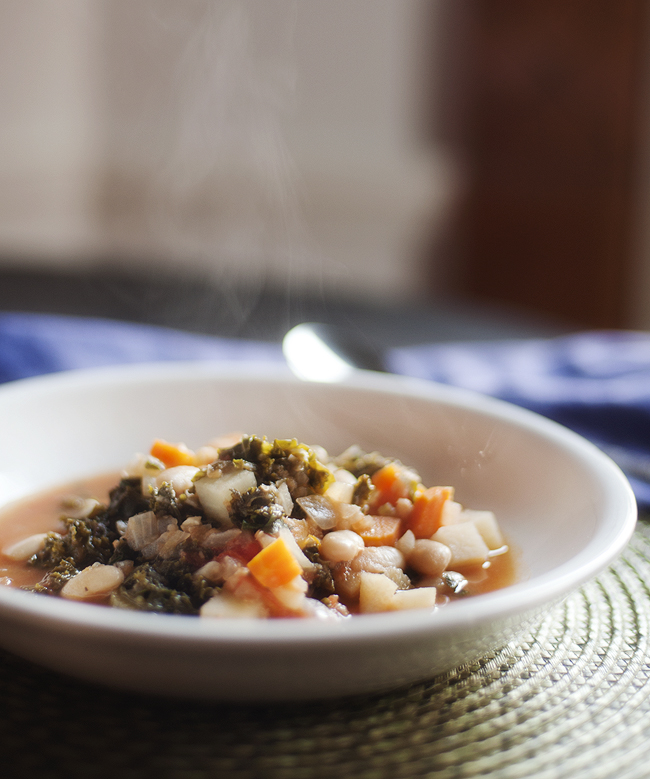 Much like vegetable soup, minestrone can be varied a 1000 different ways. Some people say it's not minestrone without pasta (throw some in – but pre-boil to al dente and do not put in pot until last to avoid over absorption). Add some pancetta, bacon or other kind of meat in the beginning saute process if you like. Regardless try this amazing dish and do not forget the cheese rind.