This soup recipe goes way back for me.  Someone once told me that you can tell if a soup is good by how long it takes to make.  A good soup takes all day, they told me.  Well, this soup certainly breaks that rule- and it's been a favorite in our house for a few years now.  It is so simple to make, and most of your time is in chopping ingredients.  I also love that it is not filled with cheese like most potato soups- I remember the original recipe boasting that this came in at under 200 calories a serving.  Score. 
potato & ham soup
Ingredients
3½ cups of peeled and diced potatoes
4 stalks of celery, chopped
1½ cups diced cooked ham ("Smoked" gives the best flavor!)
1 medium chopped onion
1 mined garlic clove
3 chicken bouillon cubes
1 tsp salt
1 tsp pepper
5 tbsp butter
5 tbsp flour
2 cups milk
Instructions
Combine the potatoes, celery, onion, garlic and ham in a large stockpot. Fill with water to just cover ingredients- about 3 cups or so.
Bring to a boil, then cook over medium heat until potatoes are nice and tender- about 10-15 minutes.
Stir in bouillon cubes, salt & pepper.
To create your "thickener" have all items pre-measured and on hand (flour & milk). In a separate saucepan, melt butter over medium low heat. Whisk in flour slowly, stirring constantly. If it begins to clump, go ahead and add a splash of your milk. Once combined, add milk slowly.
Stir milk mixture into the stockpot.
*If at first your soup seems a bit too thin, remember that it will thicken in the refrigerator over night. If it still seems to thin- do not add flour directly to the stockpot- it will clump. Instead, use a measuring cup to scoop out some broth and whisk in a bit of cornstarch- then return it the stockpot. It should do the trick.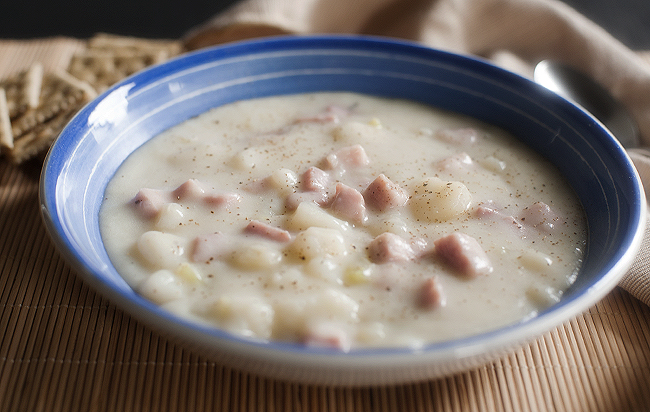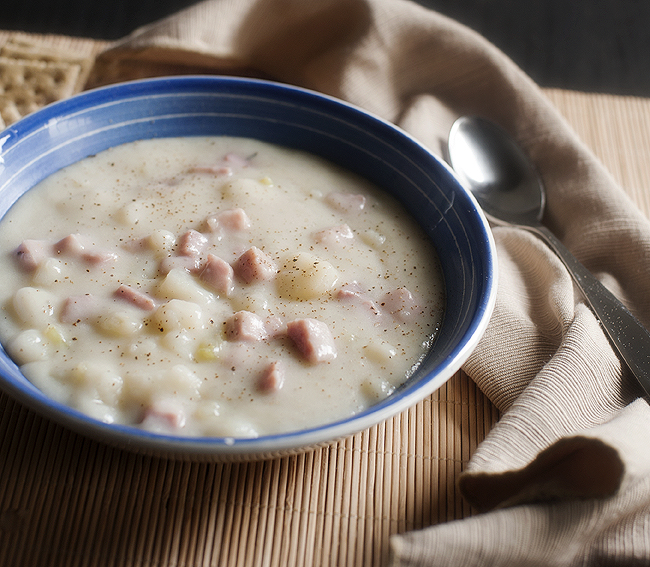 We love this soup all through the chilly months, and hope that you do to!