Let's get this out of the way.  There is absolutely nothing wrong with a good ol' can of Campbell's Tomato Soup.  I certainly enjoyed many a grilled cheese dunking in that salt and tang concoction (and wouldn't necessarily pass on a bowl today).  But if you have never made your own tomato soup you are truly missing out on something special.  This recipe landed in my lap about a year before I was married and we have been making it ever since.  It's depth of flavor is intoxicating – infuses your entire home with that wonderful "mmmmmm" aroma.  If that wasn't enough to entice you the process of making it could not be simpler.  It does however take a little longer than the can but if you've got the desire to make it from scratch this is the recipe to try.
creamy tomato-balsamic soup
Ingredients
1 cup less-sodium beef broth, divided
1 tablespoon brown sugar
3 tablespoons balsamic vinegar
1 tablespoon low-sodium soy sauce
1 cup coarsely chopped onion
5 garlic cloves
2 (28-ounce) cans whole tomatoes, drained
¾ cup half-and-half
Cracked black pepper (optional)
Instructions
Preheat oven to 500°.
Combine ½ cup of broth, sugar, vinegar, and soy sauce in a small bowl. Place onion, garlic, and tomatoes in a 13 x 9-inch baking pan. Pour broth mixture over tomato mixture. Bake at 500° for 50 minutes or until vegetables are lightly browned.
Place tomato mixture in a blender. Add remaining ½ cup broth and half-and-half, and process until smooth. Garnish with cracked black pepper, if desired. Server with crusty bread.
Notes
Strain through a fine sieve for a silkier soup. Make a double batch if you are feeling really hungry (serving size is small).
Nutrition Information
Serving size:
4½ cup servings
recipe courtesy of Cooking Light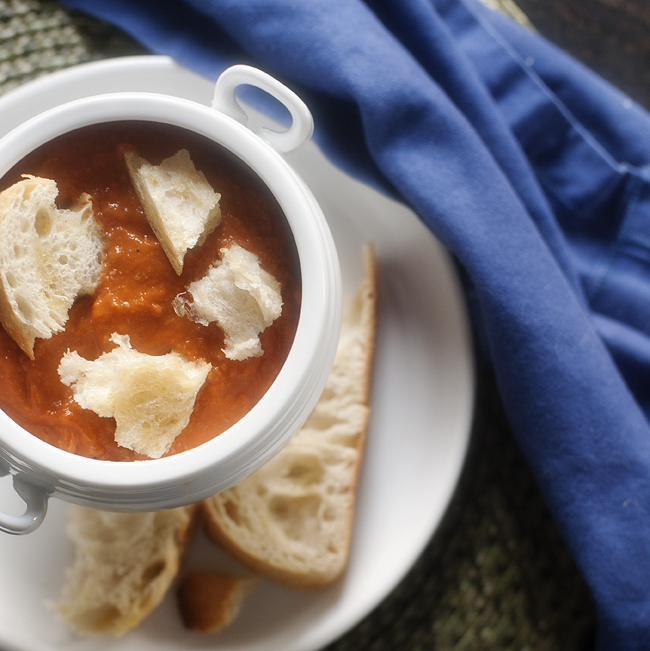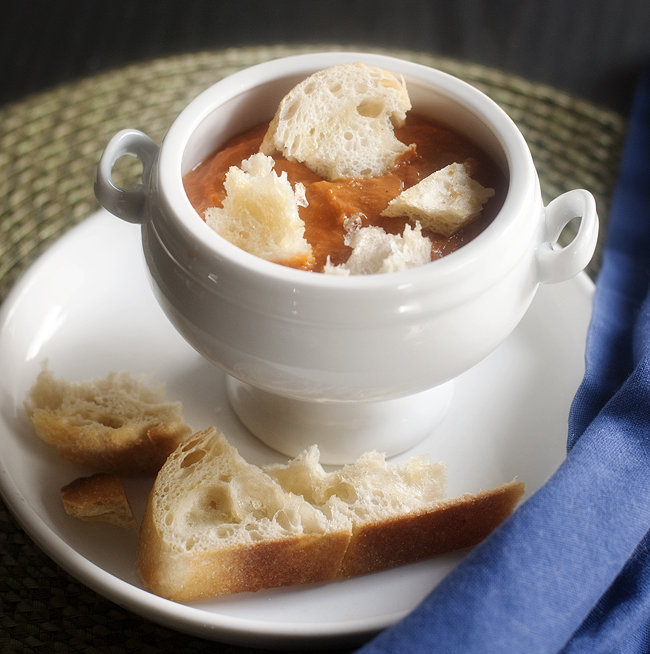 Much like Shan's this soup is good news for your waist line with only 120 calories a serving.  That doesn't include the bread (or grilled cheese) of course.  Enjoy!