I'm always searching for a good book list, and wanted to share my fall finds!  It's going to be a jam-packed busy one for us, but reading is such a relaxer for me.  I have made a habit of getting in a good half-hour of reading while getting Adelynn down for naptime each day, and I truly cherish that half hour.  The perfect way to unwind and get some reads in.  Here are a few that have been creating a buzz online that I can't wait to get my hands on!!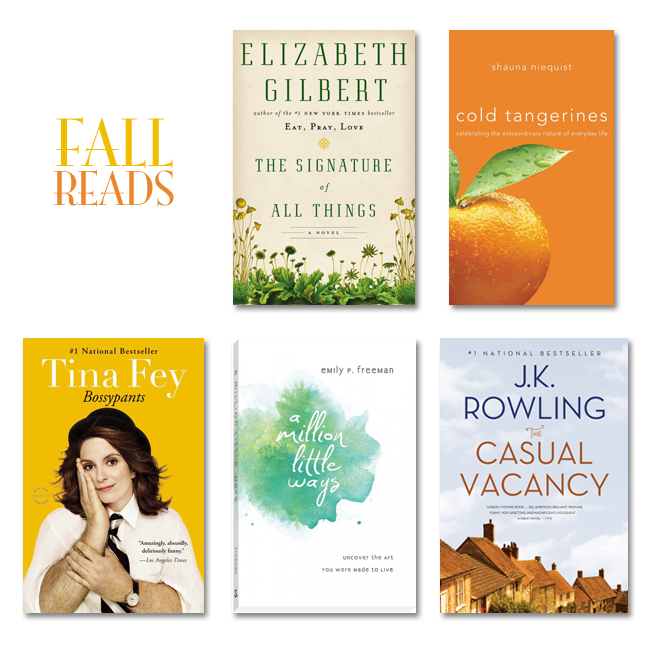 The Signature of All Things by Elizabeth Gilbert– Written by the best-selling author of Eat. Pray. Love.- this story takes you across the globe.  A rich story with lovable characters, this is at the top of my list.
Cold Tangerines by Shauna Niequist – Quick, uplifting reads are my favorites.  This one promises both, and has been recommended by so many!
Bossy Pants by Tina Fey – I LOVE Tina Fey.  Who doesn't?  What's better is that this is suppose to be a step up from the many, many, "funny" chick-lits that have been in circulation the last few years. Leave it to Tina to do it better.
A Million Little Ways by Emily Freeman – A good read on living better, this one has rave reviews.
The Casual Vacancy by J.K. Rowling – Yes, I admit it.  I was totally a Harry Potter nerd.  It has been many years since reading them, and I can't wait to see what this one has to offer.
Please share your reviews!!