One of my very closest friends has one of those faces that really doesn't need makeup.  Huge blue eyes and a megawatt smile,  she lights up a room even with a fresh-showered face, something that I have always been envious of.    I love make-up, and I know that the "all-natural" face just isn't my element.. but what I really love about that is that when she does put a bit of something on the contrast is captivating.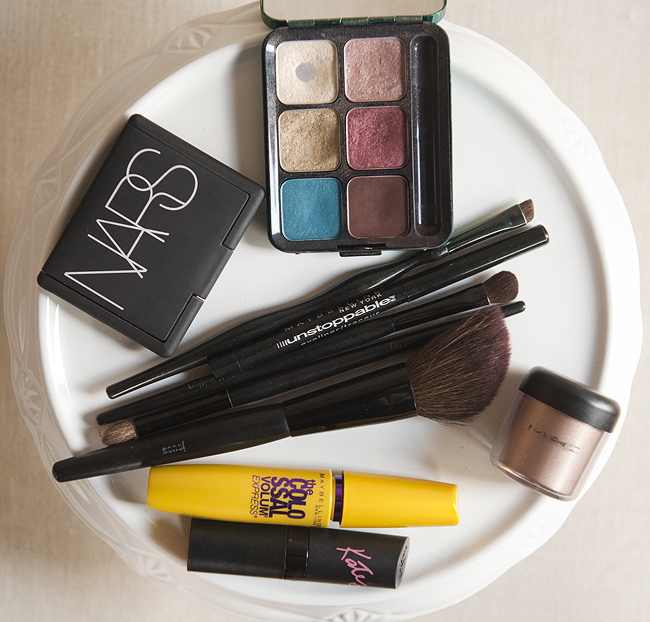 A few years ago, I was that girl that didn't leave the house without a full face on.  I've always loved makeup and when I had the time it was one of my favorite parts of the day.  (That was 21-year-old-don't-know-what-busy-means Shan).  I still love it, but most days it consists of natural colors and only takes a fraction of the time.  Occasionally though, date night rolls around and Josh knows to give me as long as I would like- I swear its therapeutic.  When Brandy shot this post she commented on how I had gained that contrast, and I instantly thought of my pretty friend.  (Of course, I'll never have those gorgeous blue's or megawatt smile, but that's okay.)

Before starting my "date-night" eyes, I used a light BB Cream foundation, Hoola bronzer and shaded my eyebrows.
For sultry, cranberry-smokey eyes:
1. Using a slightly shimmery shade of white, lightly dust your inner eye and up around your brow line, creating a highlight and a contrast between your eyebrow and shadow.  (Ever seen a picture of a girl, and her eyes look like two black holes in her face?  She forgot this step.  Don't be that girl!)
2. Next is your fun pop of color.  Personally, cranberry is my go-to color because I like the way it looks with brown eyes.  Using a brush, concentrate this color on the center of your lid, being sure to blend well.
3. Continue this shade over your lid completely, making an even base for your darker shade.
4. Using a liner brush, bring this color down below your lash line as well.  It will peek out from your liner, giving you a "smokey" look.
5. Next get your dark contrast color (a dark plum, brown or even black).  Using your brow as a guide, this color should follow the imaginary line from the corner of your eye to the corner of your brow.  Then, follow the crease of your eye to shade it in to the center using quick brush strokes.
6. Use your eyeliner following the shape of your shadow- mine usually curves up a bit on the ends to make my shadow look complete.
7. Finish your shadow with a loose pigment or light shadow, brushing it on both the top and bottom of the inner corner of your eye.
Complete your look with mascara, blush and a touch of lipstick!