My hair has been feeling really blah lately.  I've been blaming the shoulder-length that I am stuck at, but truthfully I am in desperate need of some fresh color.  Naturally, my hair is the strangest mousey brown, so it has been on both ends of the spectrum (blonde, brown, purple. whoa).  Fall is the perfect time for a change up- and believe me, I need one.
Ombre was the staple for the last few seasons, and stylists say that to an extent- it is here to stay.  "Sombre" the lightened up version- "soft- ombre" is taking the spotlight this fall.  Admittedly, for awhile there (literally) everyone was opting for ombre- but it was also the best hair trend I've seen in quite some time.  Finally, there was an option outside of brown, blonde, or highlights.  Here are three color trends that are hot for fall: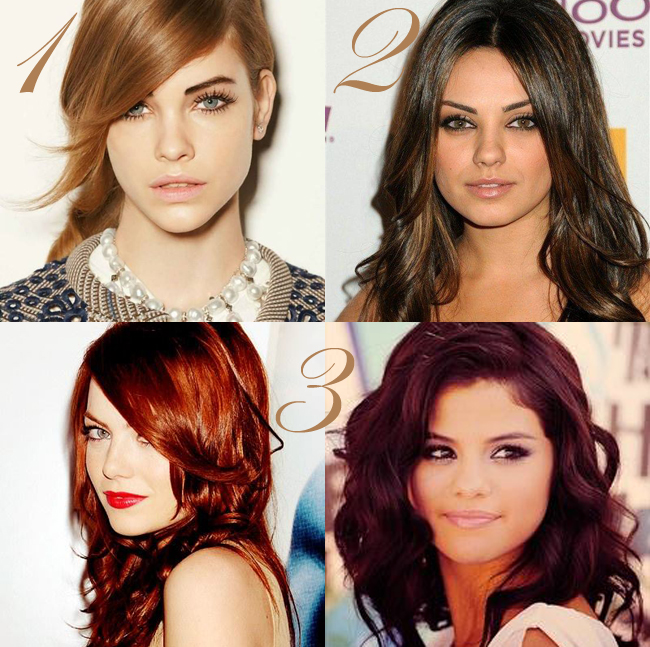 1. Caramel– All over for blondes, low-lights for brunettes- wherever you want to put it, caramel is in this fall.
2. Peek-a-boo panels– I'm loving this rich brown on Mila- and the panels of caramel around her face soften it up and give it dimension.  Panels are everywhere right now- in both bold colors (think blue, pink, purple) and also in place of the old highlights on top look.  I love it!
3. Copper & Plum-  Bold copper tones and violets are on fire right now.  I'm a huge fan, but be warned- the upkeep is pretty extensive.  Reds are the fastest colors to fade, so you will need to refresh often, as well as use shampoo's and products to help protect your color.   If you are up for the work, these colors are so fun!
What color trends are you loving this fall?