Before the girls were born we began their collections of children books.  There is something so intoxicating about the endearing characters, vibrant illustration and heartwarming stories.  Some are exciting, some gut wrenching and some just make you giggle.  We love that our girls love their books and admittedly we love them just as much if not more.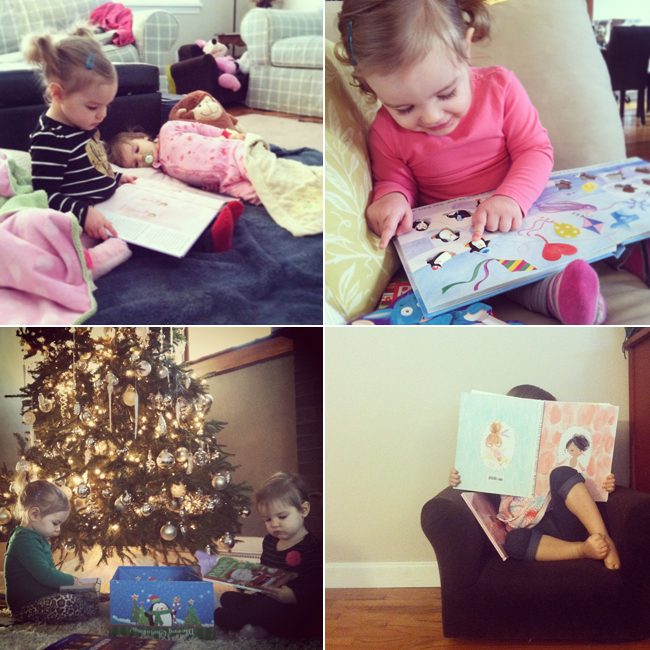 Over the last couple of years we have been asked several times what our favorite books are.  While that list could be never ending (it really could) we have compiled a collection of current favorites.  Obviously the best place to check out books is the library.  We certainly do not go enough and have made it a Fall mission to make regular appearances.  The next best place would be to visit local new and used bookstores.  Supporting small independent retailers keeps the culture of our society alive.  In a lot of cases they provide an experience beyond compare to the big box chains.  And then of course there is Amazon.  Guilty and guilty should be our names as far as where the majority of our girls books came.  Obviously price and availability is hard to beat when it comes to this online superstore.
No matter where you go to get your books it is never a bad idea to read with your child.  Our bookworms enjoy the part of the day that involves pages and a story more than any other.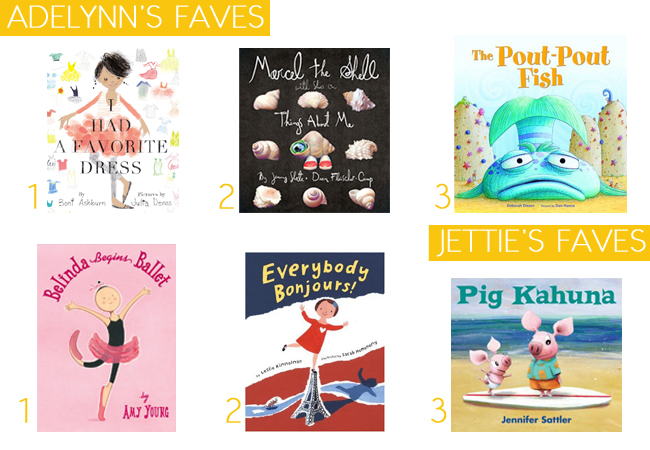 Adelynn's Faves 1 I Had a Favorite Dress by Boni Ashburn 2 Marcel the Shell With Shoes On: Things About Me by Jenny Slate 3 The Pout-Pout Fish by Deborah Diesen Jettie's Faves 1 Belinda Begins Ballet by Amy Young 2 Everybody Bonjours! by Leslie Kimmelman 3 Pig Kahuna by Jennifer Sattler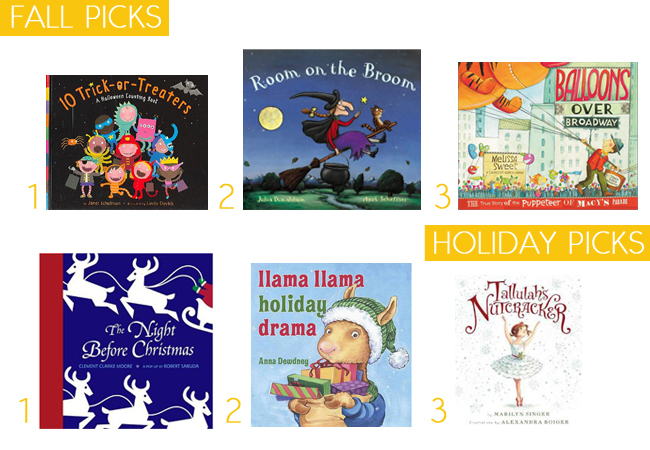 Fall Picks 1 10 Trick-or-Treaters by Janet Schulman and Linda Davick 2 Room on the Broom by Julia Donaldson 3 Balloons over Broadway: The True Story of the Puppeteer of Macy's Parade by Melissa Sweet Holiday Picks 1 The Night Before Christmas Pop-up by Clement Clarke Moore 2 Llama Llama Holiday Drama by Anna Dewdney 3 Tallulah's Nutcracker by Marilyn Singer and Alexandra Boiger (releases October 1st, we can't wait as we love Tallulah's other books!)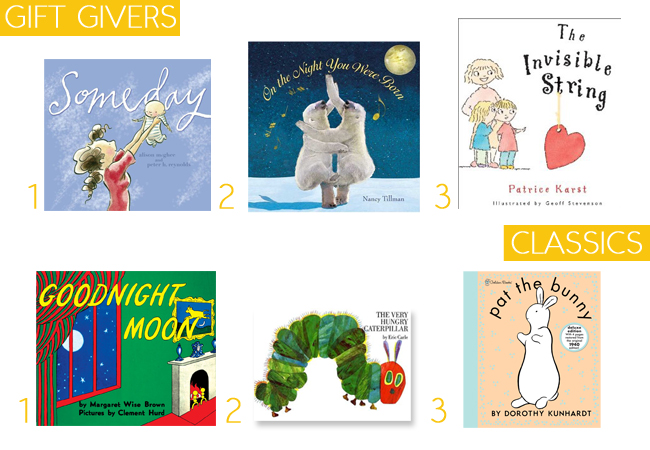 Gift Givers 1 Someday by Alison McGhee and Peter H. Reynolds 2 On the Night You Were Born by Nancy Tillman 3 The Invisible String by Patrice Karst and Geoff Stevenson Classics 1 Goodnight Moon by Margaret Wise Brown and Clement Hurd 2 The Very Hungry Caterpillar by Eric Carle 3 Pat the Bunny (Touch and Feel Book) by Dorothy Kunhardt
Do you have any can't live without books in your home?  We would love to know what they are!