Let's be honest – half the reason we go to a Mexican restaurant is for the chips and salsa.  The mariachi music, hacienda style paint colors and limitless choice of Mexican cervezas – they're all fabulous elements but take the salsa away and it's not the same experience.  Not even close to being the same.  In fact, it's just wrong.
For years I have been under the misconception that delicious non chunky perfectly flavored salsa was reserved for restaurants.  And then Pioneer Woman entered my life and rarely now does my fridge not have a container of homemade salsa in it.  The jarred variety simply does not compare.  If you have never made homemade I suggest you stop what you are doing right now and immediately make some – trust me.  Your life needs it.
I wanted to do a little experiment with the recipe and test which type of tomatoes everyone loved best.  Roasted, fresh or canned.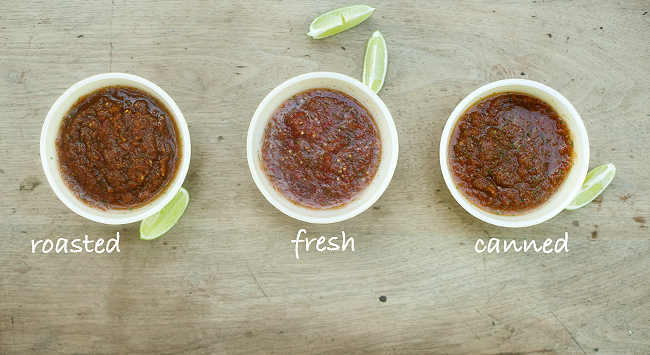 My judges were our husbands (that's right Shan, you have one of those now).  Mexican beer and salsa taste testing – obviously there was no arm twisting for this one.  Later I realized we really could have done some evil things while they were blindfolded, but we are far too sweet and innocent for those type of shenanigans.  Or maybe we were watching toddlers while taste testing and there was no time (you be the judge).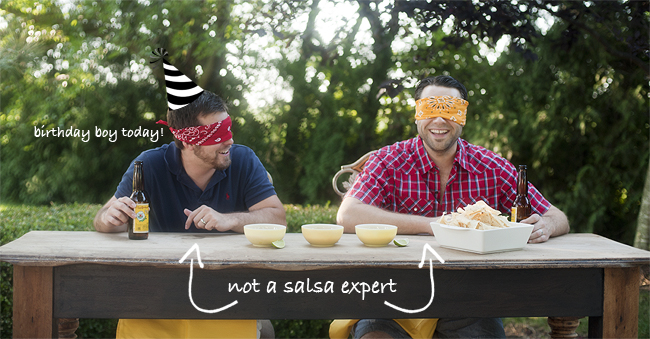 Clearly they take this seriously.  I mean look at that concentration.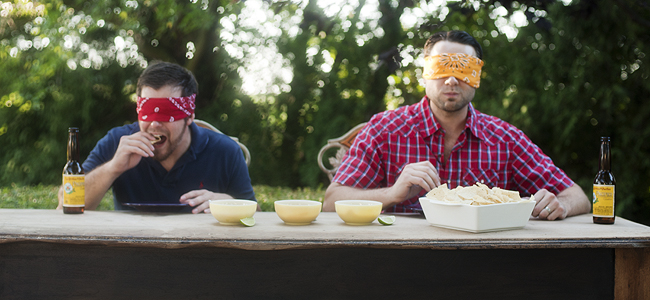 And the winner is….FRESH!  Both men chose it but honestly they were all good in their own way.  The roasted was sweeter, canned was a bit deeper and the fresh was well, fresher.  Make just one, make all three – it doesn't matter they are all good.
Homemade Restaurant Style Salsa
Ingredients
1 can (28 Ounce) Whole Tomatoes With Juice
2 cans (10 Ounce) Rotel (diced Tomatoes And Green Chilies)
¼ cup Chopped Onion
1 clove Garlic, Minced
1 whole Jalapeno, Quartered And Sliced Thin
¼ teaspoon Honey
¼ teaspoon Salt
¼ teaspoon Ground Cumin
½ cup Cilantro (more To Taste!)
1 whole Lime Juice
Instructions
Combine whole tomatoes, Rotel, onion, jalapeno, garlic, sugar, honey, cumin, lime juice, and cilantro in a blender or food processor. Pulse until you get the salsa to the consistency you'd like. Test seasonings with a tortilla chip and adjust as needed.
Refrigerate salsa for at least an hour.
Notes
For fresh salsa substitute fresh garden tomatoes for canned.

For roasted drizzle olive oil on tomatoes, onion, garlic and jalapeno while on baking sheet and roast in a 425 degree oven for 30 to 40 minutes. Blend with rest of ingredients.
recipe adapted from The Pioneer Woman
Do you have a favorite salsa recipe or a fabulous secret tip?  We would love to hear, if you are willing to share of course.  We understand some of those things go to the grave (I have a sangria recipe you will have to pry out of my cold stiff fingers).
Happy Salsa-ing!