With Shan's wedding only 3 days away (can that be possible) all of the last minute prep is in high gear.  Things that are often forgotten leading up to the wedding can cause immediate stress the day of – especially when the bride is getting ready and nerves may be on edge.  A caddy full of "all items a girls may need while primping" is essential.  It will fend off any freak out moments so the bride and her maids can enjoy getting ready (while sipping mimosas, those help too).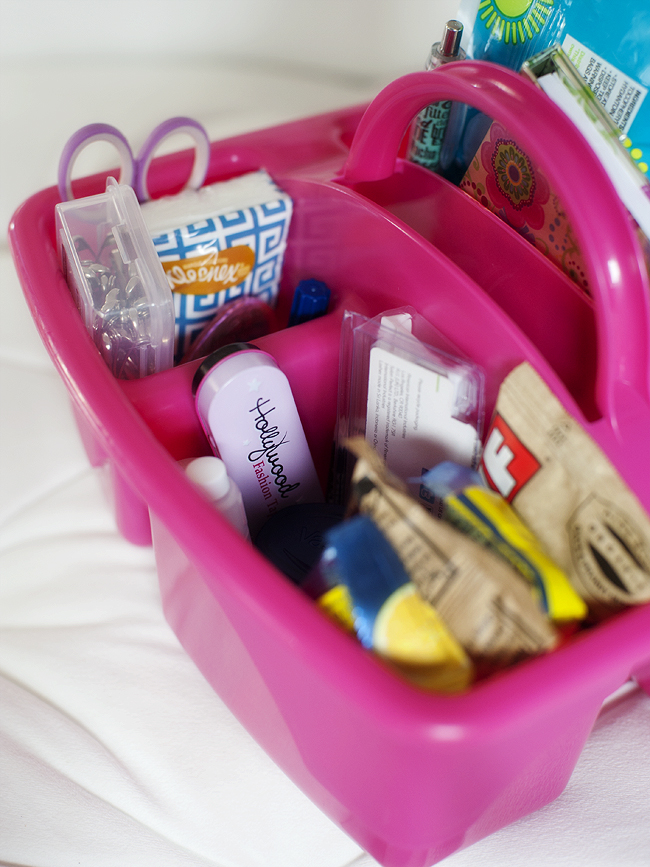 First you will need something to store all your goodies.  A caddy is great because it's portable and the items are visible making it easy to find and grab something quickly.  You will then need to make a list of must have items.  I like to break things down into categories and then head to the store with an open mind in case I spy something else that would come in handy.  Be sure to visit a store that carries a travel section of smaller items.  The price is right and they will not take as much room in the caddy.
Health and Hygiene
1. Breath mints
2. Bandages
3. Blister protection
4. Antacid
5. Pain reliever
6. Deodorant
7. Tampons
8. Tissues
9. Snacks
7. Dental Floss/Toothpicks
8. Anti-Bacterial Gel
9. Baby Wipes
10. Eye Drops
11. Sunscreen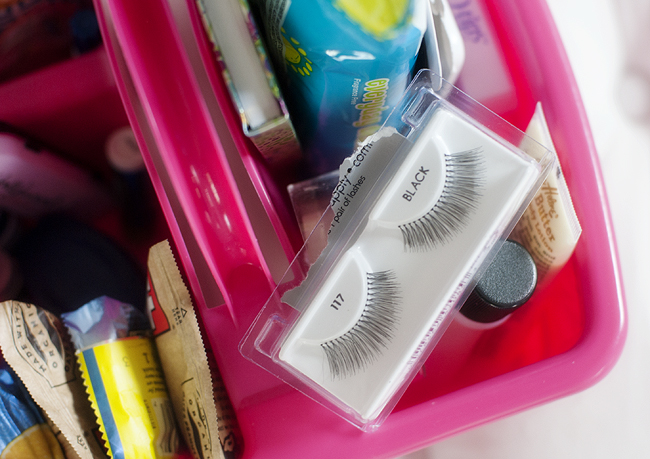 Beauty
1. Hair Spray
2. Chapstick
3. Fake Eyelashes
4. Bobby Pins
5. Tweezers
6. Q-Tips
7. Nail Polish in your shade
8. Clear Nail Polish
9. Baby Powder
10. Body Lotion
11. Nail Polish Remover
12. Nail Clippers
13. Nail File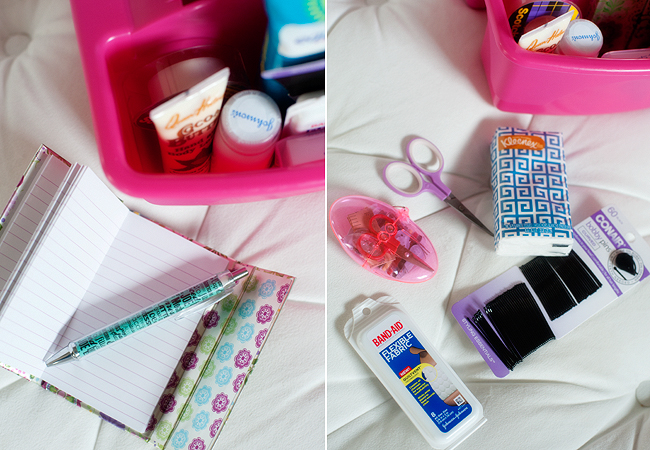 Wardrobe
1. Sewing kit
2. Body Tape
3. Hemming Tape
4. Safety Pins
5. Spot Remover (tide to go)
6. Wrinkle Release
7. White Chalk (can cover up a stain on a white gown)
8. Lint Roller
9. Crochet Hook (for pulling little elastic loops over delicate ivory buttons)
Miscellaneous
1. Pen and Paper (trust me, it comes in handy)
2. Scotch Tape
3. Double Stick Tape
4. Scissors
5. Room Deodorizer/Candle
6. Matches
7. Straws (usually against these but they will save perfect lipstick so I make an exception for bridal occasions)
Honestly the list could go on and on but these are the basics that will get you through most emergency situations.  Looking forward to putting this little pink caddy into use very very soon.