On Sunday we kicked off wedding activities with my wedding shower, hosted by Brandy J, along with my sister Brandy and friend Cassity and it could not have been more fabulous.  Not only was the party gorgeous, it was the first of wedding festivities and made me all the more excited for the few weeks to come!  This Saturday we are headed to Columbus for a night out with the girls- my bachelorette party.  I have been kept pretty "in the dark" about both my shower and my bachelorette party, but Brandy J asked me early on if I was okay with switching things up a bit.  In place of the usual bride in white and party goers in black- we opted for something more fitting to my taste; they will be in ivory and gold and I will be wearing mint.  I'm having fun already.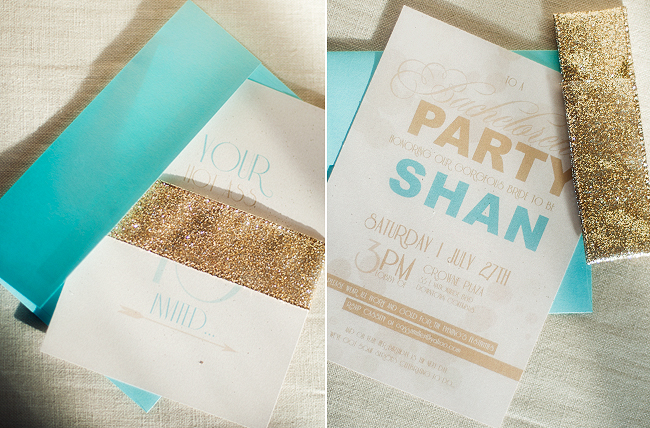 (Invites were designed by Brandy J- I couldn't love them more!)
Planning for our night out I get to focus on the fun things- like my makeup and things that will go in my clutch (since my fabulous friends are taking care of the rest!)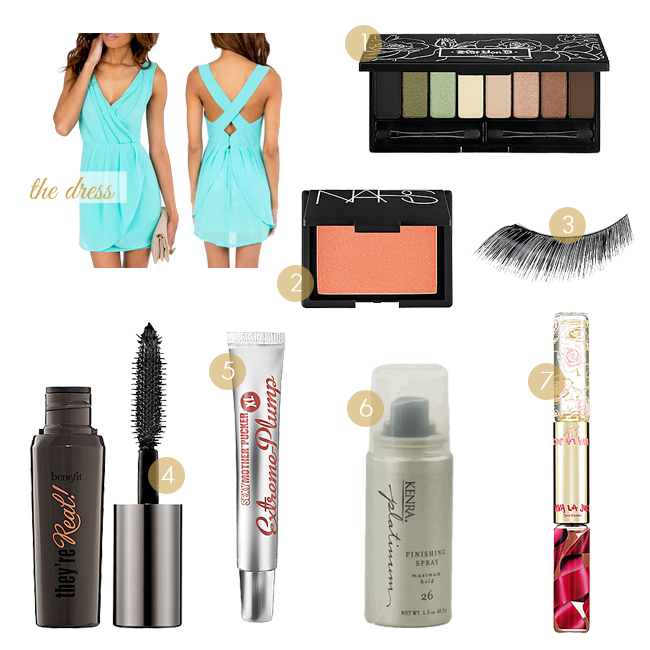 The dress, here.  1.Eye shadow: Kat Von D Palette for naturals with a fun pop of color (not to mention a great black to darken it up)! 2. Nars blush in Orgasm –the best blush ever created (truly great for every skin tone!)  3. Urban Decay Lashes -for bold lashes! 4. They're Real! Mini Mascara by Benefit -This little mascara produces big results- and fits in your clutch perfectly.  5. Sexy Mother Pucker Lip Gloss – Gloss that tingles and enhances your lips natural pout.  6. Kenra Mini Hairspray – To tame those little fly-aways and keep your volume in check while you're on the go.  7.Viva la Juicy and La Fleur mini perfume– These are not my "everyday" scents, but Viva la Juicy takes me back to a really fun season of my life every time I put it on.  I keep a little roller in my makeup bag for days that I need a little something extra, and it always does the trick.
So excited to celebrate with my favorite girls, and  even more excited for the dress that I get to put on after this little mint number…