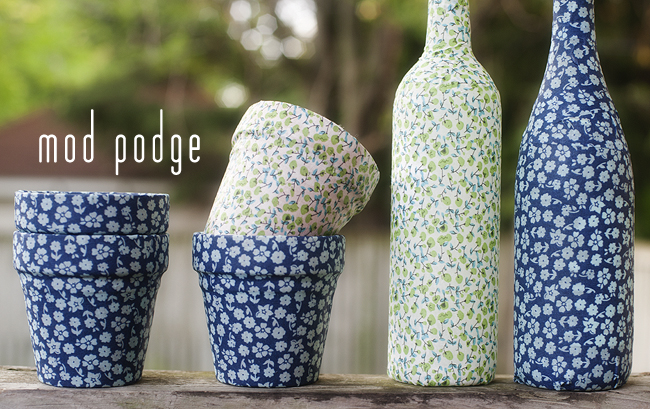 I love mod podge.  Love, love, love.  Somehow, my entire life has gone by and I have walked right past it at Hobby Lobby.  Now I know that it is a craft staple!  Seriously, the possibilities are endless.  Being that our venue is in the woods, I have been trying to stay away from it feeling "rustic" and going more for a woodland whimsical vibe.  Searching for a way to tie in flower pots, this simple trick has them looking like a million bucks.  (Not to mention the wine bottles I have stashed under my sink…)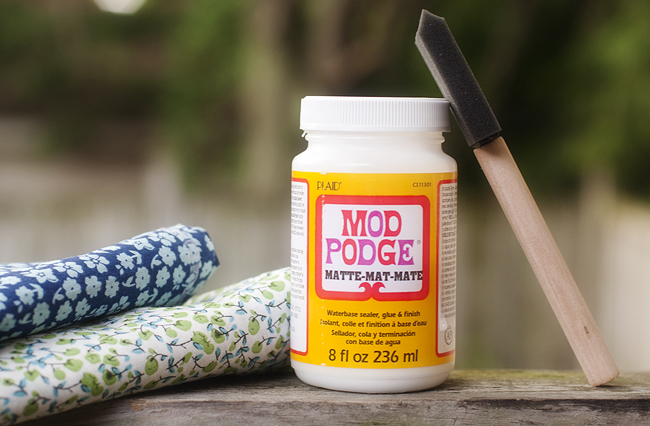 What you need:
Terracotta flower pots
Empty wine bottles
Mod Podge
Brush, Sponge, Applicator of your choice
To Create:
Fold fabric around flower pot to get a basic idea of how much fabric to cut out.  I know that sounds vague, but these are darn near impossible to mess up- it doesn't need to be perfect!  Using scissors cut a few slits in the top so that when you fold it down into the pot it is not as bunchy.  Next, cover a section of your pot in mod podge and begin pressing your fabric to the surface.  Continue your way around the pot, being sure to press out air bubbles and creases as you go- and folding the extra around the top into the pot.  You can also cut excess fabric if needed.  Once you have the pot (or vase) completely wrapped, coat the entire thing in mod podge again, and set on wax paper to dry.  Wine bottles are a bit more tricky around the bottle neck- I found that using small scraps of fabric worked best, and that small scale fabric worked best at hiding the seams.  How easy was that!
I'm not exactly sure what their purpose will be in my wedding decor- my wheels are still turning.  Regardless, they are so fun!  I'm anxious to get more fabric and try out different prints!
*These pots are not recommended for outdoor use.
Happy crafting!