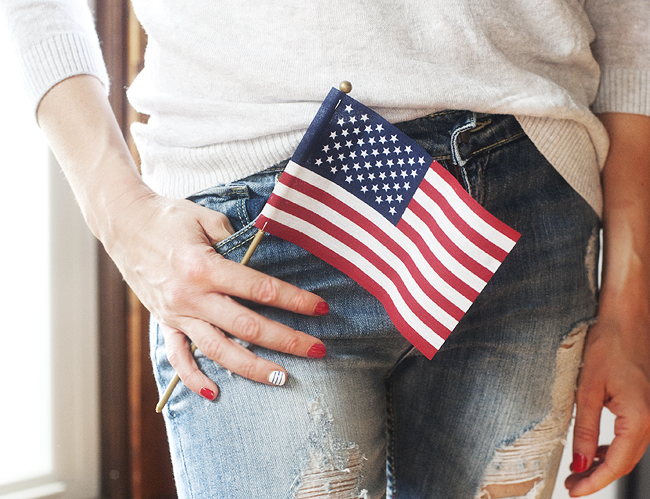 Ok, so you have your cocktail, dessert and accessory – now it's time for your 4th of July nails.  First off I should admit this is probably the only time I have had color on my fingernails in over 10 years (which is longer than I have known my husband).  I really love nail polish on other women – particularly the ones with cute nails and graceful hands.  Unfortunately I do not fall into either one of those categories.  When I was in high school it dawned on me that my hand twin is Martha Stewart, this is not a good thing considering she has 35+ years on me.  So here is my festive nail tutorial on my advanced aging hands, don't be surprised if it's my last.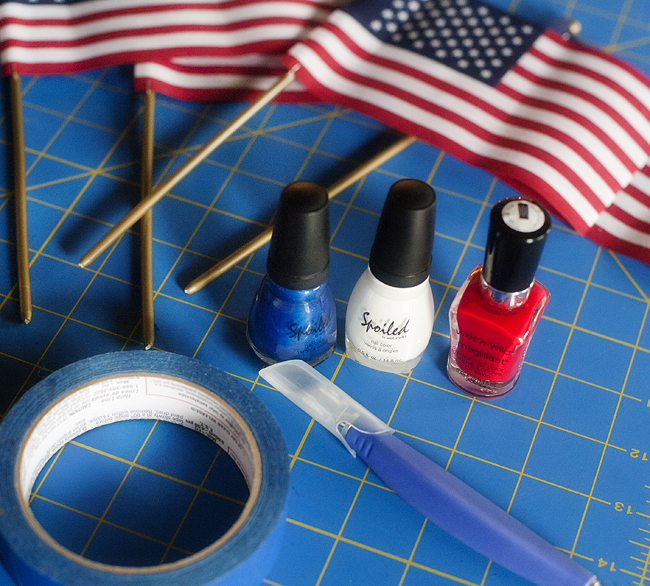 You will need:
red, white and blue nail polish
painter's tape cut into narrow strips using an x acto knife, straight edge and cutting mat

Paint all nails red except ring finger (paint him white)
When nails are completely dry line up 4 of your painter's tape strips to make even stripes.
Paint middle 3 sections with blue nail polish and remove tape before paint is dry.
Sky is the limit as far as how many stripes, which direction they go (vertical, horizontal, diagonal) and color combination.  While I am not a fan of drawing attention to my hands I have to admit that this was a lot of fun to do.  We'd love to see your nail art for the 4th as well!  Load it to instagram and tag #prettyplainjanes so we can admire your work (and your pretty hands).