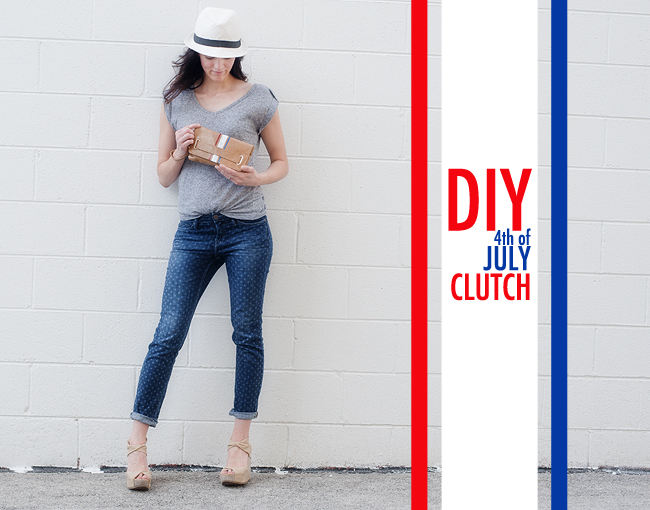 If you are looking to be festive for the 4th but not dressed head to toe in red, white and blue this is the DIY for you.  There is still plenty of time to complete this before Thursday as well.  Start to finish I did not even have 30 minutes in it.  As for supplies my $5 clutch came from a discount store and I used nail polish for the paint (which of course will serve double duty on my nails very soon).  Simple, inexpensive and incredibly cute – what's not to love?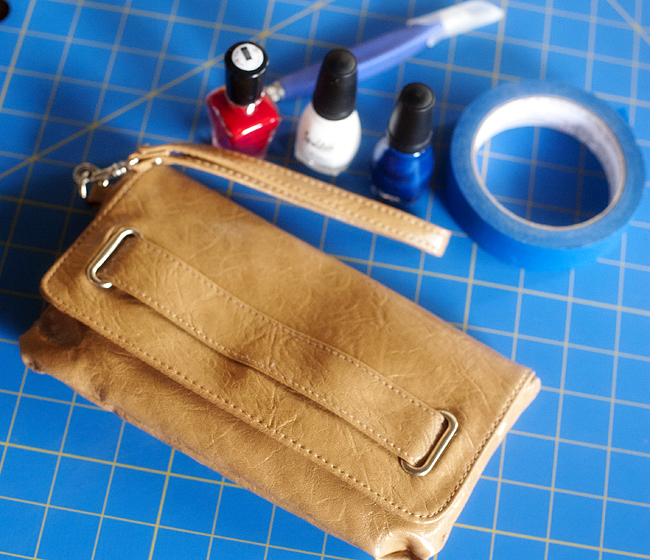 DIY 4th of July Clutch
Supplies:
solid colored clutch (I prefer a natural color for color-blocking)
nail polish in red, white and blue (metallic is fine)
painter's tape
cutting mat, x acto knife and straight edge if you need to re-size tape
Use the tape to plan your design.  I knew I wanted a wider center stripe surrounded by 2 narrow stripes.  Laying it our first aided me in knowing what size to trim my tape.
Trim tape to size, lay clutch flat (with flap open if it has one) and begin taping off your clutch.  Be sure to tape parts close to where you will be painting in case you get messy (I am certainly messy and taped the front flap strap for this reason).  Press the tape down rather firmly to avoid an oops.
Paint your stripes.  Be sure to shake each bottle before you begin.  I wanted a more rustic look so I only put on one coat allowing the fabric of the clutch to show more.
Before paint is dry, carefully remove the tape and admire your creation.
Allow design to dry then rock your clutch!  (I had to place the cap of my knife in between flap strap and fabric while drying to keep the flap from sticking to the paint.)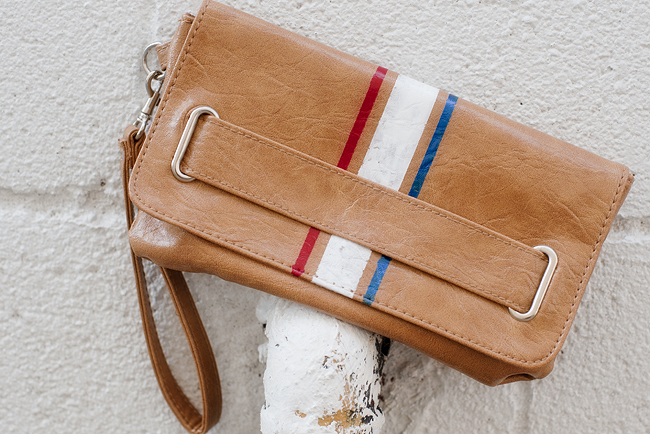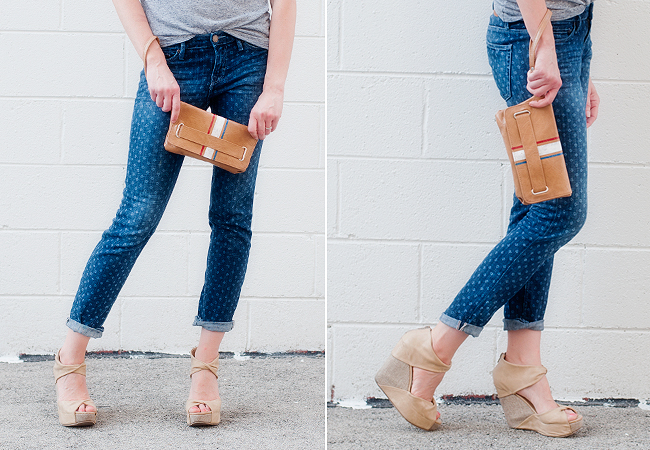 Try this once and you will not only feel like super DIY woman but will want to purchase a dozen more clutches and color block them in all your nail polishes.  I am thinking a neon pink design may be in my future, as well as black of course (you guys know how I love my neutrals).  For this holiday though I could not be more pleased with my red, white and blue design.  This clutch will take any relatively simple ensemble to festive ready in a flash.