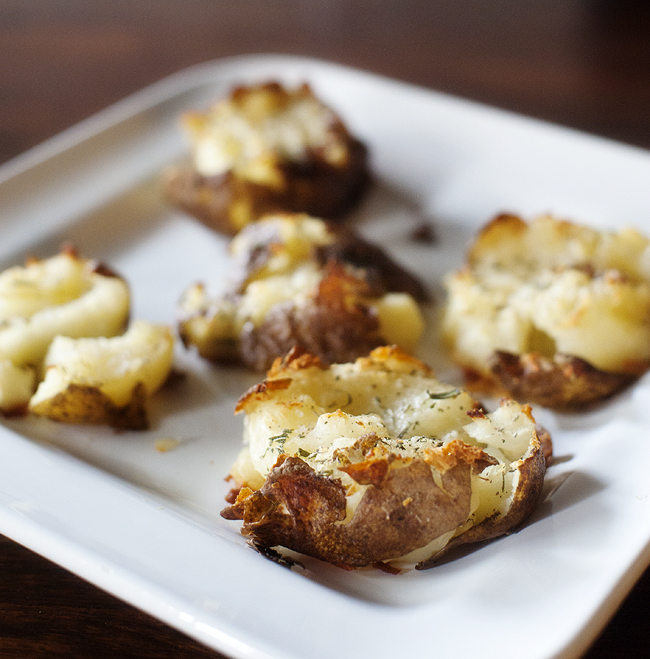 Potatoes, let's face it, not so fabulous on their own but the options of making them into something fabulous are unlimited.  They are also inexpensive and very filling, what's not to love about that?  In a hurry we of course do the stand by of oven fries, home fries or simply baked.  When there's time though this has become our favorite way of eating them.  It requires boiling and baking but I promise you it is worth all the trouble.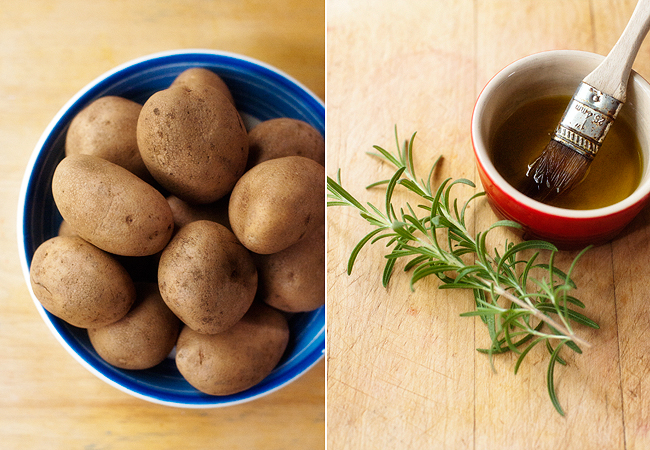 This recipe is from the one and only Pioneer Woman (Crash Hot Potatoes).  Ladies, if you want to please your man's belly she is your best girlfriend.
Cracked Potatoes
Ingredients
12 Whole Small Potatoes (we used regular idaho which works good but new potatoes are even better)
3 Tablespoons Olive Oil
Kosher Salt To Taste
Black Pepper To Taste
Rosemary (or Other Herbs Of Choice) To Taste
Instructions
Bring a pot of salted water to a boil. Add in as many potatoes as you wish to make and cook them until they are fork-tender. Mine took between 20-25 minutes.
On a sheet pan, generously drizzle olive oil. Place tender potatoes on the cookie sheet leaving plenty of room between each potato.
With a potato masher, gently press down each potato until it slightly mashes (be careful not to press all the way down), rotate the potato masher 90 degrees and mash again. Brush the tops of each crushed potato generously with more olive oil. If potato has fallen apart a bit you can simply form it back together.
Sprinkle potatoes with kosher salt, fresh ground black pepper and fresh chopped rosemary (or chives or thyme or whatever herb you have available). Don't be stingy, the seasoning really makes them special.
Bake in a 450 degree oven for 20-25 minutes until golden brown.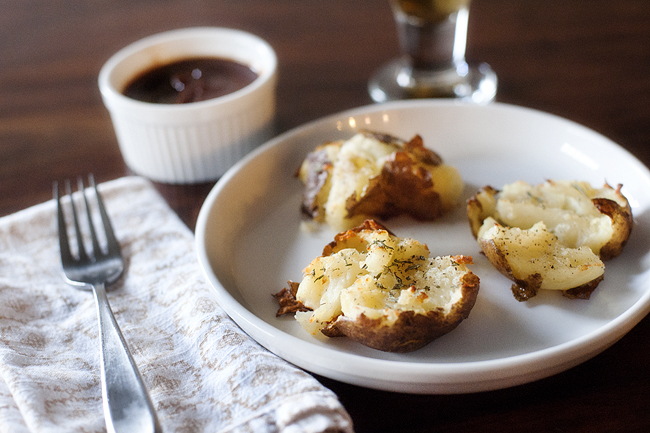 These are velvety, crunchy and just oh so good.  You could top these with your preferred potato companion (cheese, bacon, sour cream).  I am a ketchup fanatic, to the point of grossing people out, but since my husband had left over barbecue sauce (Sweet Baby Ray's to be precise) I opted for a little kick with mine.  Try these the next time you're staring at your bag of potatoes wondering what to do.  You'll thank me later.